THE NATURAL ENVIRONMENTS OF AFRICAN AND SOUTH AMERICAN CICHLIDS
Learn about and how to recreate the natural environments of African and South American Cichlids
Many people are interested in the natural environment of their cichlids. They may want to try and emulate the natural environment or they may just be curious about where the fish they love originate. Each of the major regions where cichlids live in Africa and South America will be described. Note that some African cichlids live outside of the three main lakes and some also live in rivers, but the three main cichlid lakes will be focused on.
African Lake Cichlids
Lake Malawi
Lake Malawi is part of the East African Rift valley system (meaning it lies in the East African rift caused by the African tectonic plate splitting in two) and is located in southern Africa. It is the ninth largest lake in the world and the third largest in Africa with a surface area around 29,600 km. It is situated between the countries of Malawi, Tanzania, and Mozambique. The lake is often called Lake Nyssa as there is still a debate between bordering countries. Lake Malawi consists of a single large basin that is approximately 506 km long and 75 km wide at the widest point. The lake's maximum depth is 700 m and it has a mean depth of around 292 m. Lake Malawi is unusual because it does not have tides or currents.
The lake is fairly warm with a deep level temperature of around 72o and with a surface temperature of 75 – 84o. The reason for the 9o Ffluctuation in temperature is that Lake Malawi lies far enough south of the equator to experience definite seasonal variations in temperature. The pH ranges from 7.7 – 8.6, the gH ranges from 4-6 dH, and the kH ranges from 6-8 dH.
There are several main cichlid habitats within the lake. The first is the sandy shoreline that makes up about 70% of the coast. Some plants live in this area, but not many. Haps and peacocks use this as their habitat. The second area is the rocky shoreline that makes up the remaining 30% of the coast. Here there is no vegetation and rocks are piled on top of each other. The rocky areas tend to be where the shores have a steep drop off. Mbunas make this their habitat (hence their name which means "rock-dweller"). The third area is the river mouths and area close to shore that are highly vegetated. These areas tend to be shallow and can also be fairly muddy. Lastly, the deep water zones that go from 30 m to 250 m deep are inhabited by some of the larger predatory cichlids.
Lake Tanganyika
Lake Tanganyika is the second largest lake in Africa and is the world's longest lake at 420 miles. It is the world's second deepest with a maximum depth of 4,710 feet. It is 45 miles wide at its widest point and overall, it contains 1/6 of the world's freshwater supply. It is situated between Tanzania, Burundi, the Democratic Republic of the Congo, and Zambia and is part of the western branch of the African Rift valley system.
Unlike Lake Malawi, Lake Tanganyika is actually formed from three basins. These used to be separate, but as the water rose in each, they eventually formed one giant lake.
The water is much harder and more alkaline than Lake Malawi. Its pH ranges from 8.6 - 9.5 while its gH ranges from 11 – 17 dH and its kH from 16 – 19 dH. The oxygen content in the upper section of the lake is very oxygen rich and the lake is extremely clear. The temperature of the surface will vary from 76 – 82o while the deep water temperature is around 70o.
The majority of the lake is composed of a sandy bottom and little rock "islands". These rock islands are where many of the cichlid species live. Cichlids do not typically venture between the different rock areas as this would force them to head out to open waters where predators are abundant. Therefore, each cichlid group is sheltered from others. You can find very different species in two rock islands separated by less than 300 feet.
Lake Victoria
Lake Victoria does not lie in the two branches of the African Rift valley, but instead is directly between them. It is known locally as Lake Nyanza and is bordered by Uganda, Kenya, and Tanzania. It is the world's second largest freshwater lake and has an average depth of 120 feet. The deepest it reaches is 250 feet.
The diversity of cichlids in this lake has been cut in half since the 1950s. Nile perch were introduced to the lake by people for a food source and to start commercial fishing. The problem was that these fish get up to six feet in length and soon wiped out whole species of cichlids. This is a sad example of the problems inherent to introducing foreign species to lakes and rivers.
Lake Victoria is much less clear than Lake Malawi and Lake Tanganyika. For instance, visibility is around 4 – 10 feet in inshore regions while the visibility can be up to 70 feet in Lake Tanganyika and Lake Malawi. The pH ranges from 7.2 – 8.6 and the kH ranges from 2 – 8 dH. The surface temperature has a large range of 70 – 81o F due to the disparity caused by a dry and a wet season.
The shallow areas have vegetation and can be quite muddy. There are also habitats similar to Lake Malawi (large rocks/sand) in other parts of the lake. Overall, the pollution that has been caused in the lake has made algae run rampant throughout.
South American Cichlids
Many of the cichlids found in South America live in the blackwater streams, creeks, and rivers in the Amazon River Basin. These bodies of water generally have acidic "black" water. The black water refers to the water being stained by humic acid from decaying plants and leaves. If you have ever seen an aquarium with slightly tea colored water then you have a mental picture. There is usually dense vegetation and a large amount of driftwood/bogwood in the water as well. The wood is typically tangled together as it gets hung up as it floats downstream. There is very little current and the bottom is composed of fine clay or sand covered in decaying leaves that fall in the water from the trees overhead.
The pH ranges from 6.0 – 6.9 while the gH ranges from 3 – 7 dH and the kH ranges from 2 – 4 dH. The temperature of the water is between 74 – 78o F.
Conclusion
Knowing what your cichlids' natural environment looks like can help you establish an aquarium that mimics it. Also, realizing the natural water parameters can assist you in raising healthy fish. Overall, knowing where your cichlids come from can make you a much better cichlid owner.
Additional Reading
comments powered by

Disqus
Most Recent Forum Discussions
setting up tank - By vostric, (0 replies)

I have a 20G tank, with a nice open space in the middle of my Eco-Complete substrate, I have my heater and filtration in, I ...

Brown algae on plants - By billy_corycat, (1 replies)

What can I do about brown algae on my plants? What causes this? And will it kill my plants?

Black friday sales? - By billy_corycat, (0 replies)

Is there anything aquarium related that usually goes on sale for Black Friday? I'm wondering if there's anything I could save money on - this ...
MOST RECENT ARTICLES
Some fish are simply going to live longer than others, but what species have the longest lifespans?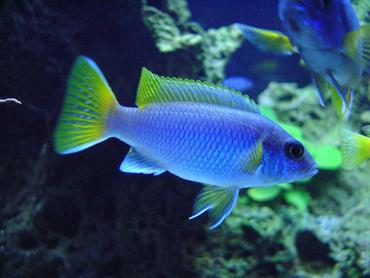 From recycling and organic farming, sustainability and conservation are two hot trending topics.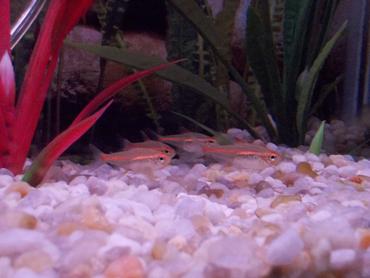 Glow in the dark fish may not be a new trend but new additions to the market have recently been made -- glow in the dark convict cichlids and angelfish.