SPECIES SPOTLIGHT: KEEPING FRESHWATER CRAYFISH AT HOME
Crayfish can make a unique addition to your freshwater aquarium.
When you think about a home aquarium, you probably picture a glass tank filled with colorful fish. But fish aren't the only creatures you can keep in an aquarium! If you are thinking about building a new freshwater tank environment, consider stocking it with something truly unique – freshwater aquarium crayfish. Crayfish look like tiny lobsters and they come in an array of bright colors. These freshwater invertebrates can be a challenge to keep in some cases, but their beauty makes it all worth it.

If you are curious to learn more about freshwater aquarium crayfish, keep reading! Here you will learn the basics about what freshwater crayfish are and how to care for them in a home aquarium environment. You will also receive detailed tips for choosing the right species of freshwater aquarium crayfish for your tank!

What Do You Need to Know About Crayfish?

The first thing you need to know about freshwater aquarium crayfish is that they are a type of invertebrate. These creatures do not have an internal skeletal system – instead, they have an exoskeleton (almost like a shell) that is shed as the crayfish grows. Crayfish can be found in a wide variety of different habitats around the world including freshwater and brackish water. Some species can survive in saltwater for a few days, but there are no marine species of crayfish. Crayfish are also solitary animals that tend to hide in cracks, crevices, and caves – they will also fight off fish and other crayfish that attempt to invade their territory.
Though the details vary from one species to another, crayfish are generally fairly aggressive – this is one of the biggest challenges associated with cultivating these creatures. Some species are more aggressive than others and there are also some external factors which may influence the crayfish's level of aggression. Temperature, for example, can be a driving factor. Changes in water temperature (either rising or falling) is a spawning trigger for some species which can exacerbate territoriality and general aggression. Some species become less aggressive before or during a molt. To avoid problems, you should thoroughly research whatever species you choose to keep just to be safe.

Can You Keep Crayfish and Fish Together?

The crayfish has large claws that they use primarily for defense, but they are also used to catch food. Because the claws are so large and heavy, however, the crayfish is usually not able to catch small, fast-swimming fish. This being the case, most crayfish species can be housed in a tank with small species of fish – particularly smaller species of crayfish. Large crayfish can also be kept with small fish species as well as some larger species that have similar tank requirements. No matter which crayfish species you choose, be sure to cater your tank parameters to suit the needs of your crayfish and then find fish species that are adaptable to that environment.

Tips for Feeding and Caring for Crayfish

Crayfish are omnivorous animals which means that they will accept a variety of foods. These creatures will consume everything from plant matter and detritus to bat guano (in their native habitat). In captivity, crayfish tend to thrive best on a varied diet of small invertebrates such as snails, mussels, and worms as well as fresh vegetables and various commercial flakes, pellets, and wafers. Some crayfish will eat small fish, though they are not normally able to catch healthy fish. If a fish (or another aquatic creature) happens to die nearby, however, the crayfish will not hesitate to feed on it.
In addition to knowing what to feed your crayfish, you should also be prepared to care for your tank inhabitants while they are shedding. The exoskeleton of the crayfish is flexible but when it becomes too tight, the crayfish will shed its own skin and a new layer will develop. The actual process of shedding usually only takes a few minutes, but it can take days or weeks for the new shell to fully harden. As your crayfish is shedding, he will probably lie on his side and, when the exhausting process is finally finished, he will probably retreat to a cave or another hiding place. Until the new shell hardens, the crayfish will be fairly vulnerable, depending on what other creatures you have in the tank. In the best interest of your crayfish, be sure to provide plenty of hiding places.

Top Crayfish Species for Freshwater Tanks

There are many different species of freshwater crayfish out there, but many of them are not adaptable to captivity in a freshwater aquarium. If you are thinking about adding crayfish to your tank, consider one of the species listed below:

Australian Crawfish (Cherax destructor) – This species grows up to 8 inches in length and it is known for its bright blue color. These crawfish can be found throughout Australia so they prefer warm waters in the 68°F to 82°F range. Temperatures below 60°F and above 95°F can be very dangerous for this species.

Louisiana Crayfish (Preocambarus clarkia) – These crayfish are native to the Nile river and they grow up to 6 inches in length. Louisiana crayfish are adaptable to a variety of tank setups but they are challenging to keep because they have a knack for climbing out of aquariums. This species must be kept in a covered tank.

Florida Lobster (Procambarus alleni) – This species comes in several color forms, one of which is bright blue. These crayfish only grow to about 2 ½ inches in length and they prefer tank temperatures between 68°F and 82°F. This species is found throughout Florida, usually in standing water.

Red Claw (Cherax quadricarinatus) – These crayfish range in color from blue-green to an almost-black color with yellow spots and lines on the body. They grow up to 8.5 inches in length, so they require a very large tank. This species can be found in Northern Australia and males of the species typically develop bubble-like growths on the claws.

Orange Dwarf Crayfish (Cambarellus patzcuarensis) – This species is very colorful and, because it only grows to about 1.6 inches in length, it is a popular species for the home aquarium. These crayfish can be kept with small community fish and they are adaptable to cooler water temperatures – they do not need a tank heater (though your fish might).

Miami Cave Crayfish (Procambarus milleri) – These crayfish range in color from bright orange to a lighter yellow-orange and they grow up to 3 inches in length. This species is native to Miami, Florida and it prefers slightly hard, alkaline water in the 68°F to 86°F range. These crayfish are unique in that they are more tolerant of other crayfish than many species.

Crayfish are certainly unique creatures that can be a joy as well as a challenge to keep in the home aquarium. If you are thinking about adding crayfish to your tank, be sure to do your homework first. Choose carefully the species of crayfish you want to cultivate, then cater your tank parameters to meet his needs and, if you want to keep fish as well, select species that can survive in that environment.

comments powered by

Disqus
MOST RECENT ARTICLES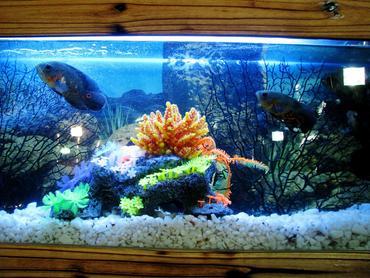 During the summer months, it may become more of a challenge to keep your aquarium temperature stable.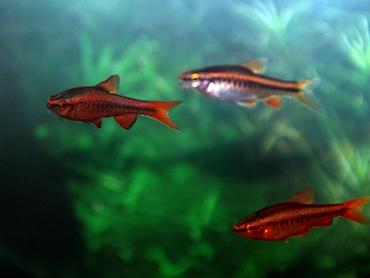 There are many different species of barbs but some of them are better than others for the larger home aquarium.
Cultivating a thriving saltwater tank can be a challenge but it is also incredibly rewarding.