General Aquarium Articles
If you've ever seen those fluorescent fish at your local pet store and wondered what they are, you'll learn everything you want to know in this article. Read on!
You've seen them at the pet store – those fluorescent-colored fish that look strikingly familiar. They're called GloFish and there's a reason they look familiar. They're nothing more than common species genetically modified for their fluorescent color. Contrary to common misconceptions, they are not injected with dye or artificially colored. They actually inherit their color genetically from their parents, though there is certainly some human intervention involved.
If you've been looking for the perfect way to add some intrigue to your tank, GloFish might just be the solution. Read on to learn more about these amazing fish and how to care for them.
What Are GloFish, Anyway?
If you've never seen GloFish before, the name alone is enough to conjure up an accurate image. These are simply aquarium fish (freshwater species) that have inherited a brilliant fluorescent coloration. GloFish can be found in all colors of the rainbow including red, orange, green, blue, pink, and purple. Of course, each color has its own branded name:
1. Starfire Red
2. Electric Green
3. Sunburst Orange
4. Cosmic Blue
5. Galactic Purple
6. Moonrise Pink
Though GloFish look unnatural compared to most aquarium fish, the characteristic that makes them glow is actually very natural – it's called bioluminescence. Bioluminescence is what makes fireflies light up the night sky and it can be seen in a wide variety of underwater creatures. For example, vampire squids native to the deep sea regions excrete a glowing mucus designed to startle predators and hatchet fish are able to...
Keeping your aquarium clean doesn't have to be a chore with these simple aquarium cleaning "hacks".
Setting up and decorating a new aquarium can be a lot of fun. Once you've done the work, however, it falls on you to keep the tank running. After all, you don't want all of your hard work to go to waste when, a few weeks or months down the line, all of your tank surfaces are covered in algae and grime.
Keeping your aquarium clean is not just a matter of aesthetics – it also has an impact on the health and wellbeing of your aquarium fish. Remember that an aquarium is a self-enclosed ecosystem, so any problems that arise have the potential to progress and worsen over time if you don't handle them right away. That's where these cleaning hacks come into play.
Cleaning your aquarium doesn't have to be a huge job – with some clever "hacks" you can keep your tank in tip-top shape in no time at all.
Try These 10 "Hacks" To Clean Your Tank
While keeping your aquarium clean is important, you want to avoid doing any large-scale cleaning. You must remember that in addition to housing your fish, your tank also houses a colony of beneficial bacteria – bacteria that support the nitrogen cycle which helps to convert harmful byproducts of waste breakdown into less harmful substances that can be removed via water changes.
So, where do you draw the line between cleaning your tank too much and not cleaning it enough?
Here are some creative hacks you can use on a weekly or monthly basis to...
Keeping your tank clean is about more than just aesthetics - it also affects your fish. Keep reading to learn how to spring clean your aquarium.
Over the winter, it is easy to just hunker down and do everything you can to stay warm. While you can't escape responsibilities like work or family obligations, certain things are likely to fall to the wayside – your fish tank included. With spring on the horizon, you are finally coming out of hibernation and it's time to survey the damage.
While a properly equipped fish tank can do perfectly well with minimal maintenance, months of neglect will eventually take their toll. Your crystal-clear water will start to cloud, your tank decorations will begin to accumulate algae, and even your tank walls might develop a film. As you start spring-cleaning your home, make sure to add cleaning your fish tank to your to-do list.
As is true for most things, there is a right way and a wrong way to deep-clean your tank, so keep reading to learn how to do it properly. In this article, you'll also receive some tips for updating your tank to give it new life in preparation for spring as well as some tips for long-term maintenance.
A Word of Precaution Before You Begin
If you need to deep-clean your fish tank, your first instinct might be to drain all the water and give everything a good rinse. While that is certainly one way to do it, it is also the wrong way. If you completely tear down your tank all at once and give everything a good scrub, you'll be scrubbing away more than algae and grime...
MOST RECENT ARTICLES
An overview of the reef aquarium along with a short history.
In stressful times, having a home aquarium could be a benefit.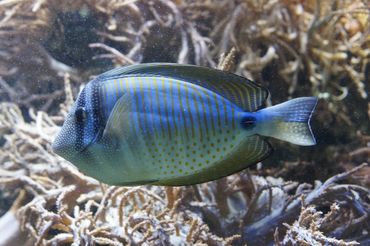 Learn the arguments for choosing to set-up either a freshwater or saltwater aquarium.