Product Reviews (Freshwater)
Canister filters are one of the most popular choices in aquarium filtration. In this article you will read about some of the most popular models on the market.
Aquarium filters come in all shapes and sizes so you can choose the one that is best for your particular aquarium. It is important to keep in mind that certain models are better for certain types of tanks. Sponge filters, for example, are only recommended for hospital tanks and fry tanks because they provide low-suction mechanical filtration that won't post a threat to sick, injured or young fish.
For larger, fully-stocked tanks, however, a more powerful filter is recommended. One of the most popular types of aquarium filter for traditional freshwater aquariums is the canister filter. Canister filters come in a wide range of sizes to accommodate the smallest to the largest of tanks. Below you will find some basic information about canister filters as well as recommendations for different models.
Benefits of Canister Filters


A canister filter is a self-contained, all-in-one device for aquarium filtration. These devices take the shape of a cylindrical plastic canister (hence the name) which houses one or more types of filter media. Depending on the size of the filter, it may contain multiple media baskets which can accommodate different types of mechanical, chemical and biological filter media. These baskets are layered on top of each other so the water that passes through the filter passes through all of the filter media as well. In comparison to other popular types of filters like power filters, canister filters are a little more work to setup and maintain. However, they are also considered to be more efficient and more...
The lighting you choose for your small tank will make a big difference.
When it comes to maintaining a home aquarium, lighting is a key consideration. Though your fish may not technically require lighting in a physiological way, they will look much more attractive if they are well lit. Aquarium plants, on the other hand, do require adequate lighting in order to thrive and grow. If you have a standard tank size between 10 and 30 gallons, you probably won't have any trouble finding a light fixture designed to fit your size tank. If you are keeping a smaller tank or even a nano tank, however, you might have some difficulty. Do not despair! There are plenty of options out there for you, many of which will be described below.
Recommended Lighting for Small Tanks
Coralife Mini Aqualight – This light fixture is specifically designed to work for small aquariums. It utilizes two 6-watt T5 lamps that put out 10,000K actinic blue light. Blue light has been shown to penetrate deeper into tank water than traditional white light, so your aquarium inhabitants will always be attractively illuminated. Not only does this system include the fixture itself and two bulbs to get you started, but it also comes with mounting brackets that can be adjusted for vertical installation over the tank.
Current USA Truelumen Pro Single LED Striplight Kit - The new star in aquarium lighting is the LED light. These lights are very small which means that they consume less energy than traditional lighting. Despite their small size, however, they put out light that is...
Read the review of the Visi-Therm heater by Marineland.
By Robert Lashlee
It is amazing that some people will spend a great deal of money on a big tank and fish, but when it comes time to buy a heater, they pick the cheapest one. A very good quality heater can be purchased for $20-$30 and can save you tons of money in the long run. Anyone who has ever come home to a malfunctioning heater and a tank full of dead fish can attest to this. Two of the best heaters are the Visi-Therm Deluxe heaters and the Visi-Therm Stealth heaters.
Visi-Therm Submersible Deluxe Heaters
Visi-Therm heaters are manufactured by Marineland – the same company responsible for the Bio-wheel. The Visi-Therm submersible Deluxe heaters have a very good reputation and are widely considered to be among the best heaters available on the market today.
A major problem with some heaters is that they only heat a certain portion of the tank. The Visi-Therm Deluxe heaters, on the other hand, evenly heat aquariums and are calibrated to be accurate to within one degree Fahrenheit. Additionally, they are equipped with a convenient control knob and have a window where you can see exactly what temperature you are setting it to. The large print used for the temperature readings make it easy to see through the aquarium glass so you do not have to remove the heater to adjust the temperature. It is also nice to be able to actually see what temperature you are setting the heater to. Many heaters just have ticks...
MOST RECENT ARTICLES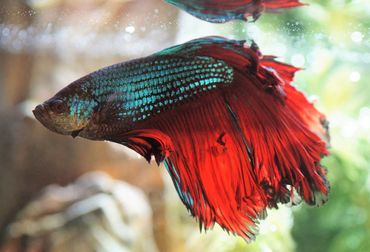 The betta fish is and will forever be one of the most popular types of aquarium fish.
Popular as prizes at carnivals and state fairs, goldfish are known for their orange-gold coloration, but they actually come in many colors and patterns.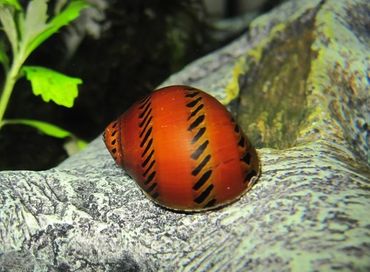 Looking for an addition to your freshwater cleanup crew?