HOW TO MAKE YOUR OWN TANK DIVIDER
There may come a time during your career as an aquarium hobbyist that you need to divide your tank. When this day comes, you may want to consider building your own tank divider.
Throughout your career as an aquarium hobbyist you are likely to deal with a variety of different problems. Aside from aquarium fish disease, one of the problems you are most likely to deal with is aggressive fish behavior. Whether due to spawning, overcrowding or simply an aggressive nature, you may at some point find yourself with an antagonistic fish on your hands. When one of the fish in your tank is attacking or antagonizing the others it can create a very stressful environment and, as you know, fish that are already stressed have an increased susceptibility to disease. Rather than getting rid of the aggressive fish entirely or purchasing a new tank, all you have to do to solve this problem is to install a tank divider to separate the aggressive fish from your other tank inhabitants. You may be able to find a tank divider at your local pet store but if you want a customized fit, you may just want to make it yourself.
Uses for Tank Dividers
Tank dividers can be used for more than just separating
aggressive fish
– they are also a great way to safely separate adult fish from their spawn. If you decide to breed your aquarium fish but do not have an extra tank to use as a spawning tank you can simply install a tank divider to keep the adult fish from eating the fry. This may also work to separate a breeding pair from other tank inhabitants during the spawning process. Tank dividers can also be used to separate injured fish from the rest of your tank inhabits in order to give the injured fish time and space to heal. The main benefit of a tank divider is that it provides a physical barrier for fish but it still allows water to flow from one side of the tank to the other. If you were to set up a separate breeding tank you would have to equip it with its own filter and heater – by using a tank divider instead you can simply divide one tank into two sections and make use of the same equipment.
Pros and Cons of Tank Dividers
Tank dividers are great for a variety of purposes in the home aquarium but they are not always the right choice. Below you will find a list of pros and cons for tank dividers that will help you to determine whether a tank divider is the right choice in a given situation:
Pros:
A tank divider saves you from having to set up a separate tank (i.e. for breeding purposes or as a hospital tank).
Tank dividers allow water to pass through so you do not have to install an additional tank heater or filtration system.
A tank divider gives you a simple way to separate aggressive fish from the other fish in your tank without buying a new tank or getting rid of the aggressive fish.
Cons:
Water flow through a tank divider may not be consistent – the water quality on one side of the divider might be better due to proximity to the filter.
Water temperature may also vary on either side of a tank divider due to proximity to the heater.
Tank dividers break up the tank and it may detract from the aesthetic appearance of your tank.
Installing a tank divider may not be enough to dissuade aggressive behavior, especially if the aggressive fish can see through the divider.
Step-by-Step Instructions
If, after considering the pros and cons of tank dividers, you have decided that it is the right solution for your situation, you can follow the steps outlined below to make your own. Depending on the size of your tank, making a tank divider may be less expensive than purchasing one – this is especially true if your tank is of an irregular size. If your tank is a standard size, however, it may be easier and more cost-effective to just buy a tank divider.
Materials Required:
Plastic embroidery canvas
Slide-on plastic binder bars
Measuring tape
Scissors
Instructions:
Use the measuring tape to measure the width of your aquarium from the inside edge of the back wall to the inside edge of the front wall.
Cut a sheet of plastic embroidery canvas to the width measured in Step 1. You may find it helpful to trace a line down the length of the plastic embroidery canvas to ensure a straight cut.
Measure the height of your aquarium from the base to about 1 inch from the rim. Cut the sheet of plastic embroidery canvas to this height.
Trim two slide-on plastic binder bars to the width of the plastic embroidery canvas and two more to the height of the canvas. Slide the bars onto the corresponding edges.
Scoop out the bottom of your tank where you intend to install the tank divider, creating a trench in the gravel to expose the bottom of the tank.
Slide the tank divider vertically into the tank between the front and back walls, placing the bottom edge inside the trench you just dug. The divider should be snug against the tank walls on either side and it should sit flat on the bottom of the tank.
Check the height of the divider against the water level in your tank – the divider should be taller than the water level to ensure that fish cannot swim from one side of the tank to the other.
Fill in the substrate on either side of the tank divider to hold it in place. Use a mesh net to capture the fish and release them in the appropriate side of the tank.
Other Tips and Tricks
The key to ensuring that your tank divider acts as an effective barrier is to install it correctly. Make sure the sides of the divider are snug against the tank walls and bury the bottom of the divider in the substrate to make sure fish can't swim under it. Another thing to consider when installing your tank divider is the proximity to the heater and filter. While water will be able to freely flow from one side of the tank to the other, the side that is furthest from your tank equipment may not receive equal filtration. To ensure that both sides of your tank benefit from good water quality, consider moving your
filter
closer to the middle of the tank or install a supplemental source of filtration in the other side of the tank. Keep in mind that because water will flow from one side of the barrier to the other, tank dividers are not a good way to separate sick fish. The only way to prevent disease from spreading is to physically remove the sick fish from the main tank into a quarantine tank.
A tank divider is a simple and effective way to separate the fish in your tank, should you ever need to. Not only is this solution easy to implement, but it is also something you can make on your own.
comments powered by

Disqus
Most Recent Forum Discussions
setting up tank - By vostric, (0 replies)

I have a 20G tank, with a nice open space in the middle of my Eco-Complete substrate, I have my heater and filtration in, I ...

Brown algae on plants - By billy_corycat, (1 replies)

What can I do about brown algae on my plants? What causes this? And will it kill my plants?

Black friday sales? - By billy_corycat, (0 replies)

Is there anything aquarium related that usually goes on sale for Black Friday? I'm wondering if there's anything I could save money on - this ...
MOST RECENT ARTICLES
Testing
Some fish are simply going to live longer than others, but what species have the longest lifespans?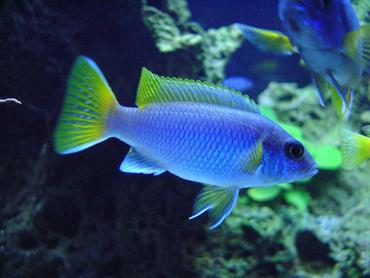 From recycling and organic farming, sustainability and conservation are two hot trending topics.