CHOOSING THE RIGHT LIGHTING ACCORDING TO TANK SIZE
Aquarium lighting systems come in all shapes and sizes - learn how to choose the right system for the tank size you have.
You could have the most beautifully decorated aquarium in the world but no one would know it if you didn't have an aquarium lighting system set up. Aquarium lighting is very important, yet many aquarium hobbyists overlook its importance. Not only can a quality lighting system help your tank look its best, but it plays a key role in maintaining plant life as well. When choosing your aquarium lighting system you need to consider a number of factors including your tank size.

Basics of Aquarium Lighting
Aquarium lighting systems come in a variety of shapes and sizes – some systems are better suited to certain kinds of tanks than others. For example, if you have a fish-only tank then your aquarium lighting system only serves the purpose of enhancing the appearance of your fish and your tank decorations. If you have a planted tank, however, your lighting system will perform this same function in addition to providing your live plants with the energy they need to facilitate the process of photosynthesis.
To help you understand which aquarium lighting system might be right for your tank, review the basics of each type of lighting system described below:

Standard Fluorescent – Once the most common type of aquarium lighting, standard fluorescents come in wattages between 15 and 40 with different size and color options. This is the type of lighting that is most often used in aquarium kits that come with a hood light. Standard fluorescents are inexpensive, easy to find, and good for simple tank setups.
Compact Fluorescent – Another version of the standard fluorescent, this type of bulb is smaller but it produces a higher intensity of light. Compact fluorescent bulbs come in wattages up to 130 and the bulbs can last for as long as 28 months without needing replacement. Like standard fluorescents, compact fluorescents come in different wavelengths including daylight or actinic.
T-5 High Output – Also known as T-5 HO, this type of fluorescent lighting is a step up from compact fluorescents in terms of intensity. These bulbs come in wattages up to 54 and they can last for about 16 to 24 months at a time. Though these bulbs produce high-intensity light they do not run hot like some lighting systems.

Very High Output – Available in wattages between 75 and 165, VHO bulbs produce very high-intensity light that can penetrate deep water. These lighting systems are three times as intense as standard fluorescents but they do produce heat, so you might need a chiller or auxiliary fan to go with them.
Light Emitting Diode – One of the newest types of aquarium lighting, LED lighting is highly efficient and easy to customize. LED lights consist of very small bulbs that can produce high-intensity light with very little energy requirement and no heat output. These lights come in standard daylight wavelengths, individual colors, and even a nighttime option that mimics natural moonlight.
Metal Halide – This is the most high-powered option in aquarium lighting and bulbs range from as low as 70 watts to 1,000 watts or more. Metal halide bulbs can last for up to 18 months and they produce incredibly bright light that offers deep penetration. One thing to keep in mind is that these systems run very hot so you'll need a chiller or fan to prevent your tank from overheating.

Lighting Options by Tank Size

With a better understanding of the options available to you, you should now be equipped to decide which option is right for your tank based on its size. Not only do you need to consider the size of your tank in terms of length and volume, but the depth is another important factor to consider. Certain types of lighting may be adequate for standard small tanks, but they might not be intense enough to penetrate water that is deeper than 18 inches. You also have to remember that if you keep any floating live plants it will diffuse the lighting to some degree.

If you have a small tank that is up to 18 inches deep you have several options. A standard fluorescent lighting system or an LED system will both work for this kind of tank as long as it is also a fish-only tank or just lightly planted. If you do have a planted tank, make sure your fluorescent lighting system offers full-spectrum light – this light that mimics the wavelength of natural sunlight and it will help to ensure that your plants get the energy they need for photosynthesis. LED lighting can also be a good choice for smaller tanks, especially if they are not planted. If you choose to use standard fluorescents, you can still use LED as supplemental lights.

For aquariums that are between 18 and 24 inches deep, you will need a lighting system that is a little bit stronger – especially if you plan to keep live plants or corals. A high-intensity lighting system like T-5 HO or VHO lighting systems are good to consider – you may also be able to get away with compact fluorescents in fish-only tanks. The number of actual bulbs you need will depend on the wattage and the volume of your tank. Remember, fish-only tanks need 1 to 2 watts per gallon of tank lighting while planted tanks require 3 to 5 watts per gallon. Reef tanks where corals are present need much higher light intensity, closer to 4 to 8 watts per gallon.

If your tank is more than 24 inches deep, or if it is heavily planted or a reef tank with corals, you will need a high-intensity lighting system. For tanks like this, metal halide systems or multiple bulb VHO systems are recommended. Remember, both of these options are likely to produce a significant amount of heat in order to meet your tank's needs for light intensity. To keep your tank from overheating you'll need to install an aquarium chiller or hook up an auxiliary fan to draw heat away from the aquarium. You also need to be careful about how you mount the lighting system to avoid putting it too close to the surface of the water.

Now that you have a deeper understanding of how aquarium lighting works and the role it plays in your tank, you are ready to make an informed decision regarding the best option for your own aquarium. Once you install your lighting system be sure to keep up with routine maintenance tasks like replacing the bulbs as needed and consider setting up an automatic timer to ensure that your tank gets the right balance of night time and daytime hours.
comments powered by

Disqus
MOST RECENT ARTICLES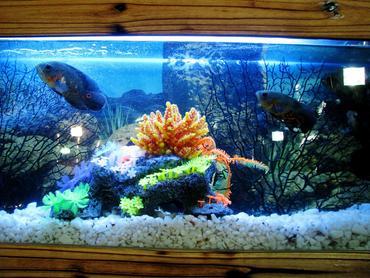 During the summer months, it may become more of a challenge to keep your aquarium temperature stable.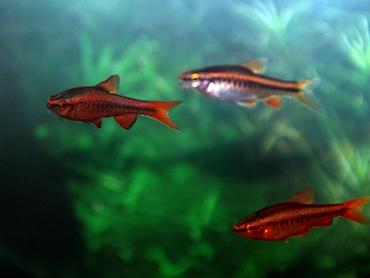 There are many different species of barbs but some of them are better than others for the larger home aquarium.
Cultivating a thriving saltwater tank can be a challenge but it is also incredibly rewarding.