SAFETY TIPS FOR FRESHWATER AQUARIUMS
Cultivating a freshwater aquarium can be an enjoyable experience but there are also a number of safety concerns to be aware of when keeping a fish tank.
When cultivating a freshwater aquarium you are more likely to think about safety concerns regarding your fish than you are to think about your own safety. You may make efforts to ensure that you do not use harsh chemicals when cleaning your tank, for example, or you might put a lid on your tank to keep curious pets or children from dipping into the tank and disturbing your fish. What you may not realize, however, is that there are also safety concerns that could affect you and your children. If you are not careful in terms of setting up and using your electrical equipment or if you misuse certain tank accessories, you could put yourself in danger. To ensure that your aquarium hobby is as enjoyable and risk-free as possible for you and your family, take the time to familiarize yourself with these safety tips.
Spreading Disease
Aquariums are a breeding ground for bacteria and, while many of those bacteria are beneficial for your fish, there could be harmful bacteria present as well. To protect yourself from harmful bacteria, consider wearing rubber gloves when you clean your tank and be sure to always wash your hands after coming into contact with tank water. The risk for infection from contact with aquarium water is fairly low but if you have open cuts or sores in your hands, the risk of infection may be elevated.
Another safety risk to consider is that, in rare cases, certain
aquarium fish diseases
can be transmitted to humans. Tuberculosis, for example, is a deadly aquarium fish disease that can be transmitted to humans from contact through open wounds or sores with dead or infected fish. Another disease which can be transmitted to humans is vibrio, a systemic infection which is typically transmitted through open wounds. Though contracting disease from contact with aquarium fish is very rare, it is still a risk of which you should be aware when cultivating a freshwater tank.
Unstable Aquariums
When
setting up your aquarium
for the first time it is incredibly important that you select a solid foundation for your tank. It may seem obvious but many novice aquarium hobbyists do not realize just how heavy their tank will be after it is filled with water. In order to support the weight of all that water you will need to invest in a high-quality aquarium stand or cabinet. If you do not mount your tank on the proper foundation, it become unstable and pose a risk for being knocked over or falling over on its own. Not only will this create a big mess and threaten the lives of your fish, but if the tank falls on someone it could be very dangerous. If your tank falls over, you also have to consider the risk of sharp glass – even after cleaning up the mess, you may have a hard time finding and cleaning up all the shards of glass.
Electrical Safety
Another important aspect of aquarium safety is electrical safety. In order to keep your aquarium running smoothly you will need to install several pieces of equipment including but not limited to a filter, heater and lighting system. All of this equipment will need to be plugged into a wall outlet and the proximity of that much electricity to all the water in your tank poses a very real risk. One of the greatest risks in terms of electrical safety involves leaks and drips – if water leaks or drips into the electrical supply, it could cause a short that might kill all the fish in your tank or it could shock the next person that touches the tank.
To prevent this from happening, be sure to arrange the cords for your aquarium equipment so they have a "drip loop" – this will prevent any water that drips down the cord from coming into contact with the electrical supply. You may also want to consider plugging all of your equipment into a device that will automatically shut off the power supply in the event of a leak. It would also be a good idea to exercise caution when handling your tank equipment – always turn off your heater or filter before you remove it from the tank for cleaning and be sure to mount your
aquarium lights
properly so they do not fall into the tank.
Other Safety Risks
While maintaining an aquarium is not inherently dangerous, there are several safety concerns of which you need to be aware. In addition to those mentioned, you should also be careful when filling or
cleaning your tank
– spilled water poses a slipping hazard and lifting heavy objects like buckets full of water or the tank itself can also be dangerous. The key to navigating these safety concerns is simply to be aware of your surroundings and to use common sense. When maintaining your tank, always take the time to do things properly – shortcuts may put both you and your fish at risk.
comments powered by

Disqus
MOST RECENT ARTICLES
In stressful times, having a home aquarium could be a benefit.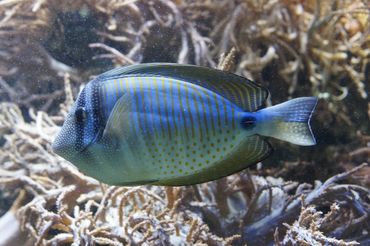 Learn the arguments for choosing to set-up either a freshwater or saltwater aquarium.
Popular as prizes at carnivals and state fairs, goldfish are known for their orange-gold coloration, but they actually come in many colors and patterns.