HOW TO SET UP A HOSPITAL TANK
No matter how careful you are, your fish are likely to get sick at some point during your time as an aquarium hobbyist. Having a hospital tank running is a great way to prevent an illness from becoming a crisis in your freshwater tank.
How to Set Up a Hospital Tank
If you are a dedicated aquarium hobbyist you probably take the time to perform your weekly water changes so the water quality in your tank remains high. You may even test the water in your aquarium once in a while to make sure your tank parameters are in line. No matter how careful you are, however, there is no way to completely prevent your fish from falling ill. While you cannot completely control whether or not your fish get sick, you do have some control over how the disease affects your fish and the rest of your tank. Setting up and maintaining a hospital tank is a simple way to take control and to
prevent disease
from becoming a crisis situation in your tank.
Benefits of a Hospital Tank
A hospital tank is essentially a back-up tank that you can use to quarantine fish. This tank should be set up to mimic the conditions in your main tank so that transferring fish to the hospital tank induces as little stress as possible on your fish. The main benefit of a hospital tank is that you can separate sick fish from healthy fish, thus halting the spread of disease to other tank inhabitants. Of course, some diseases spread very quickly and may be transmitted through tank water – in cases like this you may not be able to completely stop the spread of disease but moving sick fish to the hospital tank as early as possible may help to lessen the spread.
Another benefit of having a hospital tank for sick fish is that you can treat the fish individually without medicating the entire tank. Many aquarium medications are harmful to invertebrates and may also affect beneficial bacteria – if you dose the entire tank with medicine, you could end up doing more harm than good. By quarantining sick fish to a hospital tank, you can limit your treatment to only the fish that require it. When fish fall ill, they may fall victim to bullying by other fish – removing sick fish to a quarantine tank is the best way to ensure that the fish has time to recuperate and to fully recover before being re-introduced into the main tank.
Setting up a Hospital Tank
While a hospital tank should be set up to mimic the conditions in the main tank, it should not be identical. There is no reason to decorate your hospital tank except to provide your fish with a few places to hide. Substrate is not necessary in a hospital tank and most aquarium hobbyists choose not to use it – a bare-bottom tank is much easier to clean. To set up your hospital tank, start by filling it with water as close to the temperature of your main tank as possible. You will need to install an aquarium heater to maintain the tank at a stable temperature and you should also place an aquarium thermometer in the tank to keep an eye on things.
In addition to maintaining a stable water temperature in your hospital tank, you also need to maintain high water quality. Not only is water quality important for keeping your fish healthy, but it is also important in helping sick fish to recover quickly. To keep the water quality in your tank high you will need to install an aquarium filter. You should, however, be careful when selecting a filter because you do not want to install something that will produce enough suction or water flow to put sick or injured fish at risk. One of the best types of filters to use in a hospital tank is the sponge filter. This type of filter offers mechanical and biological filtration, helping to keep tank water clean without producing a great deal of flow. Because most medications require you to remove activated carbon from the aquarium filter, chemical filtration is typically not necessary in a hospital tank.
Other Tips for Hospital Tanks
After you have set up your hospital tank you need to maintain it just as you would your main tank. Even when you have fish in the hospital tank, you should still perform routine water changes to keep the water quality in the tank high – this is especially important if you are not using a filter that has a chemical filtration component. After using your hospital tank, be sure to give your fish plenty of time to fully recover before re-introducing them into the main tank. The last thing you want is to spark a recurrence of the disease. It is also wise to clean and sanitize the hospital tank after each use to prevent the spread of disease. Many aquarium hobbyists refill their hospital tanks after cleaning so it is ready to use at a moment's notice. The sooner you begin treatment when your fish fall ill, the better their chances are for making a full recovery. For this reason, it is important that you set up and maintain a functioning hospital tank.
comments powered by

Disqus
MOST RECENT ARTICLES
The betta fish is an incredibly popular species that has a reputation for being aggressive.
Discover five common myths about the beautiful betta freshwater fish.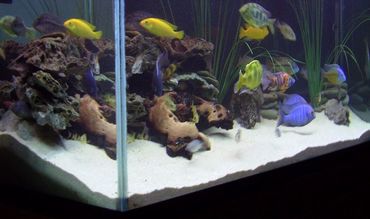 Learn about the causes of cichlid aggression and methods for reducing it.