UNDERSTANDING THE BASICS OF FRESHWATER AQUARIUM LIGHTING
Selecting a lighting system for your aquarium can be a difficult task. If you know some of these basic aquarium lighting terms, however, you will be able to make a more informed decision.
If you are new to the aquarium hobby you might easily be overwhelmed by the task of setting up and stocking your first tank. Not only do you have to decide what size and type of tank you want but you also have to purchase all of the proper equipment. In addition to decorations, filters and heaters you also need to consider what
type of aquarium lighting
you are going to choose. This is not a choice you should take lightly but unless you know a little bit about aquarium lighting you may have no idea where to begin.
If you don't know where to start with aquarium lighting, do not worry – all you need to do is to familiarize yourself with a few basic aquarium lighting terms so you will be able to make intelligent comparisons between products when making your decision. The more you know, the more likely you will be to make the right choice when it comes to choosing the equipment for your tank. In this article you will find an overview of important lighting terms to know as well as various types of lighting. By the time you finish this article you will be equipped to choose the perfect lighting system for your tank.
Purposes of Tank Lighting


Before getting into the details about different types of aquarium lighting you should learn the different functions that aquarium lighting can serve. The main purpose of aquarium lighting is aesthetic – it illuminates your tank to make it look better and it also makes the colors of your fish appear more vivid. There are special color-enhancing bulbs you can use to maximize the color of your aquarium fish. Another purpose that can be fulfilled by aquarium lighting is energy for live plants. Plants utilize the process of photosynthesis to turn light into energy and carbon dioxide into oxygen. Because plants use light as an energy source, you need to make sure that your aquarium lighting system provides for that need. You'll find specific recommendations for planted tank lighting later in this article.
Types of Bulbs:


There are many different types of aquarium lighting systems and, in order to understand the differences, you should be familiar with a few terms. Different types of bulbs put out light at various wavelengths, from different parts of the light spectrum. You will find an overview of the most common types of aquarium lighting below:
Actinic = Actinic light comes from the blue end of the color spectrum and this type of light is better for penetrating deep water than traditional white light. For this reason, actinic light is often recommended for large saltwater tanks. Actinic bulbs are sometimes sold as 50/50 bulbs and they emit a combination of blue and white light.
Full-Spectrum = A light bulb that puts out full-spectrum light emits light from all visible wavelengths. Full-spectrum light bulbs are sometimes called daylight bulbs because the light they emit is similar to natural daylight. These bulbs emit light at all visible wavelengths and they are a good general purpose type of lighting for aquariums.
Color-Enhancing = Color-enhancing is another term you might see applied to either actinic or daylight bulbs. These bulbs are designed to enrich the natural coloration of aquarium fish. These bulbs typically put out light from the warmer end of the spectrum and they can be used for either freshwater or saltwater tanks.
Fluorescent = Fluorescent bulbs are some of the most common bulbs utilized by a variety of aquarium lighting systems including standard fluorescent, compact fluorescent, T-5 HO and VHO. This type of bulb functions as a gas-discharge lamp, using electricity to excite the mercury vapors contained within the bulb to produce light. Different types of fluorescent bulbs offer different wattages and intensities of light ranging from 10 watts all the way up to 1,000 watts.
Incandescent = An incandescent lamp is a bulb that produces light using electricity to heat a filament wire contained within the bulb – as the wire heats it begins to glow, producing light. These bulbs are not commonly used in the aquarium hobby because they produce too much heat, but you may see them in small novelty aquariums as a combination heat/light source.
Power Compact = Power compact bulbs are high-powered bulbs that have a similar lumen-per-watt rating as T-5 bulbs, generally around 60 lumens per watt. These bulbs come in three different varieties: straight-pin, square-pin and a self-ballasted screw-in variety. Not only are power compact bulbs high-powered, but they are also incredibly versatile which makes them very popular in the aquarium hobby.
LED = LED lights are not actually light bulbs at all but light emitting diodes. This type of lighting is quickly becoming popular in the aquarium industry because it is highly energy efficient and long-lasting. LED lights produce a unique "shimmering" effect in the tank which greatly enhances the tank appearance and they are also useful in creating a "lunar" effect which is beneficial for nocturnal tank inhabitants.
Evaluating Aquarium Lighting:


Now that you know the basics about the different types of lighting you have to choose from you can move on to learning more about aquarium lighting in general. When it comes to selecting the right bulb for your aquarium lighting system, you should be familiar with some of the terms you are likely to see on the packaging. You will find a list of common aquarium lighting terms below:
Watt = If you are familiar with light bulbs you are probably used to seeing the term "watt". The wattage of a light bulb is simply a description of how much energy is required to light the bulb. The higher the wattage, the brighter the light the bulb puts out. Most types of aquarium lighting systems have bulbs that come in a variety of different wattages for tanks of different sizes.
Lumen = In regard to the intensity of light any bulb produces, you may see the term "lumen". The lumen is an international unit of luminous flux which is used to measure the amount of visible light emitted by a light bulb - the higher the lumens of any given light bulb, the more intense the light is going to be. This measurement is a more important consideration than the wattage of a bulb because wattage is actually a measurement of the energy required to light the bulb, it doesn't measure how much light the bulb puts out.
Kelvin Rating = When it comes to aquarium lighting, the Kelvin is used to define the color temperature of a bulb. Color temperature is measured using a black body radiator – as the body is heated, it changes color and that color is then linked to the actual temperature. In regard to aquarium lighting, bulbs with higher Kelvin ratings (above 5500 K) have a "cool" color temperature, producing blue-green light. Lamps with color temperatures below 3000 K are "warm", producing yellow-red colors. The Kelvin rating of a lamp is especially important to consider for planted tanks – live plants thrive best under 6500 K lamps.
PAR = Photosynthetically Active Radiation (PAR) is just a term used to describe light that falls within the 400 to 700 nm range. This is the type of light required by live plants and photosynthetic invertebrates and the best PAR is generally seen in daylight bulbs.
PUR = Photosynthetically Useful Radiation (PUR) is also called Useful Light Energy and it is a term used to describe the usable portion of PAR light. PUR typically occurs at wavelengths between 620 and 740 nm but it can be somewhat difficult to measure. PUR can also be affected by the depth of a tank. The key to aquarium lighting is to find a bulb with the right wattage and lumen output that also produces light within the optimal PAR and PUR range.

Choosing the Right System for Your Tank


Now that you know some of the basic terms used to describe aquarium lighting you are ready to go to the pet store to check out the selection. Before you go, however, you might want to have an idea what type of tank you intend to cultivate so you know whether you need a lighting system for a fish only or a planted tank. When it comes to freshwater aquariums, there are two main types: fish-only or planted. A fish only tank is a tank that houses only fish and invertebrates – this type of tank does not require a great deal of lighting other than for the purpose of illuminating the tank.
A
planted tank
, on the other hand, requires a significant amount of lighting because plants are photosynthetic organisms and they require light as an energy source. If you plan to cultivate a fish-only tank you should purchase a lighting system that provides at least 1 or 2 watts per gallon of light. Planted tanks require between 2 and 5 watts per gallon of full-spectrum light in order to thrive. Keep in mind that different types of bulb provide different wattages and intensity so shop for aquarium lighting based on the size and depth of your tank, keeping in mind the wattage recommendations for planted tanks.
In addition to what type of lighting you want to buy you should also consider the size of your tank – if you have a small tank you may only need one light fixture but large tanks may require several fixtures to ensure the even distribution of light. Keep in mind that some lighting systems will require additional equipment like a power source called ballast or an auxiliary fan to keep your aquarium from overheating. You might even need to use an aquarium chiller to maintain tank temperature if you use a high-powered lighting system.
If you get confused at any point or simply don't know what type of aquarium lighting system would be right for you, don't hesitate to ask a professional at your local pet store for help. You might also find it useful to do some research online so you have a few brands or systems in mind before you head out to the pet store. Having the right lighting system for your aquarium is incredibly important so it is not a decision that should be made lightly – understanding the basics, including some of the terms used to describe aquarium lighting, will help you make the right choice.
comments powered by

Disqus
MOST RECENT ARTICLES
Cultivating a reef tank is an exciting but challenging task - learn more about choosing the right size for your reef tank.
Advantages and disadvantages to a Wall Mounted Fish Tank.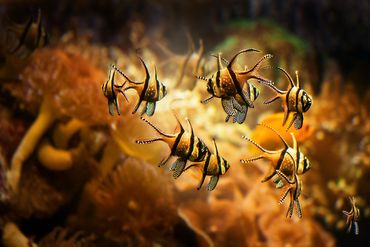 The pet trade gets a bad rap for exploiting wild animals but sometimes the opposite is true.