USING DRIFTWOOD AND LIVE PLANTS IN THE FRESHWATER TANK
One of the most attractive ways you can decorate an aquarium involves a combination of driftwood and live plants.
For many aquarium hobbyists, the most enjoyable part of having a freshwater tank is being able to decorate it. There are many ways to go about decorating your freshwater tank so choose a style that appeals to you. Some aquarium hobbyists like using novelty décor items like treasure chests and sunken pirate ships while others prefer to go with a more natural aesthetic. One of the most attractive ways you can decorate an aquarium involves a combination of driftwood and live plants. To make your tank look its absolute best, think about anchoring your live plants to driftwood.

Driftwood in the Aquarium


If you are trying to cultivate a natural-looking aquarium, one of the best decorations you can use is driftwood. A small piece of driftwood hidden among a patch of live plants can give your fish a place to hide while also making your tank look great. Larger pieces of driftwood can be propped up with rocks to take up more vertical space in your tank. If you really want to get creative you can use multiple pieces of driftwood to create a maze of caves and holes for your fish to explore.
Before you use driftwood in your tank you need to know a few things about it. Most importantly, driftwood contains tannins. Tannins are a kind of natural compound found in tree bark and other plant tissues – they are the substances responsible for the brown color and bitter taste of these materials. If you put driftwood in your tank without curing it first it could cause tannins to leach into your tank water, turning it brown. While this might not harm your fish it could detract from the appearance of your tank.

How to Cure DIY Driftwood

If you are lucky enough to live near the ocean or a river, you might be able to find natural driftwood near your home. You cannot just take driftwood from nature and put it in your tank, however – it may be covered in bacteria, fungus, mold and other substances that could harm your fish. Before you use natural driftwood in your tank you need to properly clean and cure it. Below you will find step-by-step instructions for cleaning natural driftwood:
Remove any leaves or foreign materials from the driftwood until only the wood remains.
Use a sturdy brush to scrub the driftwood, making sure to remove as much dirt and any other foreign matter that you can.
Place the driftwood in a large container.
Fill the container with enough distilled water to completely submerge the driftwood – you may need to use a rock to weigh it down.
Let the driftwood soak for about two weeks.
During this time you'll need to swap out the water as the tannins being leached from the wood turns the water brown.
When the water remains clear for a few days, your driftwood has been fully cleaned.
Remove the driftwood from the water and set it in a cool, dry place to dry out.
Once the driftwood dries out it can be considered cured and it is ready to use in your tank.

How you use your driftwood is completely up to you, but if you want to achieve a truly unique look in your aquarium you should consider anchoring some live plants to the driftwood.

Anchoring Plants to Driftwood


The process of anchoring plants to driftwood is not difficult – all you need is a few simple materials. In addition to the driftwood itself you will need some dark cotton thread and whatever plants you want to attach to the driftwood. Follow the steps below to anchor your plants to your driftwood:

Set your driftwood on a sturdy work space.
Trim your plants, if needed, and test out different arrangements on the piece of driftwood.
Start with small plants so they will attach to the driftwood as they grow and leave enough room for them to expand.
Once you've chosen your arrangement, use the thread to secure the roots to the driftwood.
Wrap the thread around the roots several times to anchor them then trim the thread.

After you've anchored your plants to the driftwood all that is left is to place it in your tank. Do not worry if the plants look a little awkward at first – after a few weeks they will have anchored themselves to the driftwood and it will look like they belong there.
Recommended Plants to Use
Theoretically you should be able to anchor any plant to a piece of driftwood as long as it has roots that you can tie down. Certain plants have thick or strong roots, however, and these plants are the best for this type of project. One of the best plants to use is Java Fern.
Below you will find a list of recommended plants to use with driftwood
:
Java Fern
– This low-maintenance plant produces long, finger-like leaves in a bright green color. Java fern grows up to 8 inches tall and it is particularly well-suited to cichlid tanks. These plants require moderate lighting, but they will do just find in shade.
Anubias
– Another low-maintenance plant, Anubias grows up to 20 inches tall and it produces bright green leaves. This plant does well with moderate lighting but it may require supplemental fertilization for optimal growth. To prevent algae from growing on the leaves, keep this plant out of areas of intense light.
Hemianthus – Also known as "dwarf baby tears," this plant grows in bright green clusters and it is a great option if you are looking for something that will completely cover your live rock. This species grows up to 6 inches tall and produces tiny green leaves that provide cover for small fish and newly hatched fry.

Glossostigma – This is one of the smallest species of aquarium plants so it works well in the foreground. This plant does require a good deal of light and it tends to grow upward rather than spreading if it doesn't get enough light.

These are just a few of the many plants that can be anchored to driftwood. If you head to your local fish shop and see a plant that you like, do not be afraid to give it a try. If the plant doesn't anchor to the driftwood, just use it elsewhere in your tank. Over time, you can create a densely planted tank that your fish will love.
When it comes to decorating your freshwater aquarium you can be as creative as you like. If you are going for a natural look and you don't mind doing a little extra work, it is well worth the effort to attach a few plants to some driftwood to use as decorations for your tank.

comments powered by

Disqus
MOST RECENT ARTICLES
Betta fish are some of the most colorful and vibrant freshwater aquarium fish around.
Cultivating a thriving saltwater tank can be a challenge but it is also incredibly rewarding.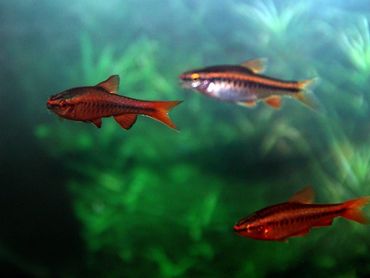 There are many different species of barbs but some of them are better than others for the larger home aquarium.