ADDRESSING THE SHIMMIES IN LIVE BEARERS
Dealing with aquarium fish disease is a fact of life in the aquarium hobby. Take the time to learn about the shimmies, or livebearer disease, to protect your fish.
If you plan to cultivate a freshwater tank it is inevitable that you will be faced with
freshwater aquarium disease
at some point. You have probably already heard about some of the most common diseases like cotton mouth and Ich but there are many other conditions which could affect your fish if you are not careful. Livebearing species of fish like mollies and guppies are particularly susceptible to a condition called shimmies can or livebearer disease. This condition often contributes to the development of secondary infections which can be very serious for the health of your fish. In order to address this problem properly you must first learn the basics about this condition.
Understanding the Shimmies
The first thing you need to know is that the shimmies is not actually a disease but a condition in fish brought on by poor water conditions. This condition typically manifests in the form of affected fish exhibiting
behavioral changes
such as rocking from side to side. Fish suffering from shimmies may also have clamped fins and labored breathing in addition to twitching or vibrating their bodies. Because fish do not typically exhibit these behaviors for extended periods of time, identifying and diagnosing the shimmies is generally fairly easy. Once you know that your fish are suffering from this condition it is up to you to determine the cause and to remedy it.
Because the shimmies is not actually a disease but a symptom of stress, it is necessary to take a look at your tank environment to determine the underlying cause of the problem. In most cases, the problems which contribute to development of the shimmies are environmental – poor water quality, inadequate water parameters, etc. One of the most common conditions contributing to livebearers developing the shimmies is soft or acidic water. Though many livebearers like mollies, guppies and swordtails are known for being tolerant of varying water conditions, they do not tend to do well in soft or acidic water. Poor water quality in general as well as the presence of toxins like copper in the water may also contribute to the development of this condition.
Treating the Condition
There is no treatment for the condition itself but your fish are likely to recover from the shimmies once you remedy the underlying cause of the problem. Your first step should be to perform an aquarium water test to check the water chemistry in your tank. You may need to perform several small water changes over a period of several days in order to improve the water quality in your tank. As you do so, be sure to keep an eye on your fish to see how they are responding to the water changes. It is important that you do not change too much of the water at once or you could shock or stress your fish with the sudden
change in water chemistry
.
Preventing the Shimmies
The key to preventing aquarium fish diseases in general is to maintain a healthy aquarium environment. To do so, you must perform some research to determine the ideal conditions for the fish you have in your tank and then take steps to create that kind of environment. Because livebearers are often marketed as being hardy and a good choice for beginners, many people assume that they will do well under any conditions. While livebearers like mollies and swordtails are capable of tolerating less-than-ideal water parameters, they may not thrive in these conditions. As is true of all fish, if you want your livebearers to thrive you will have to provide them with an environment that is suited to their individual needs and preferences as a species.
Mollies are most commonly affected by the shimmies in the home aquarium because
inexperienced aquarium hobbyists
do not understand their needs. These fish require hard, alkaline water with a pH between 7.5 and 8.5 and a water temperature between 75° and 82°F. In addition to these conditions, mollies also prefer low nitrate levels and zero ammonia and nitrite. Because these fish do best with high water quality, they are not recommended for small or overcrowded tanks. Many aquarium hobbyists believe that adding a few teaspoons of aquarium salt to the tank will improve the conditions for mollies but there is a great deal of controversy about this.
Other Tips and Information
Before adding any fish to your tank it is essential that you do some basic research on the species. Not only do you need to be sure that the fish will get along with the other species in your tank but you also need to be sure that the conditions in your tank are right for those fish. While many species are tolerant of varying water conditions, every species has its own set of preferences in regard to tank conditions. Keeping your tank at the ideal temperature, pH and water hardness is essential for maintaining the health of your fish and preventing conditions like the shimmies. Remember that the more your tank resembles the natural environment of your fish, the happier and healthier your fish are likely to be in the long run.
comments powered by

Disqus
MOST RECENT ARTICLES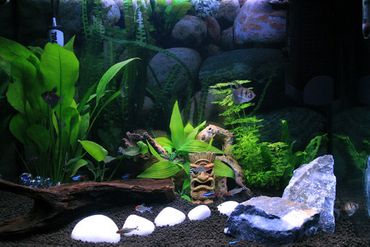 When it comes to snails in the freshwater aquarium, not all of them are bad.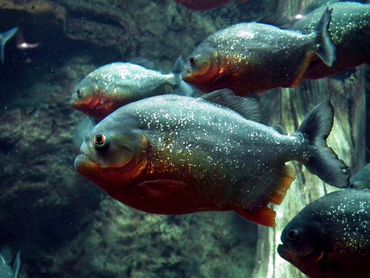 Find out which fish will rapidly outgrow your tank, and the smaller alternatives that are available.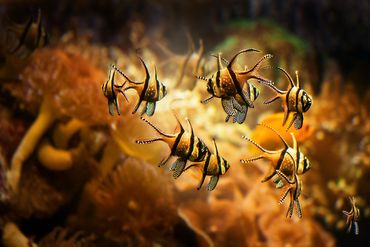 The pet trade gets a bad rap for exploiting wild animals but sometimes the opposite is true.