THE BENEFITS OF SNAILS IN THE SALTWATER TANK
While snails are often viewed as a nuisance in the freshwater tank, they can serve a valuable purpose in the saltwater aquarium.
As an aquarium hobbyist, you have probably heard horror stories about aquarium snails taking over the tank. In freshwater tanks, aquarium snails have an uncanny ability to reproduce quickly, going from one or just a few snails to hundreds in what seems like no time. In the saltwater aquarium, however, this type of snail infestation is less common. In fact, saltwater aquarium snails can be highly beneficial. If you have a saltwater aquarium, take the time to learn about the potential benefits a marine snail might have in your tank.
Facts About Marine Snails
Marine snails belong to the phylum Mollusca in the class Gastropodus and there are over 40,000 recognizes species of snail. These organisms have hard shells composed of a calcareous or horn-like material – in many cases it is either tightly coiled or spiraled. A snail's shell is typically used for protection and some species even have an operculum, a sort of trapdoor that can be used to seal the snail in when it retract into its shell. Marine snails vary in size depending on the species – some are as small as only a few millimeters while others can reach a diameter of over 20 inches. Snails move by gliding along its "foot," a flat muscle which adheres to solid surfaces, facilitating locomotion by means of myriad tiny muscular contractions.
In the marine aquarium, snails perform a variety of functions. Snails are, by nature, scavengers – they tend to feed on detritus like decaying plant matter, organic waste and uneaten fish food. These creatures may also feed on algae growths which can be incredibly beneficial in saltwater tanks struggling with excess algae. The main benefit of snails over other types of saltwater algae eaters is that they can eat algae growths off live corals without damaging them. Snails can also simply serve as an aesthetic addition to the saltwater tank – many species exhibit bright colors or patterns which can enhance the appearance of your tank.
Types of Marine Snails
When it comes to marine snails, there are many different species to choose from. Some of the most popular species, however, are turbo snails. There are several different types of turbo snails and they may vary in size from less than one to several inches. Bumble Bee snails are named for their black-and-yellow stripes and, due to their small size, they are able to get into tiny cracks and crevices in search of detritus. Margarita snails are capable of devouring large quantities of algae and, unlike some species, they are non-venomous so they won't damage delicate corals and other invertebrates. Tiger Cowries, another species of marine snail, are fairly large and they are particularly recommended for
live rock
aquariums.
Keeping Saltwater Snails
If you plan to keep saltwater snails in your tank you should not assume that they will simply find their own sources of food. While marine snails will feed on detritus and algae growths in the aquarium, you may also need to supplement their diet. If you have other invertebrates in the tank that perform a similar role, this will be especially important. Marine snails are likely to accept a wide range of foods – they tend to feed from the substrate and from tank surfaces, however, so your best option is to use sinking pellets or wafers. Snails will also eat bits of meat-based foods such as brine shrimp, fish and scallops.
To keep your marine snails healthy and happy you should strive to keep the salinity of your tank at a specific gravity between 1.018 and 1.028 with a
pH
between 8.10 and 8.4. The specifics for water parameters may vary slightly depending on the species of snail you choose, but these are general guidelines. Keep in mind that aquarium snails can be very sensitive to changes in water chemistry so, once you purchase your snails, you should slowly acclimate them to the tank. Once settled in your tank, the snails will begin scavenging for food on their own.
If you are looking for a simple way to keep your saltwater
tank clean
, or if you are just looking for something unique to stock your tank with, consider a marine snail.

References
"Marine Snails." Aquatic Community. < http://www.aquaticcommunity.com/SwSnails/>
"Benefits of Marine Invertebrates." Drs. Foster and Smith. <http://www.drsfostersmith.com/pic/article.cfm?c=3578&articleid=2092&d=158&category=299>
"Snails." LiveAquaria.com. < http://www.liveaquaria.com/product/aquarium-fish-supplies.cfm?c=497+526>
"Marine Snails." SeaWorld.org. < http://www.seaworld.org/animal-info/animal-bytes/animalia/eumetazoa/coelomates/protostomes/mollusca/marine-snails.pdf>
comments powered by

Disqus
MOST RECENT ARTICLES
The betta fish is an incredibly popular species that has a reputation for being aggressive.
Discover five common myths about the beautiful betta freshwater fish.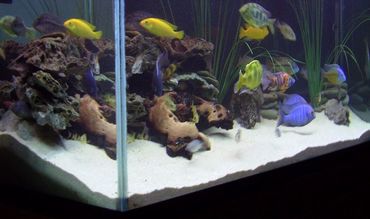 Learn about the causes of cichlid aggression and methods for reducing it.