Planted Tanks
Live plants can completely transform the look of your aquarium. Keep reading to learn some simple tricks for rooting and anchoring live plants as well as some tips for pruning and propagation.
Live plants can completely transform the look of your aquarium. As realistic as some artificial plants may look, nothing compares to the real thing. Plus, live plants come with the added bonus of producing valuable oxygen for your fish.
A lushly planted tank is a sight to behold, but it does take a fair amount of work to get there. In addition to choosing the right kind of substrate for your planted tank, you also need to decide where you want to put your plants and how to keep them there. Some fish have a penchant for uprooting live plants and other factors such as strong current can make it a challenge to keep your plants where you want them.
Keep reading to learn some simple tricks for rooting and anchoring live plants as well as some tips for pruning and propagation.
Understanding the Different Types of Aquarium Plants
When you first start shopping around for live aquarium plants, you'll find that they are sold in several different ways. Popular options like Amazon sword, crypts, crinums, and hair grass are typically sold in small pots. Rhizomatous plants like anubias and java fern are typically sold by the rhizome, also known as the rootstalk or subterranean stem from which roots and leaf nodes grow. Other plants like mosses and stem plants may be sold by the stem or in bunches.
Each of the different kinds of live aquarium plant needs to be treated differently when it comes to placing them in your tank. While floating...
Some freshwater fish will eat their way through a planted tank in a matter of hours. If you want to cultivate a planted tank that also houses fish, consider some of these top six species.
Many aquarium hobbyists underestimate the amount of time and effort it takes to set up and maintain a thriving planted tank. Not only do you need to think carefully about which plants you want to grow, but you have to consider the right substrate, the filtration system, the water temperature, water chemistry, and even the arrangement of your plants. By the time you get all of those details figured out, you have probably forgotten all about your fish!
While it is true that there are some species of freshwater aquarium fish which are voracious plant-eaters and not recommended for planted tanks, there are just as many (or more) species which can do very well in a planted tank. Keep reading to learn more about the challenges associated with a planted tank and to receive recommendations for plant-friendly species and tips for their care.

What are the Challenges of Keeping a Planted Tank?

When you visit the pet store or see pictures of beautiful planted aquariums online, you may be amazed at the lush green color of the plants and the density in which they have grown. Tanks like these make it look easy, but keeping a planted tank healthy and thriving is not as simple as you might think. Aquarium plants are living things so they require certain nutrients in order to grow and thrive. The main nutrients that aquatic plants need are water (of course), light, and food. Plants are photosynthetic organisms which means that they use light...
Cultivating a thriving planted tank can be quite a challenge and if you do not follow the proper procedure, you may not be successful.
When it comes to cultivating a thriving freshwater aquarium, many hobbyists like the look of a planted tank. There is just something about an aquarium filled with beautiful green plants that enhances the overall appearance of the tank. Unfortunately, many aquarium hobbyists do not realize the work that goes into cultivating a successful planted tank. Live aquarium plants require a delicate balance of nutrients as well as adequate lighting in order to grow and thrive – if you do not provide for the needs of your plants, they will end up dying and you won't have the beautiful planted tank you desire.

Though you have the freedom to arrange your planted tank in any way you like, there is a right and a wrong way to go about setting up the tank. In this article you will receive tips for planning your planted tank as well as a step-by-step guide for setting it up.

Top Nutrients Required for a Planted Tank

Before you set up your planted tank, it may help for you to learn about the nutrients that your plants will require in order to grow and thrive. Having this information in mind will help to make the process of selecting the right substrate and water chemistry for your tank make more sense. The most important nutrients for live aquarium plants are as follows:
Nitrogen – This macronutrient is essential for the formation of protein, amino acids, and DNA – it also plays a role in nutrient uptake. Deficiencies...
MOST RECENT ARTICLES
Betta fish are some of the most colorful and vibrant freshwater aquarium fish around.
Cultivating a thriving saltwater tank can be a challenge but it is also incredibly rewarding.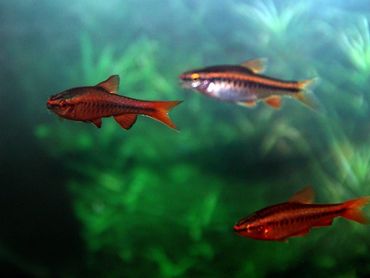 There are many different species of barbs but some of them are better than others for the larger home aquarium.