SMART TANK TECHNOLOGY IS THE FUTURE OF THE AQUARIUM HOBBY
Modern advances in technology affect every industry - even the aquarium hobby. Read on to learn about the top tech for aquariums in 2019.
New advances in technology are being made each and every day. In fact, sometimes progress happens so quickly that you don't even realize it's happening. Technology has advanced to the point now that, not only is it available at your fingertips, but some of it has become completely independent.
Smart devices have proliferated nearly every industry from health initiatives like the FitBit that automatically tracks everything from heart rate to sleep patterns, to smart pet technology like GPS collars and pet cameras.
But what about the aquarium industry?
Modern technology has made it easier than ever to cultivate and maintain a thriving home aquarium. For many years, monitoring water chemistry was a constant concern, but new in-tank devices can now deliver real-time measurements for everything from pH to water hardness. Keep reading to learn about other advancements in modern aquarium technology and how you can use them for yourself.
What Are the Latest Advancements in Aquarium Technology?
There once was a time when fluorescent lighting was the new big thing in
aquarium technology
. Along that same vein, the invention of electronic ballasts made it possible to light a giant tank without worrying about overheating or bulb life. Speaking of bulbs, now they are available in a wide range of colors, spectrums, and intensities. There are even LED lighting systems for aquariums.
Another area in which technology has led to some important aquarium advancements is filtration.
Aquarium filtration is essential for maintaining a clean and thriving tank. Two-stage filters remove solid waste particles from the water column while also neutralizing chemical toxins. The development of biological filtration revolutionized the industry, and now Biowheels come standard on most hang-on filter systems. The development of new filter media has made it easier than ever to achieve and maintain custom tank conditions while improvements in design reduce maintenance time.
Maintenance is another area where some impressive technological advancements have been made.
Sump systems have been around for many years and, while they are great, they can't exactly be considered "advanced" technology. Devices like UV sterilizers and reverse osmosis (RO) devices are another story. Automatic feeders have taken the guesswork out of feeding, making it possible to automate that element of aquarium maintenance almost entirely. Even maintaining stable levels for trace minerals, fertilizers, and balling salts has been made easy with automatic dosers.
There are even aquarium automation systems that combine all of these separate benefits in a single system that can be tracked and adjusted via smartphone. Keep reading to learn about 6 smart aquarium devices to try in your own aquarium at home.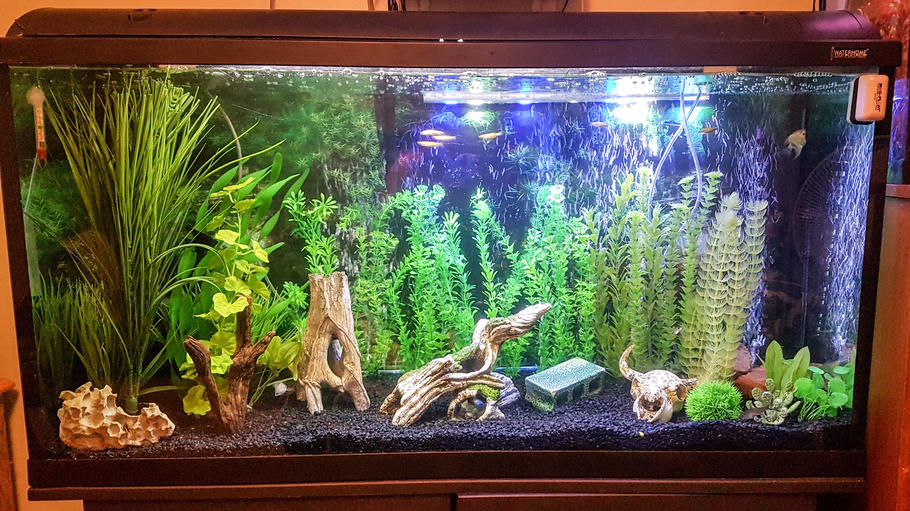 6 Smart Aquarium Devices to Try at Home
In our modern, technology-driven world, we are more connected than ever. All it takes is a few seconds to open a social media app or to respond to an email to stay in touch with the people we care about. This kind of technology has some pretty impressive applications outside of social networking – it can even be used by aquarium hobbyists to stay connected to their tanks.
Here are some of the top "smart" aquarium devices and technologies for you to try at home:
1. FishBit
– The
Fishbit Monitor
enables you to test and monitor tank conditions from your smartphone or tablet. It consists of an in-tank controller that wirelessly measures everything from water temperature to pH and salinity. All you have to do is install the monitor in your tank, plug in the devices you'd like to automate, then download the app. You'll see real-time measurements on your smartphone and can control your devices at the touch of a button.
2. Seneye
– Marketed as "intelligent fish keeping," the
Seneye
alert system keeps an eye on all of your most important tank equipment. This device monitors tank temperature, water level, pH, NH3 levels, and lighting for both freshwater and saltwater tanks to keep you up to date on tank conditions. By staying on track with your tank conditions, you can prevent a small change from becoming a big problem that might harm or even kill your fish.
3. Bluenero
– The world's first smart aquarium,
Bluenero
was originally launched on IndieGoGo and funded in October of 2018. This aquarium is fully automatic for both feeding and cleaning, plus it features a built-in camera so you can keep an eye on your fish while you're away. It comes equipped with full-spectrum LEDs, super silent technology, and the Bluenero Smart App that gives you full control over the aquarium from anywhere in the world.
4. MOAI Robot
– Cleaning the tank is every aquarium hobbyist's least favorite task, but the
MOAI
aquarium robot takes all the work out of it. This device is easy to install, and you can control it via smartphone, watching it work with 24/7 live streaming. You can start and stop cleanings at any time or schedule them automatically. You can also bookmark your favorite tank positions and return to them with the tap of a button.
5. Felix
– If you want to be able to see everything that's going on with your tank any time of day or night,
FELIX
might be just what you need. A combination of a submersible 360-degree camera and integrated monitor and sensor allows you to monitor your tank as well as your tank parameters from your favorite smart device. Create automatic reminders, capture images, and video, and control your devices all through a single app on your smartphone or tablet.
6. GHL Doser
– Maintaining a saltwater or reef tank can be a challenge because even the slightest change in water chemistry can be devastating. The
GHL Doser
is just what you need to keep your tank parameters stable without any additional effort. This device has the capacity to dose trace elements, fertilizers, balling salts, and water to keep your tank exactly where it needs to be at all times.
Tips for Choosing Aquarium Technology
With so many options available, how do you choose the right aquarium technology for your tank?
When setting up a new tank, you have a lot of factors to consider. What size will you choose? What shape and type of tank? What kind of fish will you keep and what other inhabitants? On top of answering all of these questions, you also need to think about the kind of equipment you'll be using. Do you keep it simple or go for broke with a fully integrated automation system?
While aquarium technology has advanced by leaps and bounds in recent years, it is still in development, and some of the latest technology isn't even available yet. Many aquarium tech companies launch their products through Kickstarter or Indiegogo campaigns to raise the capital they need before even putting their products into production. Investing in one of these companies is a great way to take advantage of the newest technology without necessarily paying full-price. You'll have to be patient, of course, and wait until the campaign is funded and the product goes into production.
If you're thinking about upgrading an existing tank, you'll need to consider your primary focus. Do you want to reduce maintenance time or improve the stability of your tank conditions? Do you want to automate something simple like lighting or feed, or do you want to automate your whole tank? Asking yourself these questions will help you decide which technology is the best fit for your tank.
With every new advance in modern technology, the world changes. If you want to take advantage of these changes for the benefit of yourself and your aquarium, consider trying some of the technology reviewed above. Best of luck!
comments powered by

Disqus
MOST RECENT ARTICLES
Modern advances in technology affect every industry - even the aquarium hobby.
Cichlids are some of the most beautiful fish in the world, but they can also be the most aggressive.