Aquarium Setup
Keeping large species of freshwater fish in a community tank can be challenging but, with proper planning, you can be successful.
Everybody loves neon tetras, swordtails, and harlequin rasboras but, for some aquarium hobbyists, these species are much too small. If you want to take your aquarium skills to the next level and explore a new aspect of the aquarium hobby, consider cultivating some of the larger species of freshwater fish. From discus fish to Oscars and other large cichlids, maintaining a tank full of large fish can be a unique challenge. Keep reading to learn more about the art of aquascaping a tank specifically for large freshwater fish.
Choosing the Right Substrate
When it comes to decorating your tank, one of the first decisions you need to make is in regard to the substrate you will use. The substrate in your aquarium isn't just for show – it fulfills several important purposes. Most importantly, the substrate in your tank is where the majority of your beneficial bacteria are going to live – the bacteria that help to initiate and maintain the nitrogen cycle. Substrate also gives you a medium in which to root live plants and some species of fish are filter feeders that sift through the substrate to find food. For a tank housing large species of freshwater fish, you have to consider the needs of the individual species, but gravel or sand are the top choices. If you are keeping fish that sift through the substrate for food, then sand is the best option. For other large fish, however, a gravel bed 1 to 2 inches deep is the...
An unfiltered tank is a unique challenge - you will learn the basics for how to get started in this article.
If you have done any basic research about freshwater aquariums, you have probably learned about the importance of maintaining high water quality. The cleaner your tank water is, the happier and healthier your fish will be. In most cases, maintaining high water quality requires you to outfit your tank with a filtration system. A rising trend in the aquarium hobby, however, is focused on tanks that do not require any kind of filter system.
A healthy and thriving unfiltered tank is possible to achieve, but it will take some forethought and planning. In this article you will learn the basics about unfiltered fish tanks and how to cultivate one for yourself.
Tips for Maintaining an Unfiltered Tank

The key to maintaining an unfiltered tank is to two-fold. First, you must carefully choose your tank inhabitants to make sure that they will not only survive in an unfiltered tank, but that they will contribute to the ecosystem. For example, live aquarium plants will act as filters by converting the CO2 produced by your fish into the oxygen they need to breathe. Having plenty of live plants in your unfiltered tank will help to keep the water quality in your tank high enough for your fish to survive.
Second, after you have set up your unfiltered tank you need to take certain steps to maintain high water quality. Stocking your tank with plants alone is not enough to accomplish this goal – you will also have to perform frequent water changes and be very...
Before you go out and buy a freshwater tank, think about these questions so you are fully prepared.
When it comes to pets, there are a wide variety of options to choose from. Some people go for the more traditional options like cats and dogs while others choose a more unique pet like aquarium fish. Owning freshwater fish has a number of advantages over other pets. For instance, owning fish is perfect for people with allergies, people that live in large cities without backyards, people on the go, and so on. In addition to being easy to care for, freshwater fish are beautiful, graceful, and sometimes even comical. If you are interested in owning your own freshwater fish, this article will provide you with everything you need to know on setting your tank up correctly.
Questions to Ask Before You Begin
Before you go out and buy an aquarium, there are a few questions you need to ask yourself. These questions will help you to determine what type of tank is right for you, whether you can afford to keep aquarium fish, and what kind of fish you want to keep. A freshwater aquarium is a self-contained ecosystem that requires a delicate balance to be healthy. Achieving that balance takes time and patience – if you rush into it, you could end up putting your fish at risk for stress and disease. To avoid this, ask yourself the following questions before you buy:
1. Where will I put the tank?
2. Can I afford the cost of a fish tank and the necessary supplies?
3. Do I have time to...
MOST RECENT ARTICLES
The betta fish is an incredibly popular species that has a reputation for being aggressive.
Discover five common myths about the beautiful betta freshwater fish.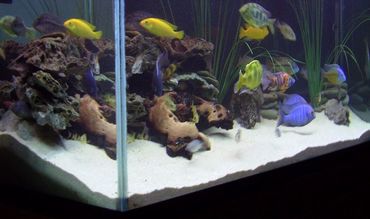 Learn about the causes of cichlid aggression and methods for reducing it.