Breeding
Gouramis are some of the best community fish around because they are peaceful, hardy, and lovely to boot. Keep reading to learn more about breeding these wonderful fish.
Being an aquarium hobbyist comes with some challenges but it can also be incredibly rewarding, especially if you're able to successfully breed your fish. If you're looking for a type of aquarium fish that is compatible with other community species and relatively easy to breed in the home aquarium, consider gouramis as an option. There are many species to choose from and each of them is beautiful and unique in their own way.
What Are the Most Popular Species?
Gouramis are a family of fishes called Osphronemidae. They are a group of freshwater perciforms that are native to various parts of Asia ranging from Pakistan to Korea. These fish have laterally compressed bodies similar to cichlids and they are easy to identify by the elongated feeler-like ray they have on each one of their pelvic fins. There are currently about 133 species of gourami that have been recognized and they are divided among four subfamilies and 15 genera. Here are some of the most popular species for the home aquarium:
Gold Gourami – A color morph of the three-spot gourami, the gold gourami is known for its vibrant gold tones with rich striping. These fish grow up to 6 inches in length and can sometimes grow to be belligerent and territorial, though this behavior is usually limited to the males of the species. Like most gouramis, this species is omnivorous and requires a varied diet of live, fresh, and commercial foods.
Blue Gourami – Also a color variation of the blue-spot gourami, the...
Bala sharks are a very popular species of aquarium fish. Read more to learn how to breed them yourself.
Bala sharks are a very popular species among tropical fish enthusiasts, but many aquarium owners do not realize just how large these fish can get. In the pet store, Bala sharks are sold when they are very young and only measure one or two inches. At maturity, however, the Bala shark has the capacity to grow up to 12 or 14 inches in length. The Bala shark does not even reach sexual maturity until it is around four inches (10 or 15 cm) in size, so Bala shark breeding can be difficult for the average aquarium enthusiast. If you are interested in breeding your Bala sharks, you may want to learn the basics about breeding requirements for this species first.
About Bala Sharks
Also known as the silver shark, Bala sharks are not actually a species of shark - they are a species of freshwater fish whose sleek body shapes resembles that of a shark. These fish generally have slender, silver-colored bodies with black-tipped fins, and they belong to the same family as danios, carps, and minnows. Bala sharks are a hardy variety of tropical fish, which makes them popular among aquarium enthusiasts, but they do require a great deal of space as they grow larger.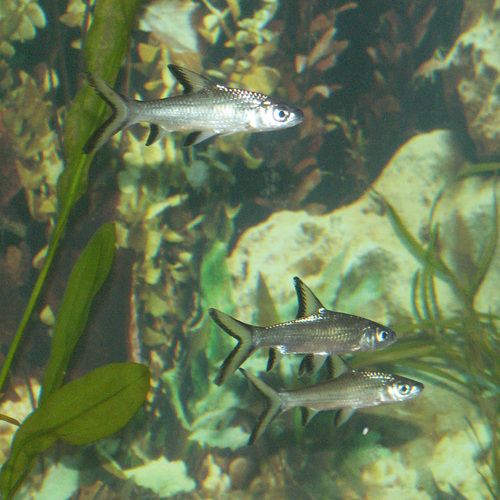 A mature Bala shark can grow up to 14 inches in length so they require
very large tanks
-- it is recommended that they be kept in an aquarium no smaller than 70 gallons in capacity. If you plan to keep several bala sharks,...
Silver dollar fish are a great addition to the community tank and breeding them can be a fun challenge.
Silver dollar fish gained their name from their thin, flat and silvery appearance. These fish, though related to the piranha, are very peaceful community fish that do well in schools of six or more. Breeding silver dollar fish can be tricky but, if you are able to affect the right conditions, these fish can lay up to 2000 eggs at once. Red more to learn how to breed silver dollar fish in the home aquarium.
The silver dollar fish is a native of South America and, though named for a small coin, these fish can grow to more than six inches in length. Silver dollar fish make great community fish and they thrive in schools of six or more because they tend to be skittish fish and, in a school, they feel more secure. Though silver dollar fish are generally friendly toward other fish, they can be very aggressive eaters. Silver dollar fish are almost strictly vegetarian and, because of this tendency, they often feed on the
live plants in an aquarium
. Aside from plants, however, these fish readily consume a variety of flake, pellet, freeze dried, and frozen fish foods.
Silver Dollar Tank Requirements
Silver dollar fish are typically peaceful in the home aquarium and they are generally easy to care for. Because this fish can grow up to six inches...
MOST RECENT ARTICLES
Learn how to properly cure live rock before placing it in your tank.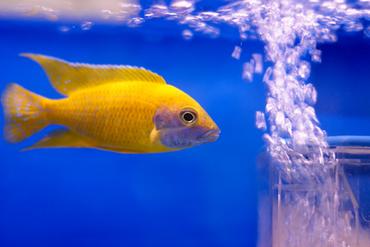 Modern advances in technology affect every industry - even the aquarium hobby.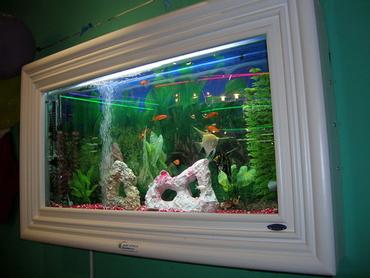 Advantages and disadvantages to a Wall Mounted Fish Tank.