TIPS FOR LIGHTING A REEF TANK
When it comes to maintaining a thriving reef tank the type of lighting system you choose is incredibly important.
If you hope to maintain a healthy and thriving reef tank you have a few things to think about. In addition to deciding what type of fish and corals you want to cultivate in your tank, you also need to think about what equipment you will use. Not only do you have to decide on a quality heating and filtration system, but you also have to choose an aquarium lighting system that will illuminate your tank and provide photosynthetic organisms with the energy they need to thrive. Aquarium lighting serves a very important purpose in the reef tank and unless you understand its importance, you may make the wrong choice and your tank could suffer as a result. Before you choose the lighting for your reef tank, take the time to learn the basics so you can make an informed decision.
Lighting Requirements
Before you can choose a lighting system for your reef tank you need to think about what type of tank inhabitants you want to keep. While most saltwater fish do not have a biological need for a certain type of aquarium lighting, photosynthetic organisms like
corals
and marine algae do. In a reef tank, lighting does more than enhance the appearance of your tank and your tank inhabitants – it actually provides an essential source of energy that your corals and algae need to live. The lighting system you choose for your reef tank must provide light at the ideal intensity and from the right end of the spectrum in order to keep your corals and marine algae healthy.
As a basic rule to determine how much light your tank needs, you should consider that most reef tanks require an average of 4 to 6 watts per gallon of light for low-light corals and as much as 10 to 12 watts per gallon for corals that require more light. In order to determine the watts per gallon that any given bulb provides, simply divide the wattage by the capacity of your tank. For example, in order to provide a 120-gallon tank with 4 watts per gallon you would need a total of 480 watts of light. Keep in mind that some corals will require more light than others, so make sure you research the particular species you intend to keep before you pick out your aquarium lighting.
Types to Consider
Some of the most commonly used types of aquarium lighting for
reef tanks
are fluorescent lamps and metal halide lamps. Fluorescent lamps come in a variety of different forms including normal output (NO), very high output (VHO) and power compact. NO fluorescent lamps are very easy to come by and they are available in a wide variety of sizes and wattages. VHO fluorescent lamps put out light up to three times as intense as NO lamps, but they also require about three times as much energy. Power compact lamps utilize similar technology to VHO lighting, producing high-intensity light without taking up a great deal of space. Many aquarium hobbyists consider metal halide lamps to be the best choice for reef tanks because they simulate natural sunlight and are intense enough to penetrate deep aquarium water to reach marine corals.
The problem with high-intensity lighting systems like VHO, power compact and metal halide is that they have a tendency to produce a great deal of heat. In order to keep your reef tank healthy you must maintain stable water parameters and that includes the tank temperature. If you plan to use a heat-producing lighting system, be sure to install an auxiliary fan or aquarium chiller to prevent your tank from overheating. You should also be aware that some high-powered lighting systems like VHO and metal halide may require the use of an electronic ballast to provide the power to produce such high-intensity lighting.
Color Options
In addition to the wattage and intensity of the light you choose for your reef tank, you also need to consider the color (or spectrum) of the light. Visible light is measured in nanometers on a color spectrum ranging from about 390nm to 750nm. The ideal set-up for a reef tank would include a combination of full-spectrum, actinic and 50/50 light. Actinic bulbs produce light from the blue end of the spectrum which has a greater capacity to penetrate deep water than white light and 50/50 bulbs produce a blend of white and blue light that helps to promote healthy coral growth. In addition to the spectrum color of the bulb, you should also consider the color temperature which is measured using a Kelvin rating. Bulbs that have a Kelvin rating above 5500K produce blue-green "cool" light and bulbs with a rating below 3000K are yellow-red, or "warm". One of the most popular options for saltwater tanks is the full-spectrum 6500K daylight bulb, though 10000K bulbs are also a good option.
Now that you know the basics about lighting for saltwater and reef tanks you can make an informed decision regarding which lighting system is right for you.
comments powered by

Disqus
MOST RECENT ARTICLES
The betta fish is an incredibly popular species that has a reputation for being aggressive.
Discover five common myths about the beautiful betta freshwater fish.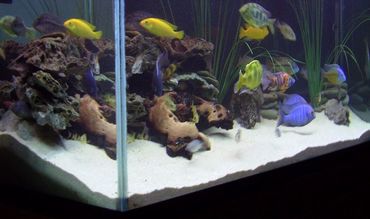 Learn about the causes of cichlid aggression and methods for reducing it.