SEA CUCUMBERS FOR REEF TANKS
Sea cucumbers are found throughout the ocean but they are a popular addition to saltwater reef tanks.
Cousins to sea urchins and starfish, sea cucumbers are a popular addition to marine and
reef tanks
. Sea cucumbers resemble large aquatic caterpillars and they come in a variety of colors and patterns. These unique creatures are found throughout the ocean, not just in reef environments, and they may grow up to 12 inches long. If you are considering adding a sea cucumber or two to your saltwater tank, take the time to learn the basics about these creatures so you can provide for them properly. You may also want to research the different species that are available for the aquarium hobby so you can choose which type is the best fit for your tank.
Sea Cucumber Basics
There are many species of sea cucumbers but most exhibit a cylindrical body covered in tube feet. In their natural habitat, sea cucumbers are both predator and prey - they eat phytoplankton and small organisms and are preyed upon by sea stars and large fish. In the marine tank, sea cucumbers require
high water quality
and care should be taken to cover powerheads and intake tubes so that the sea cucumbers do not become attached. In the aquarium, sea cucumbers can be quite useful. Some species act as a gravel vacuum, sucking up detritus and filtering the substrate in a way. These unique creatures can also enhance the aesthetics of your tank by adding some color and texture to the reef environment.
Species of Sea Cucumbers

Tiger Tail Sea Cucumber = One of the more exotic species of sea cucumber, the tiger tail sea cucumber has a brown body dotted with tiny white spines called papillae. In its native habitat of the oceans of the Indo-Pacific region this species of sea cucumber can grow up to six feet long but, in the marine aquarium it tends to grow between 12 and 18 inches long. The tiger tail sea cucumber needs plenty of space to grow - a good rule of thumb is to allow for 20 gallons of water for every three inches of sea cucumber. This species of sea cucumber enjoys large sand beds and caves in which to hide and thrives best in temperatures between 72 and 78 degrees Fahrenheit, a pH level between 8.1 and 8.4 and a specific gravity around 1.023.

Yellow Sea Cucumber = The yellow sea cucumber is a little more difficult to keep than the tiger tail sea cucumber because it is very sensitive to nitrates and it requires live rock in the aquarium to provide the nutrients it needs to grow. In general, sea cucumbers should be kept in reef- or invertebrate-only aquariums, but this is especially true of the yellow cucumber because, if it is injured, it may release toxins into the water. This type of sea cucumber is a filter-feeding variety and its diet can be supplemented with dried phytoplankton.

California Sea Cucumber = The California sea cucumber is typically dark red or brown in color and it is covered in stiff, cone-shaped spines. Found in the coastal waters from California to Alaska, the California sea cucumber feeds on detritus and small organisms. This type of sea cucumber is especially popular as an edible delicacy in British Columbia but their harvest is regulated to prevent population decline.

Australian Sea Apple = The sea apple or Australian sea apple is one of the most colorful species of sea cucumbers. With a blue body and red feet, the sea apple has tentacles that are red, blue, and purple with white tips. Sea apples tend to be quite at home in a high current reef aquarium and once they find a suitable location they are likely to stay there. This species is one of the most difficult to raise successfully in the home aquarium because they are very sensitive to copper levels and to changes in pH and salinity - sudden changes may cause the sea apple to shed its tentacles. The proper environment for a sea apple is a temperature between 72 and 78 degrees Fahrenheit with a pH between 8.1 and 8.4 and a salinity between 1.023 and 1.025.

Sea cucumbers can be very colorful and useful inhabitants to add to your reef aquarium. Most species of sea cucumbers are filter feeders which means that they feed on the detritus that settles to the bottom of the tank and they "vacuum" the sand, essentially filtering it. Under the right conditions, sea cucumbers can do very well in the home aquarium but if you intend to raise sea cucumbers, care must be taken to make sure that they do not become attached to intake and output filter tubes and that there are no fish or large invertebrates in the tank to prey on them.

Overall, sea cucumbers make a great addition to the saltwater tank. Not only are these creatures fun and interesting to look at, but they also provide a number of
beneficial services
in the tank environment. If you are looking for a way to improve your saltwater tank, considering adding a sea cucumber!
comments powered by

Disqus
MOST RECENT ARTICLES
Bala sharks are a very popular species of aquarium fish.
Sponge filters are a great option for hospital and fry tanks but they can also be used as a source of supplemental filtration for community tanks.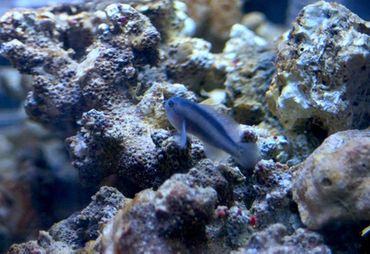 Sea cucumbers are found throughout the ocean but they are a popular addition to saltwater reef tanks.