KEEPING LIONFISH IN THE HOME AQUARIUM
The lionfish is a beautiful but deadly fish that makes a unique addition to the saltwater aquarium.
If you have ever visited the aquarium at your local zoo, you have probably seen saltwater fish that exhibit orange and white stripes with long, pointed spikes protruding from the body. These fish are called lionfish and they are a very interesting species of saltwater aquarium fish. Not only are these fish incredibly beautiful, but they are also very dangerous – their spikes are coated with venom that can sting the unsuspecting aquarium hobbyist. Though they may appear intimidating, the lionfish is generally peaceful and hardy in the home aquarium. If you are looking for a way to add some intrigue to your
saltwater tank
, consider adding a lionfish!
Lionfish Facts

There are many things that make keeping a lionfish as a pet an interesting challenge for aquarium hobbyists. For example, this wicked-looking species of fish might appear to be a fearsome predator with all the spikes poking out of its body but, in reality, these spikes are more of a defense mechanism than a weapon. If threatened by an enemy, the lionfish will typically roll over to expose its spiky fins more effectively. Though it does not generally use its spikes to capture prey, the lionfish has very effective means of capturing food.
Appearance

One of many unique lionfish facts is the ability of the Lionfish to move and react quickly in order to capture prey - the lionfish relies on camouflaging techniques and quick reflexes to capture its preferred prey of shrimp and small fish. The lionfish is the most venomous fish in the ocean and is native to the Indo-Pacific region though its range has begun to spread warmer climates near Jamaica, Australia, and Cuba. The lionfish can also be frequently found in saltwater aquariums - they are very popular among aquarium enthusiasts because of their unique appearance.
Keeping Lionfish in Captivity

Among other interesting Lionfish facts is the fact that lionfish are a hardy species that adapt well to life in captivity. Saltwater aquariums pose many possible dangers to saltwater tropical fish but, if provided with adequate space, places to hide, and a
varied diet
lionfish can thrive in saltwater aquariums. Though this species typically subsists on small fish and live shrimp in its natural habitat the lionfish can be trained to eat frozen shrimp and krill in addition to live fish. When first introduced into an aquarium, however, it is recommended that you provide
live shrimp
for your lionfish to eat until it gets used to the new diet.
It is also important to provide places for your lionfish to hide - provide plenty of live rock so that your lionfish has places to hide until it feels more comfortable with its surroundings. In addition to hiding places lionfish require a great deal of space - it is generally not recommended to keep a lionfish in a tank smaller than 50 gallons because they can grow to be quite large (10"-15"). Smaller species of lionfish do exist, however, and these varieties can be kept comfortably in 30 gallon saltwater tanks.
Warnings About Lionfish

Though lionfish can make beautiful additions to saltwater and
reef aquariums
, they generally do not make good community fish. This lionfish fact can be attributed to the tendency of the lionfish to eat any fish small enough to fit in its mouth. lionfish can be kept with fish of equal or larger size than themselves but it is generally not recommended to keep lionfish in the same tank as smaller fish and ornamental crabs or shrimp unless these creatures are intended to be food for the lionfish.
Lionfish are widely known to be the most venomous fish in the ocean but their venom is rarely fatal to humans. That being said, the sting of a lionfish can be extremely painful and may result in headaches, vomiting, and difficulty breathing. Few hospitals carry remedies for lionfish venom - a sting can be treated with hot water though it is still advisable to seek emergency treatment if stung. In general, lionfish are not aggressive toward humans but caution should be used when handling and feeding lionfish. Any animal, if it feels threatened or cornered is likely to become aggressive so take extra precautions around this venomous fish.
There are many fascinating lionfish facts to learn and this exotic species of fish makes a uniquely beautiful addition to any saltwater aquarium. As long as you are able to provide adequate space, hiding places, and food to your lionfish it will likely thrive under your care in captivity. Lionfish make colorful additions to personal saltwater tanks and they make great ornaments to offset the colors and wonders of a reef aquarium. The lionfish is a hardy species that adapts well to captivity if you take the time to prepare your saltwater tank properly to accommodate them.
comments powered by

Disqus
MOST RECENT ARTICLES
The betta fish is an incredibly popular species that has a reputation for being aggressive.
Discover five common myths about the beautiful betta freshwater fish.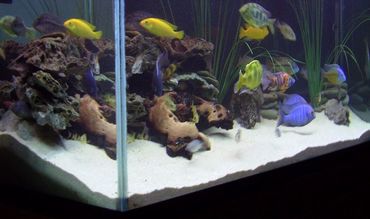 Learn about the causes of cichlid aggression and methods for reducing it.