TOP COMMERCIAL FOODS FOR SALTWATER FISH
What you feed your saltwater aquarium fish will play a major role in determining their health and vitality.
When it comes to raising healthy saltwater fish, one of the most important things you can do is offer them a high-quality diet. Many saltwater fish prefer
live foods
but, if you can condition them to accept commercial foods, your life will be much easier. Keep in mind that saltwater fish require a varied diet in order to thrive, so you should be prepared to stock up on a variety of foods. You can use a single type of high-quality commercial food as a staple diet for your saltwater fish, but you should also supplement it with other kinds of pellets or sinking wafers as well as live and frozen foods. Before you go out and purchase food for your saltwater fish, it would be a good idea to learn the basics so you know what to look for.
Types of Commercial Food
Commercial foods for saltwater fish come in a variety of forms including flakes, pellets, granules and wafers. You can also find commercial foods that are specially formulated for certain species or groups of fish. For example, you are likely to find specialty formulas for marine angelfish or butterflyfish but many standard marine formulas are available as well. Keep in mind that different species of fish have different
nutritional needs
so you may need to purchase multiple types of food if you have multiple species in your tank. Take the time to research each species to determine what kind of food they prefer so you can get something they are likely to eat.
In addition to commercial flakes and pellets, you may also be able to find a variety of commercially prepared frozen foods for marine fish. These foods are often formulated especially for certain feeding types such as carnivores or herbivores --- they may also be made for certain species groups. Commercially prepared frozen foods are a great option for marine fish because they are made from wholesome ingredients and they are generally more palatable than flake
foods for picky eaters
. Flake foods do, however, provide some unique benefits in the form of color enhancement and nutrient supplementation.
Recommended Saltwater Fish Foods
Hikari Mega Marine Angel
This frozen food formula is specially designed for saltwater angelfish. This product is made with all the foods saltwater angels need to thrive: sponge, algae, plankton, krill and more. High in protein and other essential vitamins, this frozen food formula is also easy to digest. It has a high moisture content which helps purge salt from the digestive system of fish and it has been sterilized to ensure that no bacteria or parasites will be transmitted to your fish.
Ocean Nutrition Prime Reef Flakes
Produced by one of the top brands in marine aquarium supplies, Ocean Nutrition Prime Reef Flakes are the ideal staple food for tropical marine fish. These flakes are made from a variety of fresh seafood to provide high-quality protein and a variety of essential nutrients. In addition to providing advanced nutrition, this formula also contains color enhancers and other ingredients to help boost the immune system and encourage proper growth.
Ocean Nutrition Formula One Flakes
These flakes are designed for all tropical fish, both freshwater and saltwater. Not only are these flakes high in protein and vitamins, but they are also designed to enhance coloration and to boost the immune system of your fish. Formula One Flakes will not cloud your tank water and they are highly attractive to both carnivorous and omnivorous species of saltwater fish.
Hikari Marine Seaweed Extreme
These pellets are specifically designed for herbivorous species of marine fish. This product is unique in that it contains more than 67% natural seaweed, making it aromatic and highly attractive to herbivorous fish. These pellets contain a wholesome blend of nutrients which helps to support healthy growth and immune system health while also encouraging vibrant coloration. In addition to being a great staple diet for herbivorous species, it also makes a good supplemental diet for omnivorous fish such as clownfish and damsels.
Ocean Nutrition Formula Two Pellets
These pellets are specially formulated for herbivorous and omnivorous species of saltwater fish. Packed with protein, vitamins and spirulina algae, these pellets provide optimal nutrition as well as enhanced coloration and improved vitality. Formula Two Pellets are soft and moist which makes them highly palatable to fish but they will not dissolve and cloud your tank water. The oxygen-free packaging design also ensures that the pellets will not dry out.
Ocean Nutrition Formula Two Frozen
This type of food is especially formulated to mimic a natural coral reef diet. Unlike many frozen foods which require thawing and chopping, Formula Two Frozen foods contain bite-sized pieces that are gel bound in a cube which disperse upon contact with tank water. This formula is composed of a variety of seafood protein as well as a natural blend of marine algae. This food is also fortified with vitamins and minerals to enhance fish coloration and to improve vitality.
comments powered by

Disqus
MOST RECENT ARTICLES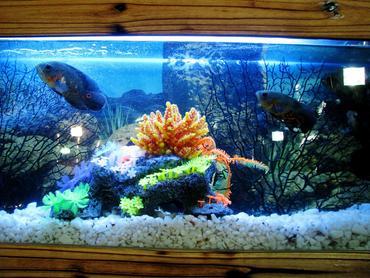 During the summer months, it may become more of a challenge to keep your aquarium temperature stable.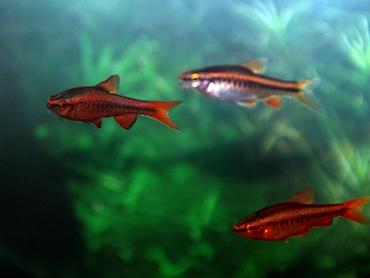 There are many different species of barbs but some of them are better than others for the larger home aquarium.
Cultivating a thriving saltwater tank can be a challenge but it is also incredibly rewarding.