SET-UP GUIDE FOR A REEF TANK
If you have ever considered starting a reef tank, read this setup guide to make sure you start your reef tank off right.
Have you ever dreamed of cultivating a beautiful reef environment in the comfort of your own home? Thanks to advances in modern technology, cultivating a home reef tank is now easier than ever. Not only can you enjoy the company of colorful saltwater fish, but you can also experience the challenge and the reward of keeping a thriving reef tank. Though keeping a reef tank is not quite as straight-forward as a freshwater tank, it is not an impossible task to accomplish. If you prepare yourself with the right tank, equipment and knowledge you are sure to achieve success. If you are thinking about starting your own reef tank, take the time to familiarize yourself with the setup process so, then it comes time to set up your own tank, you will know how to do it correctly.
Necessary Equipment
The first item you will need in order to cultivate a reef tank is, of course, the tank itself. When it comes to selecting the right tank for a reef environment you have to consider your tank inhabitants. In order to provide yourself with plenty of space to fill your tank with live rock and corals, you should select a fairly large tank – at least 40 gallons in capacity. Larger tanks are more forgiving when it comes to maintaining water quality so not only will a 40-gallon tank provide you with plenty of space, but it will also give you a little more wiggle room than a smaller tank would as you learn the basics of maintaining your tank.
Aside from the tank itself you will also need to assemble a few important pieces of equipment. In order to facilitate water flow in your tank, and to maintain high water quality, you will need to invest in a high-quality filter system. There are a wide variety of options to choose from when it comes to aquarium filtration so you should take the time to do your research before you the select a filter for your tank. To keep your tank temperature stable you will need an aquarium heater and, to remove protein solids from the surface of your tank water, you will also need a protein skimmer. Another important piece of equipment you will need to successfully maintain your reef tank is a lighting system. Algae and corals are photosynthetic organisms that require light in order to thrive so it is incredibly important that you equip your tank with a high-powered lighting system.
Steps for Setup
If you have ever kept an aquarium before, either freshwater or saltwater, then you should already be familiar with the basic procedure for
setting up a tank
. Setting up a reef tank is not significantly different from setting up any other saltwater tank, but you do have to pay attention to the timing of things. You should always start by cleaning the tank to remove dust or debris that might affect your water quality. Once the tank is clean, add your sand and fill the tank about full with prepared saltwater – to prepare your saltwater, simply follow the instructions on the package. Next, rinse your
live rock
and remove any unwanted debris or invertebrates that may have hitched a ride and arrange it in your tank as you see fit. Once you have these basic elements set up, install your aquarium equipment and let the tank run for 3 to 4 weeks in order to let the tank cycle. It is important to perform weekly water changes of 50% the tank volume and to leave the lights off in your aquarium this time to prevent algae growth.
After three or four weeks, test the water in your tank using an aquarium water test kit – if the ammonia and nitrite levels are zero, your tank has cycled and it is time to add the first inhabitants to your tank. Start off slow with a few snails and crabs and begin following a 12-hour cycle for your aquarium lighting – keep the lights on for 12 hours during the day and off for 12 hours at night. After two weeks you should perform a 25% water change and then introduce your first corals. Start with some of the basic corals like polyps and mushroom corals and let them acclimate for 2 weeks before you introduce more sensitive corals. Give these new corals another two weeks to acclimate before you finish off your tank by adding fish and invertebrates. Once you have introduced all of the inhabitants to your tank you should continue to perform 25% water changes at least once a month and you should keep an eye on your aquarium equipment to make sure it is functioning properly. If you take the time to set up your reef tank correctly the first time, maintenance should be no problem!
References
comments powered by

Disqus
MOST RECENT ARTICLES
Cultivating a reef tank is an exciting but challenging task - learn more about choosing the right size for your reef tank.
Advantages and disadvantages to a Wall Mounted Fish Tank.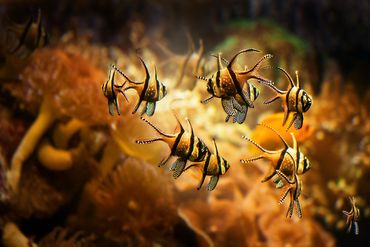 The pet trade gets a bad rap for exploiting wild animals but sometimes the opposite is true.