THE BENEFITS OF ALGAE IN SALTWATER TANKS
Many aquarium hobbyists assume that algae in the aquarium can only be bad. There are, however, a variety of benefits that marine algae provides for the saltwater tank.
When you hear the word "algae" it may bring to mind images of slime-covered rocks or unsightly green growths. While these are two types of algae, they are not the only kinds. There are actually a wide variety of kinds of algae and many of them are beneficial. If you hope to cultivate a healthy, thriving saltwater tank you should not only learn about the different types of marine algae but you should also familiarize yourself with their benefits.
Benefits of Marine Algae
Saltwater reefs are rife with a variety of life forms and different types of algae play a large role in establishing the diversity of these ecosystems. In the saltwater tank environment, algae can be an attractive addition to the tank and it may also serve as an alternative food source for fish and invertebrates. Algae also provide a means of nutrient export for nitrate, nitrate and phosphate in the saltwater tank. Another benefit of saltwater algae is that it can be used in saltwater sumps to help filter water – macroalgae is typically used in this way.
Types of Marine Algae
Red Algae = This type of algae forms mat- or bush-like structures in the saltwater tank and it is generally reddish or pinkish in coloration. Often referred to as coralline algae, red algae grows slowly and rarely causes problems in the saltwater tank. This algae requires good water quality, bright light and high calcium levels in order to thrive.
Diatoms = Diatoms are one of the potentially problematic types of saltwater algae. This algae typically forms in slimy, gold-brown coatings on tank walls and objects and it can also turn the water in the tank cloudy during an "algae bloom," or sudden growth of algae. Diatoms tend to thrive in poor water quality and low lighting, so they are particularly common in newly established and poorly maintained tanks.
Green Algae = This type of algae may be either coralline or noncoralline and it is a major food source for many saltwater species of fish. Green algae has many of the same requirements as red algae, but it grows more quickly – in some cases it may grow so fast that it takes over the tank.
Blue-Green Algae = Also called cyanobacteria, blue-green algae tend to form a dense slime on tank surfaces and may also produce a musty odor. Because few aquatic animals eat blue-green algae, they are difficult to control. This type of algae is common in poorly maintained tanks with low water quality and insufficient water movement.
Macroalgae = Also called seaweed, macroalgae is the name for a group of multicellular algae that serve a similar function in saltwater aquariums that live plants do in freshwater tanks. These algae convert use light as energy to convert carbon dioxide into oxygen and they also help to control the levels of nitrate, nitrite and phosphate in the saltwater tank. Some of the most commonly used types of macroalgae include Halimeda, Caulerpa and Maiden's Hair.
Tips for Controlling Algae
Even though marine algae can be very beneficial in the saltwater aquarium, you do not want it to get out of control. If you allow the algae in your tank to grow uninhibited it could soon take over, covering your tank walls and decorations to the point that it begins to have a negative effect on your tank and your tank inhabitants. To prevent this from happening, there are a few simple things you can do. First, limit the amount of light your tank receives. Algae require light to engage in biological processes so by keeping your tank lighting on for no more than 10 or 12 hours a day, you can help to prevent unwanted algae growth. The second step is to limit the amount of nutrients available to algae. Algae tends to grow quickly in tanks with high levels of nitrate and phosphate, so controlling these chemicals is key to controlling unwanted algae growth. Both of these chemicals tend to be high in tanks with low water quality, so keep up with routine water changes, avoid over-feeding your fish and employ the use of a protein skimmer to remove organic matter before it can be broken down.
Another way to control algae in your saltwater tank is to introduce fish and invertebrates that naturally feed on algae growths. Turbo snails are one of the best all-purpose algae eaters for saltwater tanks because they are the least likely to do any harm in the tank. Tangs are a species of fish that make excellent algae eaters but they have a tendency to become territorial and they will require supplemental feedings. Other species of fish you might consider are dwarf angelfish and blennies. In addition to turbo snails, other invertebrates like hermit crabs, sea hares and sea urchins are also useful in controlling excessive algae growth. Keep in mind that it is not wise to completely remove algae from your saltwater tank – you simply want to keep it from growing out of control and causing problems with the water quality in your tank.
comments powered by

Disqus
MOST RECENT ARTICLES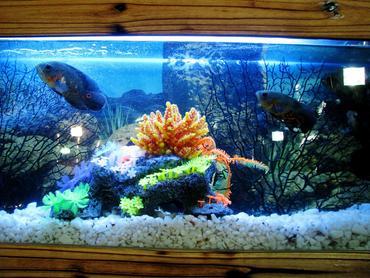 During the summer months, it may become more of a challenge to keep your aquarium temperature stable.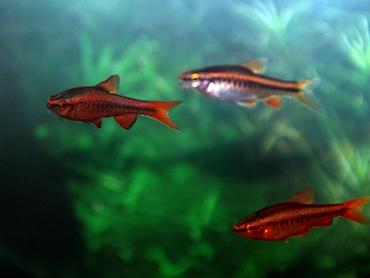 There are many different species of barbs but some of them are better than others for the larger home aquarium.
Cultivating a thriving saltwater tank can be a challenge but it is also incredibly rewarding.