AQUARIUM HOBBYISTS HELP SAVE 30 SPECIES FROM EXTINCTION
The pet trade gets a bad rap for exploiting wild animals but sometimes the opposite is true. Aquarium hobbyists have played a role in preserving 30 species that have since gone extinct in the wild.
There's a great deal of controversy surrounding exotic pets like sugar gliders, slow loris, and big cats. Animal rights supporters claim that wild animals belong in the wild and keeping them as pets is cruel. There is a difference, however, in keeping a wild animal as a pet and protecting endangered species by breeding them in captivity. Conservation breeding programs have saved a number of endangered species from extinction including the Arabian oryx, Przewalski's horse, and the California condor.
While the practice of keeping wild animals as pets is often more harmful than helpful, it isn't always the case within the aquarium industry. In fact, the aquarium hobby has helped bring 30 species of wild fish back from the brink of extinction.
Is the Aquarium Hobby Helpful or Hurtful?
The truth is there isn't a simple yes or no answer to this question. When it comes to the preservation of natural populations, there are certainly instances in which the pet trade has been part of the problem.
For example, when the movie Finding Nemo was released in 2003, it led to a sudden spike in the popularity of clownfish. Increased demand for clownfish in the pet trade led to an increase in wild capture, causing clownfish to all but vanish from many areas. Some areas still use cyanide to capture fish for the aquarium trade as well which can be damaging to coral reefs.
Another problem with the aquarium trade is its contribution to the spread of invasive species. The lionfish is the biggest example. Native to the Indo-Pacific, lionfish can grow quite large and they have venomous spines which protect them from would-be predators. Experts suspect that people have been releasing unwanted lionfish from home aquariums into the Atlantic for years, contributing to a large invasive population that is putting native species and coral reefs at risk. Research shows that a single lionfish can reduce the recruitment of native fish to the reef it lives in by nearly 80%.
Though there are numerous examples of the aquarium trade negatively impacting wild populations, the opposite has been true as well. In fact, some aquarium hobbyists have devoted themselves to keeping and breeding species from the IUCN Red List.
The CARES Fish Preservation Program
Founded by enthusiast Claudia Dickinson in 2004, the Conservation, Awareness, Recognition, Encouragement, and Support (CARES) Fish Preservation Program encourages aquarium hobbyists to keep, breed, and exchange endangered species of fish to prevent extinction.
Since 2004, CARES has compiled a list of over 600 species of freshwater fish considered endangered based on their population in the wild. Many of these species have no commercial value in the pet trade and they aren't among those favored by conservation organizations. Without the CARES list, these species would quietly go extinct with no one to care about them.
Not only does the CARES program encourage the preservation of endangered species, but it has also played a role in furthering their study. In reviewing the CARES list of endangered species, Jose Valdez and Kapil Mandrekar found 80 that have yet to be formally described by scientists. Valdez is a professor at Aarhus University and Denmark and Mandrekar at the State University of New York. During their investigation, Valdez found many hobbyists who take special interest in certain species, often going so far as to take trips to study them in the wild.
Aquarium hobbyists may actually be better equipped to study these endangered species because they are passionate about them and directly involved in the hobby. Scientists typically don't have the luxury of traveling to remote areas to study species that aren't scientifically important.
Species Saved by Aquarium Hobbyists
Through the CARES program and independent conservation efforts, over 30 species of fish are being kept alive that have since gone extinct in the wild. Though there may never be any organized effort to do so, dedicated enthusiasts may in the future play a role in reestablishing wild populations.
Here are some of the families of fish dedicated hobbyists are working to save:
Adrianichthyidae — Ricefishes
Anabantidae — Climbing gouramies
Aplocheilidae — Killifishes
Bedotiidae — Madagascan rainbowfish
Characidae — Tetras
Cichlidae – Cichlids
Cobitidae – True loaches
Cyprinidae — Minnows & Carps
Cyprinodontidae — Pupfishes
Gobiidae — Gobies
Goodeidae — Splitfins
Loricariidae — Armoured catfish
Melanotaeniidae — Rainbowfish
Mochokidae — Squeakers
Nothobranchiidae — Toothcarp
Poeciliidae — Livebearer
Pseudomugilidae — Blue eyes
Rivulidae — Rivulus
Valenciidae — Valencias
One example of a species that has gone extinct in the wild but continues to survive in home aquariums is the Finescale Splitfin (Allodontichthys polylepis). Originally described in 1988, this species was reportedly caught in the Arroyo Potrero Grande, about 9.6km east of Ameca. However, members of the Goodeid Working Group suspect this may be a typo as the type location is about the same distance west of Ameca. The name "polylepis" is derived from the Greek for "with many scales." These fish used to live in clear creeks and streams at depths less than 0.5m, similar to the habitat of North American darters.
The Goodeid Working Group (GWG) is a nonprofit group run by volunteer aquarium hobbyists to help "maintain aquarium populations of Goodeids while assisting in preservation of remaining natural habitats." There are others like it for various groups of endangered fish.
Though the marine aquarium trade has had a significant impact on saltwater species, freshwater fish are actually the most endangered group. Between pollution, mining, climate change, and the construction of dams, there are major threats to wild populations. Read on to see how you can help them survive.
How Can You Help Conserve Endangered Species?
Before bringing an animal into your home, you need to do your research. Not only should you make sure you understand the animal's requirements for care, but you should check to see if it comes from a responsible source. As an aquarium hobbyist, you shouldn't support the wild-caught aquarium trade.
To play a part in conversation efforts, buy from reputable fish dealers and always make sure the fish you purchase are captive-bred. If you purchase wild-caught fish, look for MAC certified retailers to make sure the fish were collected responsibly, not with cyanide and other techniques that can damage reefs. Support non-profit organizations and conservation efforts and do everything you can to care for your own aquarium fish properly. Never release aquarium fish into the wild.
Network with CARES members and other aquarium hobbyists to start keeping and breeding endangered species on your own. Remember, most species on this list are not commercially available. Your best bet to find them may be through the CARES exchange program. By connecting with other CARES members, you can receive fish by mail to raise and breed in your own home.
Here are the steps to follow as soon as you receive fish through the CARES exchange program:
Immediately transfer the fish and the shipping water into a bucket or large container – don't forget to cover it with a lid.
Set up a drip line from your prepared tank to slowly siphon tank water into the bucket so the fish can acclimate to the conditions.
Wait until the water volume has doubled then pour off as much as you can without leaving the fish uncovered.
Restart the drip and let the container fill again – it doesn't hurt to add some ammonia neutralizer at this stage to reduce stress.
Carefully net the fish and transfer them to the new tank – don't add any of the shipping water to the tank if you can avoid it.
Leave the lights off in the tank for 24 hours or so to give the fish time to settle in – if they show signs of stress, add up to 1 teaspoon aquarium salt per gallon.
Feed the fish sparingly over the first few days and avoid making too many changes to the water parameters – as long as you give them time to adapt the fish should be fine.
If you've already received fish through the CARES exchange program or you keep fish of your own, it's a good idea to quarantine the new fish for at least two weeks before combining them. It's much easier to treat the new fish in a quarantine tank than to expose healthy fish to chemical treatments or disease.
Though fish may not get as much attention as other wild animals, they are just as deserving of protection. As an aquarium hobbyist, it's as much your responsibility as anyone else's to do your part in conserving not only the trade but the animals that support it. Consider taking some of the steps mentioned above to participate in conservation efforts for endangered species of fish.
comments powered by

Disqus
MOST RECENT ARTICLES
The betta fish is an incredibly popular species that has a reputation for being aggressive.
Discover five common myths about the beautiful betta freshwater fish.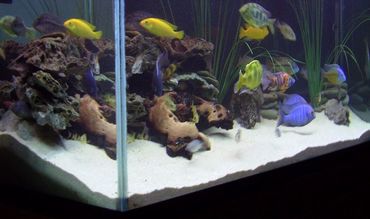 Learn about the causes of cichlid aggression and methods for reducing it.