TRENDING: GLOW IN THE DARK FISH
Glow in the dark fish may not be a new trend but new additions to the market have recently been made -- glow in the dark convict cichlids and angelfish.
Glow in the dark fish may not seem like a "new" trend anymore, but recent developments have been made in this particular category. The trend started back in 2003 with the release of glow in the dark Danios and they quickly gained popularity. More recently, however, two new species of glow in the dark fish have hit the pet store and they, too, are rising in popularity.
History of Glow in the Dark Fish
The glow-in-the-dark fish trend began during the early 2000s and the first specimens were released under the trademark GloFish. The first specimens sold under this trademark were named Zebrafish, genetically modified Zebra Danios available in fluorescent colors such as green, red, blue, yellow and purple. The gene used to modify these fish comes from a type of jellyfish that contains a code for green fluorescent protein (GFP). After inserted the gene into a Zebra Danio embryo, the gene integrated itself into the danio's genome causing it to develop fluorescent coloration which showed under both natural and ultraviolet light.
Though GloFish have become popular in the U.S. aquarium industry, itt was not their original purpose. The goal of the project was originally to create a fish that could detect water pollution by fluorescing in the presence of toxins. The success of the green Zebrafish project led to further developments using a gene from a sea coral to produce red Zebrafish and a gene from a variant of the jellyfish gene to produce fluorescent yellow-orange coloration. More recently, in 2011, the company responsible for GloFish released a fluorescent green tetra derived from the Black Tetra as well as a green barb developed from the Tiger Barb.
Latest Developments in Technology
Though GloFish is an American trademark and sold only in the United States, glow in the dark technologies have also been applied to aquarium fish in other parts of the world. During the development of GloFish, similar experimentation was occurring in Taiwan and the results of these experiments have been released over the past few years. In addition to glow in the dark danios, tetras and barbs, Taiwanese scientists have also developed Angelfish, Cichlids and even other animals like dogs and pigs with glow-in-the-dark coloration.
Conflict Regarding the Trend
If you are not already familiar with the trend of glow in the dark fish, you may have one of two reactions – disgust or excitement. For many people, glow in the dark fish are something new and exciting – something to set your aquarium apart from others. Some people, however, regard the genetic modifications necessary to produce glow in the dark fish as cruel. In fact, certain states and other countries including Canada and Australia have banned the sale of glow in the dark fish.
The FDA has stated that these genetically engineered fish are not a threat to the environment. In fact, there is very little likelihood that they would even be able to establish a colony in the wild because the species used (danios, barbs and tetras) are tropical fish. There is still some fear, however, that these fish could cause environmental problems either through being released into the wild or by being consumed by other pets. Another valid concern is the fact that the sale of genetically altered fish sends a message (particularly to children) that the alteration of living creatures is acceptable and even encouraged with financial gain being a key motivating factor.
Though there are a number of ethical concerns regarding the creation and sale of glow in the dark fish, there are many proponents of the trend. Many aquarium hobbyists support the production of glow in the dark fish because they provide an affordable and attractive alternative to saltwater fish. Saltwater fish are widely known for being more colorful than tropical fish, but they are also notoriously more difficult to care for. Glow in the dark fish combine the colorful appearance of saltwater fish with the hardy, easy-to-care-for benefits of tropical fish.
What do you think about glow in the dark fish? Do you agree that it is cruel to alter the DNA of a living thing in order to achieve financial gain? Or do you think that the goal of Taiwanese scientists is valid? Perhaps you simply like the way these fish look and are not concerned about the ethical or environmental repercussions. No matter what you believe, glow in the dark fish exist and they are becoming more and more popular in the aquarium industry. Just pay a visit to your local pet store to see them for yourself!
comments powered by

Disqus
Most Recent Forum Discussions
Simon's Cat - By 1alexie, 06/13/18 07:59:08 pm (0 replies)

[color=#000000:3nlv0cmh]https://www.youtube.com/watch?v=R9qdyXCVNVk&t=8s[/color:3nlv0cmh] [color=#000000:3nlv0cmh]Who else has seen this? I can't help but laugh. This fish is way smarter than the cat. Good thing I have a [/color:3nlv0cmh][url=http://www.petstreetmall.com/KittyWalk-Cat-Enclosures/4878.html:3nlv0cmh][color=#000000:3nlv0cmh]kittywalk[/color:3nlv0cmh][/url:3nlv0cmh] [color=#000000:3nlv0cmh]at ...

Copepods - By sienna2018, 06/11/18 08:16:24 pm (3 replies)

We bought an in tank mesh fry breeder box hoping to use it now to help establish a good quality copepods colony for our mandarin ...

30% stocked = less water changes? - By clownfishgirl, 06/10/18 10:48:57 am (1 replies)

As the title says.... if your tank is only 30% stocked by your estimate, could you do less water changes? If your useful schedule is ...
MOST RECENT ARTICLES
Live plants can completely transform the look of your aquarium.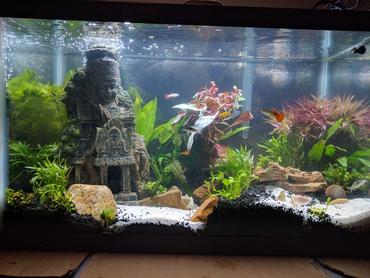 Keeping your tank clean is about more than just aesthetics - it also affects your fish.
What you feed your saltwater aquarium fish will play a major role in determining their health and vitality.