AQUARIUM FISH NEWS: BILL INTRODUCED TO LIMIT AQUARIUM FISH COLLECTING
The saltwater aquarium industry takes millions of fish from oceans around the world each year. A new bill has been introduced to limit aquarium fish collecting.
When you stroll through the aisles at your local fish store, marveling at all the colorful fish, do you ever wonder where they came from? Freshwater fish are bred in huge numbers, sometimes selectively to bring out certain traits (think about all of the different tail types in betta fish. When it comes to tropical marine fish, however, the water is murky.
A staggering number of tropical fish are imported in the United States each year and over 1 million American households have saltwater aquariums. What many hobbyists fail to realize, however, is that they are supporting a trade that takes saltwater fish right out of the ocean to put them in tanks.
In this article, we'll explore the saltwater aquarium industry in depth to learn how tropical fish get from the ocean to your aquarium. We'll also discuss the debate between aquacultured and wild-caught aquarium fish while taking a closer look at some of the species that have been successfully captive-bred.
How Do Tropical Fish Get from the Ocean to the Aquarium?
According to a 2014 survey conducted by the American Pet Products Association, more than 1 million American households have a saltwater aquarium. More than 10 million tropical fish are imported in the United States alone each year, more than any other country. Though a small number of saltwater species have been captive-bred, the majority of the estimated 2,000 unique species involved in the ornamental fish trade are captured from coral reef habitats and sold to hobbyists.
As large as the saltwater aquarium industry is, it is largely undocumented. There is no centralized database that tracks the number of fish taken from reefs and even less information about how the capture of those fish affects their populations in the wild. There are just as few details about the route those fish take from the ocean to their final destination.
To learn more about this process, a group of National Geographic explorers took a $25,000 grant and traveled to Southeast Asia and around the U.S. to trace the supply chain of tropical aquarium fish. The primary subject of their study was the blue tang (Paracanthurus hepatus).
Here's an overview of the journey of one fish from ocean to tank:
1. The blue tang is native to the reefs of the Indo-Pacific, known locally as the "Letter Six" fish because it has a black, 6-shaped design on its back.
2. Rasdin, a Sama-Bajau or "Sea Nomad" from Indonesia, uses handmade nets to catch up to hundreds of fish per day, relying on the aquarium trade as a primary source of income.
3. After capturing the blue tang, Rasdin passes her off to a middleman Sarli who works with Sama-Bajau fishers in the Toropot Village of Indonesia.
4. Conrad Chen, one of the largest ornamental fish exporters in Indonesia, receives the fish from the middleman and sells them to an importer or supplier.
5. Suppliers receive large shipments of reef fish after they endure long overseas flights, then sell them to small retail storeowners or directly to the customer online.
6. The hobbyist purchases the fish online or from a local fish store, taking it home to their own saltwater tank as the final step in the journey.
This long and complex journey is one that millions of fish take each year. Pet industry analysists estimate that the global aquarium trade is worth over $10 billion and sees an average annual growth of more than 10%. Including livestock, tanks, accessories, foods, and medications, the total industry is worth closer to $20 billion. The market has grown so large that the public aquarium sector claims less than 1% of the global ornamental fish market.
Aquacultured vs. Wild-Caught Aquarium Fish
The idea that millions of fish are taken from reefs around the world and put into tanks is concerning enough on its own, but then you have to consider the ways in which they are caught. For years, ornamental fish collectors dumped poisons like cyanide into the water, temporarily stunning the fish so they could easily be netted. It was eventually discovered, however, that fish caught using these methods sustained severe internal damage and lived an average of 6 months after capture, not to mention the permanent damage to the surrounding reefs.
Today, regulations are a little tighter, but some individuals still use cyanide. Many modern divers use hand-operated nets to catch one or several fish at a time. Responsible fish retailers purchase only net-captured livestock and can tell you which region of the world the fish came from. Retailers that are Marine Aquarium Council (MAC) certified guarantee that their livestock have not been caught using poisons or chemicals.
There are many critics of the marine aquarium trade who question its long-term effects. Some island nations have gone so far as to pass legislation banning or limiting the collection of fish from local reefs. Lawmakers in Hawaii have advanced a bill that would not prevent current fish collectors from continuing their operations but would limit entry into the field.
Rep. Ing who introduced the bill (House Bill 1457), local aquarium reef fish populations are sustainable at the current level but would decline if more businesses entered the industry. There are some concerns that the data used to create the bill is not scientifically correct and others suggest that "sustainability" should not be the goal for at-risk species – the goal should be abundance.
The Top 8 Captive-Bred Marine Fish Species
The fact remains that the marine aquarium industry is quite expansive and largely undocumented. This doesn't mean, however, that scientists cannot measure its effects. Large areas of reef have been destroyed and local populations of fish decimated. The shocking fact remains that less than 10% of marine aquarium trade livestock is cultured, compared to 90% in the freshwater aquarium trade.
The challenge with marine fish is that each species has uniquely adapted to its environment and can be very finicky in a captive environment. Not only can marine species be tricky to keep, but they are even more difficult to breed. Out of the nearly 2,000 species of marine aquarium fish, approximately 250 have been successfully captive-bred. As aquarium enthusiasts, the best way to support conservation of marine fish in their native environment is to purchase captive-bred species.
Here are the top 8 captive-bred marine aquarium fish:
1. Ocellaris Clownfish (Amphiprion ocellaris) – The iconic image of the clownfish is this species, known for its bright orange coloration and white bars. These fish host in four different anemone species and adapt easily to dry and frozen prepared fish foods.
2. Neon Goby (Elacatinus oceanops) – First introduced into the aquarium trade in the 1970s, this tiny cleaner goby is a staple in reef tanks. These gobies eat parasites and are generally peaceful and docile with nearly all species of fish.
3. Banggai Cardinalfish (Pterapogon kauderni) – Nicknamed the darling of the marine aquarium hobby, these black, white, and silver fish have long, elegant fins and are generally easy to keep.
4. Orchid Dottyback (Pseudochromis fridmani) – These fish come in a vibrant violent color and are very lively by nature. This species grows to no more than 3 inches in length and are generally docile, though their personalities vary depending on the other species they are kept with.
5. Maroon Clownfish (Premnas biaculeatus) – These anemonefish are large, aggressive, and territorial. They have a darker coloration than the ocellaris and narrower white bars.
6. Yellow Assessor (Assessor flavissimus) – These 3-inch fish are attractive and very hardy, making great additions to tanks 20 gallons and larger. They are generally docile fish but can become aggressive with conspecifics and members of their own species.
7. Common Seahorse (Hippocampus kuda) – The seahorse has been bred so successfully that it is rare to see wild-caught specimens for sale. These fish are known for the large brood pouches seen on makes where they incubate fertilized eggs for 2 to 4 weeks before birthing live young.
8. Fang Blenny (Meiacanthus spp.) – These reef-compatible fish are attractive and generally agreeable. They have an elongated body with a single dorsal fin that runs almost the entire length of the body and comes in a wide variety of colors.
Before purchasing marine aquarium fish, take the time to learn about your options. Look for MAC certified retailers or buy from reliable online retailers who don't purchase from collectors who use damaging methods like cyanide to collect their fish. Read on to learn more about conservation efforts you can support yourself.
How to Support Conservation in the Home Aquarium
The aquarium trade is vast and varied, though the United States is the largest importer of ornamental aquarium fish. The industry itself is unlikely to disappear, particularly considering the challenges of regulating or even documenting the supply chain. There are, however, things individual aquarium hobbyists can do to support conservation and to keep the hobby sustainable.
Here are some simple steps to take toward a sustainable aquarium hobby:
* Buy marine aquarium fish responsibly – look for captive-bred species when possible and buy only from reliable retailers like LiveAquaria and Quality Marine.
* Do your research to know where your fish come from and how they are collected – look for MAC certified retailers to ensure that your fish weren't collected using cyanide.
* Support non-profit organizations like LINI that work to develop sustainable approaches to collecting saltwater aquarium fish.
* Never release aquarium fish into the wild – this helps prevent species invasions that can endanger local plants and animals.
Whether you have a nano reef tank or a sprawling saltwater aquarium, you've experiencing the beauty and the wonder of marine aquarium fish for yourself. If you hope to continue that enjoyment for yourself and others in the future, start taking steps toward a more sustainable hobby today.
comments powered by

Disqus
MOST RECENT ARTICLES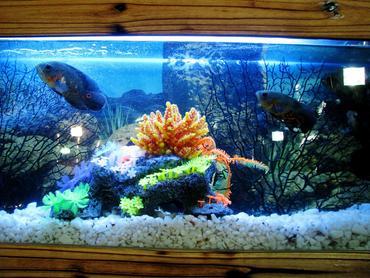 During the summer months, it may become more of a challenge to keep your aquarium temperature stable.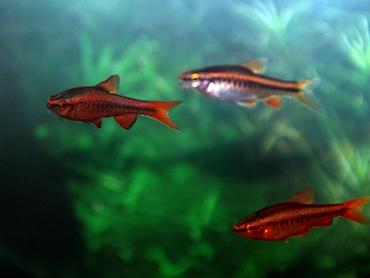 There are many different species of barbs but some of them are better than others for the larger home aquarium.
Cultivating a thriving saltwater tank can be a challenge but it is also incredibly rewarding.