NEWS: UNIQUE SPECIES TO HIT THE MARKET
The new year brings a new wave of unique species to add to your home aquarium.
When it comes to stocking their tanks, many aquarium hobbyists want to stay ahead of the curve. This means having the most up-to-date equipment and the most innovative tanks – it also means purchasing and raising the newest species of fish available in the aquarium hobby. Species like yellow tangs, clownfish and angelfish will always be popular but some aquarium hobbyists are always yearning for something new. In this article you will find descriptions of some of the newest species available in the aquarium hobby so you can keep your tank up-to-date on the latest trends. Keep in mind that these new species might have limited availability so it may be a challenge to find them – if you can find them, however, they are well worth it.
Line-Spot Triggerfish
The scientific name of this species is Xanthichthys lineopunctatus and it doesn't officially have a common name yet – the species is that new. In 2013, LiveAquaria.com became the first outlet to purchase this fish, giving it the name "striped triggerfish." This species sells for a whopping $2,500 – a price which may seem exorbitant, but it is one of very few specimens available in the industry. If you flip through a marine aquarium species guide, you will not find this fish – in fact, it is completely unknown to most reef enthusiasts and collectors. In the wild, this species tends to inhabit deeper waters and it has only been seen alive when caught by fishermen. Due to decompression complications, these fish do not tend to last long after being caught. LiveAquaria has overcome these hurdles, however, and is offering perfectly-sized specimens (measuring under 5 inches long), sourced straight from the Indian Ocean.
New Lampeye Killifish Species
There are a variety of so-called lampeye killifish species that come from the western Gabon region in Africa and many of them share physical similarities. Lampeyes are named for having a brightly colored spot on their eyes – this occurs in both the male and female sexes. There are about 70 species of lampeye killifish which have been identified and they are distributed throughout Africa. A newly discovered species of lampeye killifish is named Procatopus websteri and its physical appearance is particularly similar to that of the Aplocheilichthys spilauchen species. These two species are easily distinguished, however, by the size and color background in the males of the species as well as the size of the fins – there are also differences in the type of pigments.
White Bonnet Clownfish
Also known as the white cap clownfish (Amphirpion leucokranos), this species is native to the Solomon Islands. The white bonnet clownfish is an extremely rare, naturally occurring hybrid species of clownfish that has very seldom been seen in the aquarium trade. In 2009, Brian Griffin of Ocean Gallery II in New Jersey received a pair of young clownfish imported from the Solomon Islands. The identity of the fish was unclear due to their youth, but as the pair grew it became clear that they were both rare white bonnet clownfish. By 2011, the pair had reached maturity and began spawning. Unfortunately, the male ate the eggs – Griffin attributes this to the stress of being kept in a 40-gallon tank. After moving the pair to a 300-gallon tank, Griffin contacted ORA to see if they would take over the care of the two clownfish. After a difficult 9-day journey to Florida, the two clownfish arrived at their new home and began settling in. In November 2013, ORA released a video of the pair spawning and it has been announced that the offspring will be available in 2014.
New Flasher Wrasse Species
Wrasses come in a variety of colors and patterns which is what makes them one of the most popular groups of marine fishes. There are about 500 different species of wrasse that are divided into groups like cleaner wrasses, fairy wrasses, leopard wrasses, and flasher wrasses. According to an article published in Tropical Fish Hobbyist Magazine in June 2015, a new species of flasher wrasse has been discovered. This species was named Parcheilinus rennyae in honor of Renny Hadiaty, an ichthyologist at the Indonesian Institute of Sciences. Though similar in many ways to other wrasses, this new species exhibits unique coloration and a more rounded shape in the dorsal, anal, and caudal fins than other wrasses. The director at Conservation International Indonesia hopes that the naming of the fish will contribute to greater collaboration between Indonesian universities and conservation groups and that it might also add to the tourism value of Komodo National Park where the species was discovered.
New African Species
Due to conflicts in the Congo, many native species have been missing from the aquarium hobby for upwards of 20 years. Recently, however, collectors have been allowed to take fish from the Congo and the surrounding area. This had resulted in two small but unique species becoming available in the aquarium trade. Aplocheilichthys (Congopanchax) brichardi is a species of lamp-eye killifish. These fish reach maturity at 1 inch in size and they males exhibit bright blue colors with red fins. This species tends to thrive in schools and they tend to prefer slightly soft water. The African clown barb (Barbus hulstaerti) is one of the most attractive species of African barb and they grow to 1 ½ inches in length. These fish are slightly aggressive – particularly the males – but they will breed readily in the home aquarium.
New South American Species
Many of the hobby's most spectacular species come from South America, home to the Amazon and countless other bodies of water. Local to the Peruvian Andes, Corydoras weitzmani was first described in the 1970s. Until recently, however, it had rarely been seen or photographed. Today, this species is becoming readily available and it is likely to be in production by commercial fish farmers soon. The mega clown pleco, Hypancistrus furunculus, was first introduced into the hobby during the 1990s. At that time, they were among the most saught-after species in the trade. After some confusion with the species, it became rare but it is now being exported from Columbia in good numbers. The mega clown pleco grows up to 5 inches long and it is hardy and easy to breed.
Whether you are looking for something new to stock in your aquarium or you simply like to keep up-to-date with the aquarium hobby, these unique species are definitely something to look into. Keep in mind that, with new species, care information may be limited so use caution when adding these fish to your tank.
comments powered by

Disqus
MOST RECENT ARTICLES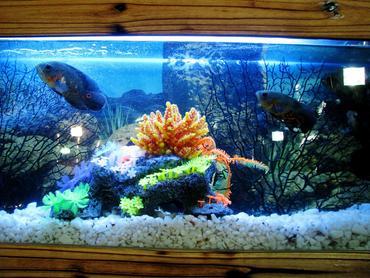 During the summer months, it may become more of a challenge to keep your aquarium temperature stable.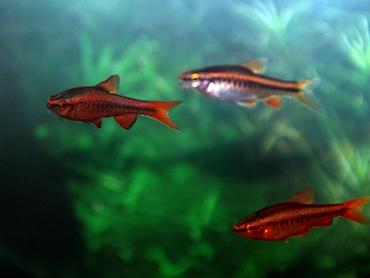 There are many different species of barbs but some of them are better than others for the larger home aquarium.
Cultivating a thriving saltwater tank can be a challenge but it is also incredibly rewarding.