TRENDING: NANO TANKS MORE POPULAR THAN EVER
A nano tank is more than just a small fish tank -- it is a compact, self-contained ecosystem. Read more about this recent trend in the aquarium hobby below!
You may already be familiar with the nano tank but, for those of you who aren't, you are missing out on one of the hottest trends in the aquarium industry. A nano tank is more than just a small fish tank – it is a small ecosystem, designed to be contained within a small space. Nano tanks require compact filtration and lighting systems as well as plants and fish that only grow to a certain size. Cultivating a healthy and thriving nano tank is quite a challenge which may, in part, explain its popularity. As aquarium hobbyists grow in knowledge and experience, they are looking for new ways to challenge themselves. If you are in this boat too, look into a nano tank for yourself!
Nano Tank Basics
Nano tanks are popular for a number of reasons. One reason, as it has been mentioned, is the challenge they post to experienced aquarium hobbyists. There is something fascinating about cultivating a mini ecosystem right in your living room – having fish and plants or small corals thriving in such a small environment. Another reason these tanks are popular is because their appeal has moved outside the aquarium industry – nano tanks have now entered the world of interior design. Not only are large fish tanks becoming more common in upscale restaurants and homes, but nano tanks can transform a living space, sitting on the corner of a desk or bookshelf.
There are a few things you need to know about nano tanks before you start one for yourself but, as long as you have all the information you need, it is not difficult to set up a nano tank. Though it may not be difficult to set up a nano tank, it does require a lot of thought and planning. You need to choose carefully, for instance, your tank inhabitants. If you choose fish that grow too large for your tank you will be forced to get rid of the fish or to buy another tank to accommodate them. With plants and corals, if you are not careful, they can quickly overrun your tank and crowd out your fish. You also need to think about what kind of equipment you are going to use. With such a small water volume, having high-quality equipment is a must. You will read more about nano tank equipment in the next section.
Nano Tank Equipment
One of the reasons nano tanks have become so popular lately is because they are becoming easier to maintain. It is not because aquarium hobbyists are suddenly discovering some secret – it is because developments in technology have made nano tanks and the requisite equipment more available. Whereas once you might have needed to design your own mini sump system to accommodate a nano tank, you can now purchase small in-take filters and LED light strips for your tank. Many aquarium supply companies and pet stores have even started to sell nano tank kits which include the tank itself and the equipment you need to get started.
As it has already been mentioned, the equipment you choose for your nano tank is extremely important. With larger tanks you have a greater water volume and thus a little room for error. If you overdose the tank with medication, for example, or if you fail to perform your weekly water change, toxins and wastes will be less concentrated in a large tank than in a small tank. Due to the low water volume and high concentration in nano tanks, you need to have a high-quality filtration system in place. Some of the best filters for nano tanks are compact canister filters and mini in-tank filters. Look for these filters from the top aquarium supply companies at your local pet store or online.
In addition to filtration, you also need to think about lighting and heating. Several options for nano tank lighting have already been mentioned, with LED lighting being the best option. Heating is also incredibly important, however, because a small tank will be more susceptible to temperature fluctuations than a large tank. Several of the most popular aquarium supply companies now sell mini submersible or inline heaters designed for small aquariums like the nano tank. When purchasing a heater for your tank, be sure it is rated for a tank the right size and follow the installation instructions careful to make sure that it works properly.
Whether you like to keep up on the latest trends or you just want to challenge yourself, a nano tank is something every aquarium hobbyist should look into. These small tanks give you a new perspective on the word "aquarium" and they can double as an aquarium and an interior design element. If you decide to start a nano tank, just be sure to assemble all the necessary equipment before you do so that your fish remain happy and healthy.
comments powered by

Disqus
MOST RECENT ARTICLES
Betta fish are some of the most colorful and vibrant freshwater aquarium fish around.
Cultivating a thriving saltwater tank can be a challenge but it is also incredibly rewarding.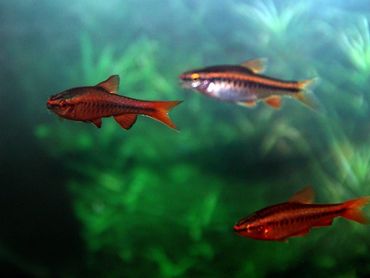 There are many different species of barbs but some of them are better than others for the larger home aquarium.