WHAT YOU NEED TO KNOW ABOUT ALL-IN-ONE AQUARIUMS
Starting a new tank can be time-consuming, especially if you have to choose all of your own equipment. To make the process easier, consider an all-in-one aquarium.
If you're thinking about starting a new tank, you have a lot of decisions to make. What size tank are you going to choose and what kind of equipment? Do you want to purchase a separate lighting system or go with natural lighting? And what about heating – how are you going to keep the tank warm? Coming up with answers to all of these questions can be difficult, especially for a beginner. If you find yourself in this boat, you might want to think about an all-in-one aquarium. Keep reading to learn more about what an all-in-one tank is and whether it might be the right option for you.
What is an All-in-One Aquarium?
An all-in-one aquarium is pretty much what the name suggests – an aquarium that comes with just about everything you need to get started. Simply put, it is a ready-made kit that comes with the aquarium itself as well as essential equipment such as filtration, lighting, and heating. Some kits also include decorations, but the more you include in the kit the higher the price. Many all-in-one tanks are also nano tanks, tanks under 30 gallons in size. The top all-in-one tanks on the market have equipment that is specially designed to complement the tank's design and to support the tank's needs according to its size. You still have to choose and purchase the fish and you will also need to know the basics about setting up and maintaining an aquarium, though some instructions for use are included.
What Are the Pros and Cons of All-in-One Aquariums?
Though all-in-one aquariums are great, they aren't always the right choice for every aquarium hobbyist. Before you decide to purchase one of these tanks, you need to consider the advantages and the disadvantages. Below you will find a list of pros and cons for all-in-one aquariums.
Pros for All-in-One Tanks:
- They are typically easy to set up, especially for beginners – they come with detailed instructions telling you what to do.
- It comes with all of the essentials you need, including equipment that has been properly matched to the size of the tank.
- Most all-in-one tanks are designed for easy maintenance which means less work for you and a cleaner, healthier aquarium for your fish.
- This type of tank is usually designed for aesthetics as well as easy maintenance so they look very attractive, even if the design is fairly simple.
- It can sometimes be cheaper to purchase an all-in-one aquarium than to purchase the tank and all of the equipment individually.
Cons for All-in-One Tanks:

- When you purchase an all-in-one tank, you don't have the option to choose your own equipment – you can't always count on the manufacturer to include the best options available.
- Though they are sometimes advertised as such, all-in-one tanks are just "plug and play" – you still need to know the basics about setting up and maintaining an aquarium yourself.
- If you later decide that you want to expand or adapt your tank, you may not be able to make changes to the equipment very easily – especially for things like lighting or filtration.
- Buying an all-in-one aquarium is not always less expensive than purchasing the equipment separately, especially if you go with a top-quality model.
Now that you have a better understanding of the pros and cons for all-in-one tanks, you may be wondering where to find one. You can find these tanks online and in some pet stores – keep reading to learn about the top models on the market.
What Are the Best All-in-One Tanks on the Market?
There are many different all-in-one tanks and aquarium kits out there, but some of them simply aren't worth the cost. When purchasing an all-in-one tank, you want to make sure that it comes with decent equipment – the whole point is that you don't have to buy your own.
If you're thinking about getting an all-in-one tank, here are some of the top models you should consider:
Eheim Aquastyle Aquarium – This all-in-one tank comes in three different sizes – 4-gallons, 6-gallons, and 9-gallons. It features a compact corner internal filter system as well as Power LED lighting, making it a great choice for freshwater and planted tanks. Made with high-quality float glass, this aquarium is well-designed for both form and function. It also makes a great choice for beginning aquarium hobbyists.
Fluval Sea EVO Marine Aquarium – If you're thinking about starting a marine tank, the Fluval Sea EVO all-in-one tank kit is a great option. This kit includes a 13.5-gallon tank with a stylish design and durable build. It features a powerful 3-stage filtration system and is built with a multi-functional canopy that includes an easy-feed door. It comes with 14,000K LED lighting which is ideal for marine environments but, with some adjustments, this aquarium can be used for a planted tank as well.
BIOTA All-in-One Saltwater Aquarium – Described as the world's first "smart" aquarium, the BIOTA All-in-One Saltwater Aquarium is designed by marine experts to help eliminate the guesswork in starting a new aquarium, especially for beginners. It includes a 13.5-gallon tank with high-quality equipment including an internal filtration system. You can purchase the kit on its own or upgrade to include fish and corals for a complete setup.
NUVO Fusion Nano 20 Aquarium – This all-in-one aquarium is 20 gallons in capacity and it is particularly designed for a marine tank setup. The tank features a redesigned filter wall and generous display space to keep your tank running smooth and looking great. The NUVO Fusion includes all the equipment you need except for a tank heater, everything designed by Innovative Marine so you are guaranteed of their quality.
biOrb Classic Aquarium Kit – This aquarium kit consists of a round tank with an integrated filtration and lighting system. This all-in-one tank comes in 4-gallon, 8-gallon, 16-gallon, and 28-gallon sizes and it is made from heavy-duty acrylic for durability. This kit offers excellent filtration and energy-efficient LED lighting and it looks great sitting on your desk or end table. It even comes with live beneficial bacteria to get the nitrogen cycle started.
These are just a few of the many all-in-one aquariums on the market but they are some of the most popular models out there. Don't feel like you have to choose one of these options, however – do your own research to find the kit that is best for you.
Tips for Success with All-in-One Aquariums
Once your all-in-one aquarium is set up, maintaining it is just like any other tank. All-in-one tanks are typically designed for easy maintenance, but you'll still need to do weekly and monthly water changes and you'll have to keep your tank equipment clean. When setting up the tank for the first time, be sure to read through all of the instructions before you start to get a thorough understanding of how to do it. If you've never had an aquarium before, you should also do some basic research about setting up a tank as well as basic tank maintenance requirements. With your tank set up and running, you'll just have to keep the water quality high and make sure that the tank parameters stay within the proper range for whatever inhabitants you choose for your tank.
Now that you know the ins and outs of all-in-one aquariums you can make the decision for yourself. Is an all-in-one tank the right choice for you?
comments powered by

Disqus
MOST RECENT ARTICLES
The betta fish is an incredibly popular species that has a reputation for being aggressive.
Discover five common myths about the beautiful betta freshwater fish.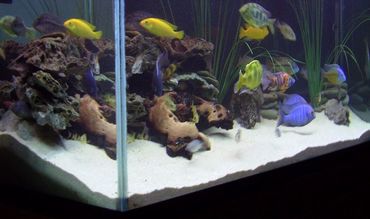 Learn about the causes of cichlid aggression and methods for reducing it.