View Highest Rated Freshwater Tanks
State: None/Other
Country: Australia
Fish Kept:
Various African cichlids
Corals/Plants Kept:
Rocks
Description:
African cichlids
State: Massachusetts
Country: United States
Quote:
That`s what she said.
About Yourself:
I stumbled upon this hobby while trying to find my daughters a "low-maintenance" pet. After the lovely (ha) people at the chain pet store convinced me 10gallons was more than enough for four (yes FOUR) goldfish, I brought the neon clown puke gravel home, along with the neon-colored fake plants and Sponge-Bob decorations. Once I started researching, I realized I had gotten it all wrong, and an obsession began.
Corals/Plants Kept:
I have a mix of fake and real plants. The real plants are all the Amazon Sword Plant
Advice:
Don`t give up! And take advice from certain people with a grain of salt. I`ve noticed that asking for advice from people on certain sites will always yield some know-it-all telling you in a condescending way that you`re doing it all wrong. Don`t let those people discourage you.
Description:
My Lovely Living Room Aquarium
State: None/Other
Country: United Kingdom
About Yourself:
This is just a little hobby/project I began as a tool to relax, excited to see where this little journey takes me; so far I`m 29 weeks into this.
Fish Kept:
Peppered Corydora, Panda Corydora, Skunk Corydora, Petticola Synodontis, Golden Ram,Frontosa Cichlid, Electric Blue Acara, Tin Foil Barb, Silver Shark, Octocinclus, Ghost Knife Fish, Pentazona Barbs, Red Eye Tetra, Rainbow Tetra,
Corals/Plants Kept:
Safe tropical plants, bought from local tropical fish stores.
Advice:
Do a fair regular water change, I do twice a week water changes. Always make sure you use your water conditioners to keep the water safe for the fish, I also use a bio enhancer with each water change to ensure there is enough good bacteria kept in the tank.
Description:
Current Update
State: Michigan
Country: United States
Quote:
Whether you think you can or you think you can't....you are right
About Yourself:
Sales Rep for Sherwin Williams Paint Company. Have had aquariums for 30 years. Learned most of what I know from my cousin.
Fish Kept:
Electric Yellow Cichlid, Electric Blue Hap, Frontosa Cichlid, Cylindricus Cichlid, Orange Leleupi Cichlid, Red Zebra Cichlid, Livingstonii, Johanni Cichlid, Synodontis Eupterus Catfish, Otocinclus Catfish, Auratus Cichlid, Sunshine Peacock, Dragon Blood Peacock, Blue Cobalt Cichlid
Corals/Plants Kept:
Corals that I have found washed up to shore in Fort Lauderdale which I boiled at treated before putting in tank. Also have a lot of sandstone
Advice:
Do lots of research and don't get discouraged.
Description:
African Cichlid Tank
State: New York
Country: United States
Fish Kept:
Angelfish, Cherry Barb, Emerald Green Cory Cat, Chinese Algae Eater, Clown Pleco
Corals/Plants Kept:
Lots of plants.
Advice:
Patience is key, attention, filtration, and most of all fish knowledge. Know what kind of water parameters a certain fish can handle, and what water parameters it thrives in.
State: New York
Country: United States
Corals/Plants Kept:
Swordtail
Advice:
Cycle your tank before adding most fish. Clean your tank regularly and don`t over feed. Have fun!
Description:
65 gallon Aqueon freshwater tank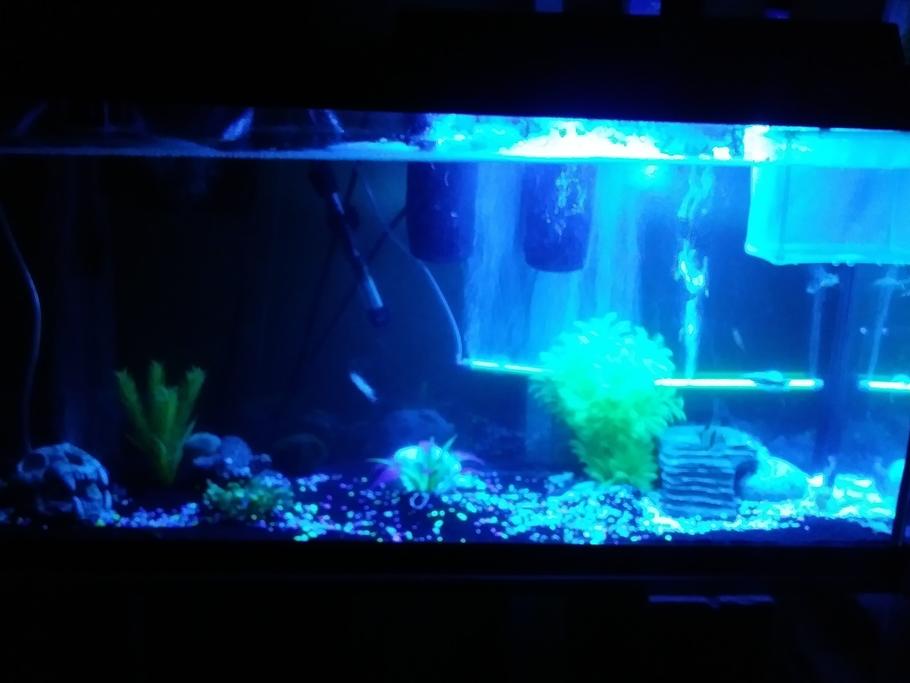 State: California
Country: United States
Quote:
I touched the butt
Corals/Plants Kept:
Moss ball
State: None/Other
Country: Australia
Quote:
Tomorrow will be better than today
About Yourself:
I chose to start a fish tank because my young child loves watching the fish in my fathers freshwater aquarium when we go to visit. He is helping me start out and will be helping my along my journey to becoming a fish tank enthusiast
Fish Kept:
Yellow comet, yellow goldfish, uncoloured goldfish, white clouds and black moor
Corals/Plants Kept:
Synthetic plants
Advice:
At this stage my only advice to those starting out is always listen to people with experience in owning a tank. Don`t always follow the direction of staff members at pet stores who are only there to make money. When in doubt do your research :)
Description:
This is the latest aquarium setup. My progress is slow but Iím enjoying the hobby