All Time Top 10 Planted Tanks
State: Louisiana
Country: United States
Quote:
My fake plants died because I did not pretend to water them. -Mitch Hedberg
About Yourself:
Dustin Feagley. Instrumentation technician. 1.5 years in the hobby plus 1 year of research before starting. Tom Barr and Joe Harvey are the best and my inspiration.
Fish Kept:
Pigeon Blood Discus, Royal Discus, Yellow Checkerboard Discus, Blue Diamond Discus, cardinal tetras, harlequin rasboras, julli and albino cory cats, zebra pleco, SAEs, nebula steel guppies, celestial pearl danio, scarlett badis
Corals/Plants Kept:
1 Hygrophila polysperma 'Sunset'2 erioucaulon feather duster3 Limnophila sp. Vietnam4 Rotala Macrandra5 Rotala rotundifolia6 Alternanthera Reineckii 'mini'7 Bacopa monnieri8 Ludwigia inclinata var. verticillata 'Cuba'9 Cabomba purple10 Staurogyne Repens11 Ludwigia repens12 Bacopa innominata13 pogostemon kimberley14 Green Foxtail 15 Rotala wallichii16 eriocaulon polaris17 Myriophyllum Tuberculatum18 Hydrocotyle Leucocephala19 Ludwigia inclinata var. verticillata 'Pantanal'20 Cryptocoryne Green Gecko
Advice:
The KEY is to balance 1. light (intensity and photoperiod)2. co2 3. nutrients(macros,micros, extra iron, gh booster)Utilize advice and posts from experienced hobbyists. I highly recommend barrreport.com
Description:
Discus community tank
State: None/Other
Country: United Kingdom
Quote:
Don't do today what you can put off until tomorrow.(Only joking, of course)
About Yourself:
Have kept a tropical tank for around 30 years and it's that long ago I can't remember what got me into it, probably the beauty of the fish in particular the Siamese Fighting Fish which I managed to breed a few years back. Sat up until around 2.30 am watching them fertilize the eggs and put them into the bubble nest. In general I just love keeping fish and find it rewarding once the tank is all set up and planted out well, the latter being the hardest to do for me. Pete.
Fish Kept:
Main Tank Panda catfish -20 ish Bronze catfish -6 Peppered catfish - 8 Albino catfish - 8 Neon Tetra -20 Glowlight Tetra - 2 Black Emperor Tetra - 6 Silver Dollar - 2 Clown loach - 4 Zebra Danio - 8 Black Widows-2 Harlequins - 10 Rummy nose Tetra - 6 Humbug catfish- 1 Koi Angels - 2 Golden loach - 2 Khuli loaches - 8 Bottom tank 3 bronze cory's 3 albino catfish 1 female siamese (mum and dad have passed now) 1 sucking loach 20 neon tetras.
Corals/Plants Kept:
loads of assorted
Advice:
Spend plenty of time observing your fish and don't forget to do regular water changes of around 15 to 20% once or twice a week, I do it twice a week. I now use RO water because I have tested my tap water and found that it is high in nitrate. I have my own RO filtration unit and also use the water for making cups of tea, which I must tell you tastes far better than tap water. Another thing to remember is always wash your filters in a bucket of water that you have just drained from your tank and NOT under the tap, if you have more than one filter as I do then you can clean one and leave the other for a month, this way you will always have good bacteria in one of them. There is plenty of good info on the net now, so just read up and filter the info to suit your particular needs.
Description:
Front veiw of 10 foot tank.
State: None/Other
Country: Poland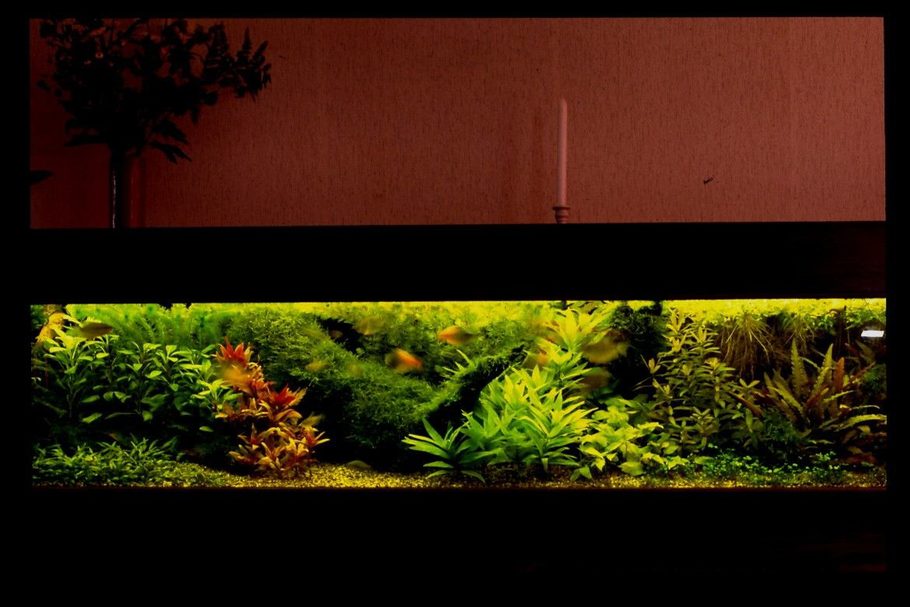 State: None/Other
Country: Netherlands
About Yourself:
I keep 41 years aquaria
Corals/Plants Kept:
vallisneria
Advice:
specialize, do not collect fish as coins or stamps
Description:
composition of plants are important
State: None/Other
Country: Phillippines
Corals/Plants Kept:
Various
Advice:
Starting your water garden would require a lot of time and patience. Do your research, put some extra effort and you will be rewarded.
Description:
40 Gallon Tank
State: New York
Country: United States
Corals/Plants Kept:
Crypt Petchii , Anubias Lanceolata , Bucephalandra sp , Cyperus helferi , Cardamine Lyrata Japan , Narrow Leaf Java
Advice:
Keep Water Parameters in Balance ( co2-light-fertilizer)
Description:
ADA 60 SIDE 1
State: None/Other
Country: Poland
Quote:
If you can count, count on yourself.
Fish Kept:
Acanticus adonis Crossocheilus siamensis Otocinclus huaorani Paracheirodon axelrodi Rasbora hengeli
Corals/Plants Kept:
Anubias bartheri v.nana Anubias heterophylla Bacopa caroliniana Bolbitis heudelotii Barclaya longifolia Ceratophyllum demersum, Chladophora aegagropila Crynium calanistratum Crynium natans Crynium calamistratum Cryptocoryne Jachnelii, Cryptocoryne wendtii Egeria najas Eleocharis acicuralis Eustralis stellata Glossostigma elatinoides Heterantera zosterifolia Hydrocotyle leucocephala Hydrokotyle verticillata Limnophila aquatica Ludwigia glandulosa, Ludwigia repens Micranthemum micranthemoides Microsorium pteropus Microsorium pteropus "Windelov" Myriophyllum pinnatum Nesaea pedicellata Nymphaea lotus Pellia epiphylla Rotala macrandra Rotala rotundifolia Rotala rotundifolia. "Green" Rotala walichii Ophiopogon minimus Vesicularia dubyana - Java Moss Vesicularia dubyana - Christmas Moss
Advice:
Learn much and be patient.
Description:
150L (40G), 94x40x40cm, 0,8 W/l (3 WPG) - 3x Osram Biolux 965 and 1x Philips Aquarelle, pressurized CO2
State:
Country: Czech Republic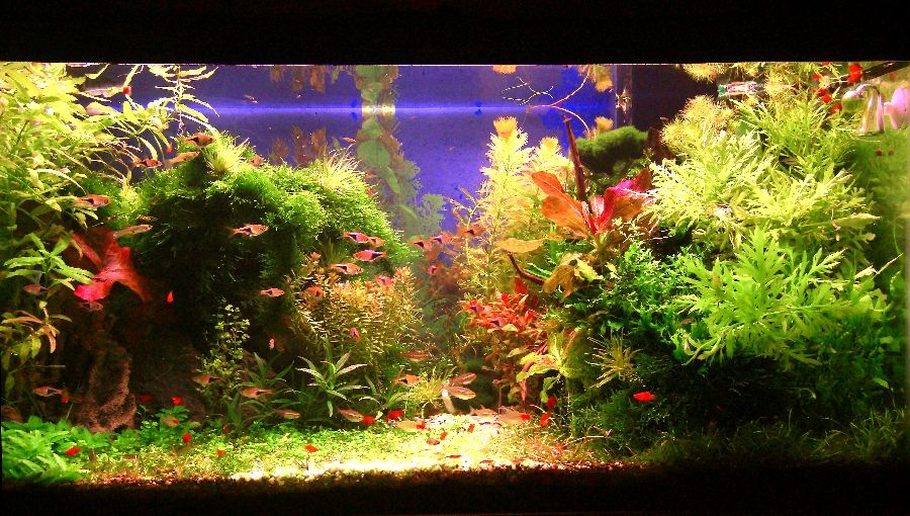 State: None/Other
Country: Singapore
Quote:
When Fish Die, Say a prayer & flush it it down the drain.
About Yourself:
Previous hobby: Gardening Previous hobby: Fish Keeping. Current hobby: Merging both together.
Fish Kept:
Dwaft Red Platty, Harlequin Rasbora, Endlers- Peacock, Snakeskin, Mixed Breed, RummyNose, Lamp-Eye Tetra, Sakura Nomal, Super-Red, Yamato Shrimp,
Corals/Plants Kept:
Blyxa japonica, Echinodorus ozelot, Echinodorus vesuvius, Glossostigma elatinoides, Hygrophyla difformis, Hygrophila polysperma 'Rosanervig', Rotala macrandra, Alternanthera ReineckiiI , Staurogyne sp.Tropica, Myriophyllum tuberculatum, Cardamine lyrata, Cladophora.Aegagropila (Moss Ball), Lace Microsorumpteropus ,(Windelov/Java.Fern), Myriophyllum tuberculatum, Nymphaea lotus Zenkeri (Tiger Lotus), Nymphaea lotus sp Green(Tiger Lotus), Vesicularia montagne (Christmass moss), Spiky Moss, Flame Moss, Others.
Advice:
Patient with common sense. Talk to your plant. They will tell you what they need.
Description:
Wet, Sweat and Blood