Top Ten
>
Corals & Inverts All Time
All Time Top 10 Corals & Inverts
State: New Jersey
Country:
United States
Quote:
You can't polish a turd but it's sure fun trying
Corals/Plants Kept:
$500 efflo ,rare blue tip efflo,purp slimmer,green slimmer ,red ,and a yellow porties,rare flat plating yellow green monti with thin stalks unknown.baby blue acro,palmers blue mille ,pink millie,chips acro,garf purple bonsai,tyree unknown purple acro,monti confusa,monti spongodes, Monti Vietnemsis,yellow tip blue polyps and light purple body acro,purp/red/green purp rim monti caps,real superman monti ,ultra rare dark green nepthea,green sinularia,blue table acro ,superman acro table red with blue tips.
Advice:
This tank is 5 months old ,all corals where grown in my old 46g bow and 72g bow .Ive been around fish tanks for over 18 years it takes time, most people cant understand how my tank looks the way it does after 5 months ,the pic of my tank is at 4 months ,Its a lot of hard work and prep time involved with setting up a reef tank there are no shortcuts , but all Marco rock was soaked in a vinager bath for 10 days then a muratic acid bath for 12 hours, then it was cured with some liverock in a rubbermaid bin ,also live sand was used and the Seachem reef salt was a big help no major algea outbreaks white sand and no algea on my rocks the only problem is Coralline Algae its all over everything I am not crazy about it but the more i scrape it the faster it grows ,
Description:
I call this purple ice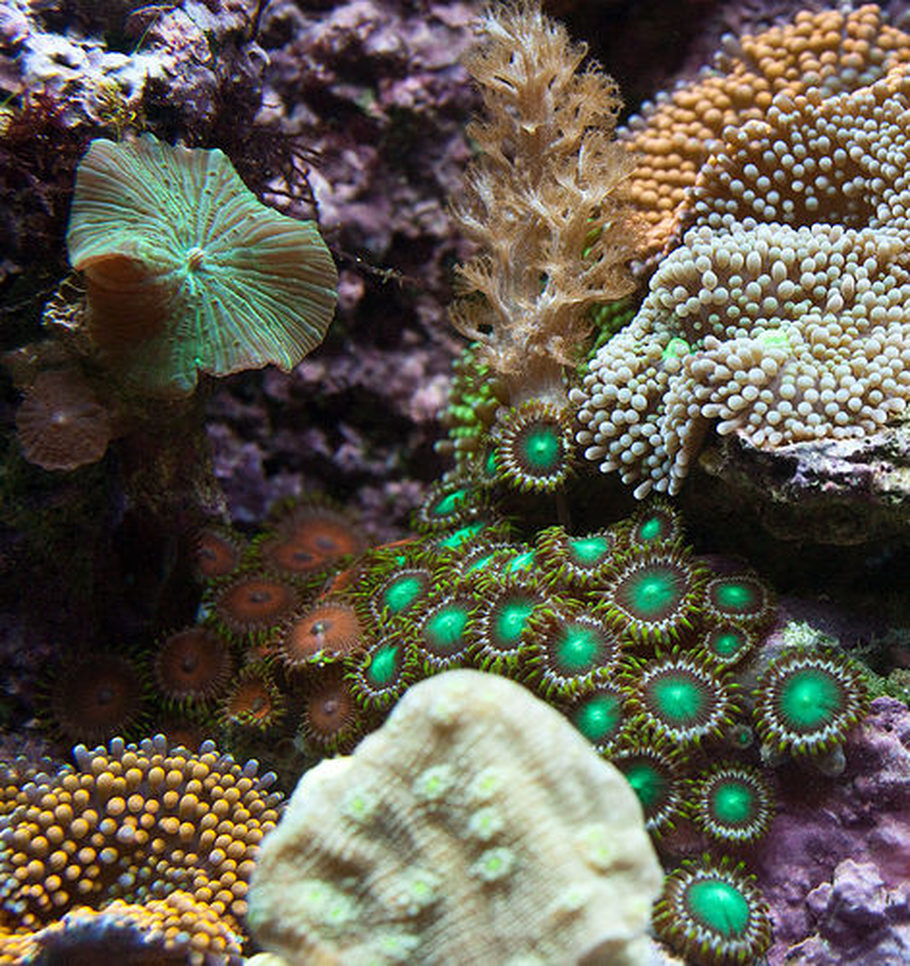 State: Maryland
Country:
United States
Quote:
don't sweat the petty stuff, just pet the sweaty stuff!
About Yourself:
Managed a pet store in 80's, had 23 freshwater tanks, bred central american cichlids bred true chameleons and Phelsuma (Gieco Gecko LOL!)went into the AF and have kids now, so thought it was time to expose them to the wonderful hobby of fish keeping.
Fish Kept:
1-Banghaii Cardinal, 1-Firefish goby, 1-six-line wrasse, 1-yellow watchman goby, 1-painted clown goby, 1-green chromis, 1-pygmy hawk.
Corals/Plants Kept:
2-Acans (1 red, 1 green) 2-Monti Cap (1 orange, 1 green) 1-Green Psammacora 1-Acro sp. 1-Duncan w/new head 1-Blasto wellsi w/3 new heads 1-Candy Cane 1-Robokaki Chalice 1-Alien Eye Chalice 1-Galaxia (it was on the bottom got bumped by the mag cleaner and all but died...my bad not checking it's location after the bottom relocation) 1-Green Favia 1-kenyan tree softie 2-Neon Green Sinularia 1-Green Polyped Leather 12+ assorted colored Ricordea 4+ hairy mushrooms 2 Metallic green elephant ears 2-Red Rhodactis 5 or 6 Green Rhodactis Many different color Discsomas Many different color Zoanthids 2 species Pulsing Xenia Electric Green Colve polyps that have orange tips Daisy Cloves Micro blue cloves Orange Gorgonian (captive frag doing good so far) INVERTS~ 6-8 blue leg hermits 2-peppermint shrimp 1-Scarlet cleaner shrimp 1-growing brittle star ( came as a hitchhiker)
Advice:
RESEARCH_RESEARCH_RESEARCH! Go slow buy the best of all the equipment you can afford...do not skimp even if it delays setting up your dream tank, cause in the end you WILL pay for it anyways! Try to use cultured frags whenever possible, join a local reef club and get to know the folks at your LFS well and ask questions that you know the answer to and see the response to check the level of their knowledge.
Description:
Closeup section of my tank
State: Arizona
Country:
United States
Fish Kept:
Neon tetra, Albino Cory, Otto, Rubberlip pleco, Bumble Bee pleco, German Blue Ram, Farlowella(stick cat), Peacock Mantis Shrimp, Smithii Mantis Shrimp, Fancy Goldfish, Peppered Cory, Green Chromis, Maroon Clown,
Corals/Plants Kept:
Rotala indica, rotala rotundifolia, some crypt, java fern, blyxa, singapore moss, lotus, ludwigia broad leaf, Mushroom, Ricordia, Tyree Green Toadstool, Euphillia, Favites, Zoanthid(armor of god, nuclear green, dragon eye, orchids, and more without names), Xenia, Kenya tree, dendrophilia, green acropora, tubs green birdsnest, starpolyps, lobophillia, acans, and probably a few more i forgot.
Description:
Bam Bam orange Zoanthid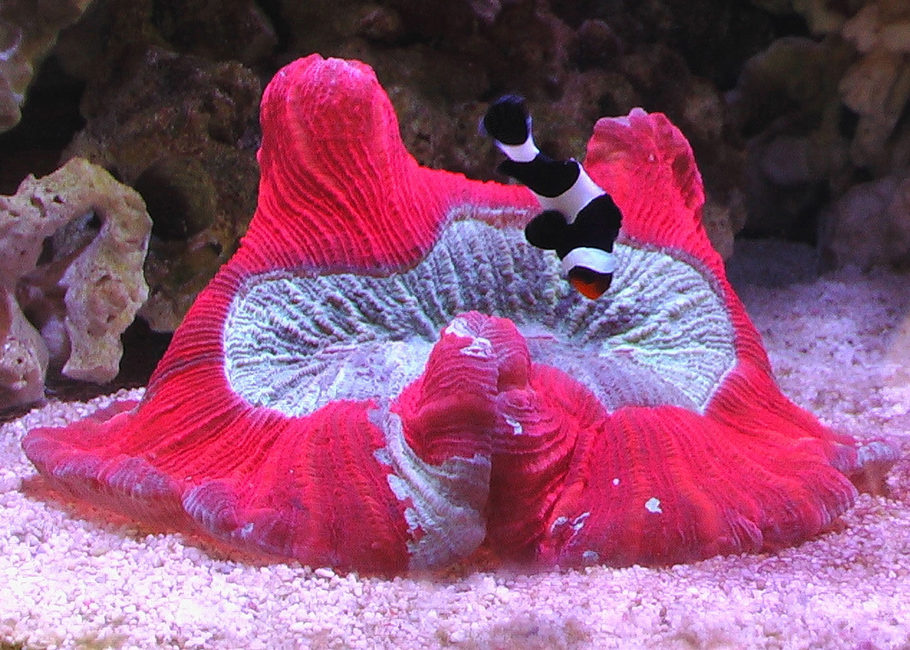 State: None/Other
Country:
New Zealand
State: None/Other
Country:
Australia
Quote:
A winner never quits, but gets poor in this hobby
About Yourself:
Just the average AUSSIE, trying to have a go down under. 30 years of age and trying to make the best tank I possibly can. Please, only constructive comments or positive. Or get stuffed Cheers
Fish Kept:
our fish 7 chromis 1 yellow tang 1 blue tang 1 lipstick tang 1 leopard wrasse 3 clown fish 1 long nose hawkfish 2 golden head gobie 1 dragonet 1 lawnmower blennie 1 dotty back 2 bar gobies 1 nigger trigger 1 snowflake eel 1 coral banded shrimp 1 coral Beauty
Corals/Plants Kept:
Approx 130 Kgs or 285 pounds of LR. Number 2 grain white crushed coral substrate, and a tennis ball size air stone. Corals Numerous Amounts Of Toadstools, Anemone, Morphs, Gonipora's, Torches, Hammers, Flowers, Daisys.
Advice:
Please comment on any experiences you have had, every bit of help you can offer will be a great advantage to the next beginner.....( I don't claim to be experienced though, still learn something every day)
State: None/Other
Country:
Canada
Fish Kept:
2 clownfish percula, 1 lieutenant tang, 1 yellow tang, 1 coral beauty, 2 chromis, 2 spot tail globies, 4 green clown gobies, 1 lyretail anthias, 1 swallow tail angel, 1 mandarin, 1 lawnmower blenny, 1 cardinal pajama, 1 cardinal bangail, 1 glass cardinal.
Corals/Plants Kept:
SPS and some LPS
Advice:
read, ask questions and be patient!
Description:
cleaner shrimp on montipora undata
State: California
Country:
United States
About Yourself:
BEEN IN THE TRADE FOR ABOUT 4YRS ,AND STILL LOVING EVERY MOMENT,PLANNING TO GO LARGER SOON,150 GAL ,STARTED WITH A 18GAL ECLIPSE LASTED 4 MNTS AND THEN GOT 54GAL ,ONE OF MY FRIENDS HAD A TANK FISH ONLY,AND THAT NEXT DAY I BOUGHT MY TANK.
Fish Kept:
SAIL FIN TANG,CHOCOLATE TANG,ARC EYE HAWK FISH,BLACK BLENNIE,CANARY BLENNIE,SIX LINE WRASSE,ARABIAN PSUDEOCHROMIS,SCOOTER BLENNIE,TRUE PURCULA CLOWN,2 GREEN CHROMIS,ORANGE SPOT SHRIMP GOBY
Corals/Plants Kept:
TORCH CORAL (TAN W/YELLOW TIPS),FROSPAWN (NEON GREEN),CANDY CORAL (BROWN & GREEN CTR) NEON GREEN ,DISC CORAL(ORANGE 7 GREEN,DUNCAN CORAL 2 COLONIES (8 HEADS & 15 HEADS),DENDRO 9 HEADS,ASSORITED ZOOS,BLASTOMUSSA WHITE W/GREEN CTR & MARON W/GREEN CTR 7 POLYPS
Advice:
DO ALOT OF RESEARCH,AND THEN DO SOME MORE RESEARCH
Description:
dendro 9 heads
State: None/Other
Country:
India
Corals/Plants Kept:
HYGROPHILA CORYMBOSA, ALTERNANTHERA REINECKII, HETERANTHERA ZOSTERIFOLIA, CRYPTOCORYNE WENDTII , BACOPA AUSTRALIS, GLOSSOSTIGMA ELATINOIDES, HYGROPHILA POLYSPERMA, FLAME MOSS, SUBWASSERTANG, ROTALA SP. and CABOMBA CAROLINIANA.
Description:
the red cherry shrimp..
State: California
Country:
United States
Quote:
Make the best of what you have!
About Yourself:
4yrs of running a reef tank, and i never looked back!
Fish Kept:
1Coral Beauty Angelfish, 1 Yellow Tang, 1Maroon Clownfish, 1 Blue Damselfish, and 1 Diamond Watchman Goby. 1 Cleaner shrimp, 1 Fire shrimp, 1 Emerald green crab, lots of hermit crabs, 4 Turbo Snails, 5 Nassarius snails, and a bristle star.
Corals/Plants Kept:
Purple Colony Polyp, Yellow Colony Polyp, Green Starburst Polyp, Button Polyp, Red, Blue, and Green Striped Mushroom coral's, Colt Coral, Open Brain Coral, Brain Coral, Frogspawn Coral, Sun Coral, 5 Dwarf Colored Feather Duster's, and 1Reef Anemone.
Advice:
Take your time, and ask a lot of questions! Water changes are key to a healthy tank.
Description:
Black & White Feather Duster
State: None/Other
Country:
Italy
About Yourself:
35 years old, live in Como, George Clooney's holiday place ;-)
Fish Kept:
1 Gramma loreto 2 Ocellaris 1 Pseudochromis Fridmani 1 Pseudochelinus Hexataenia 1 Centropyge Acanthops 2 Chromis Viridis 1 Synchiropus splendidus 2 Anthias Squamipinnis 1 Neocirrithes Armatus 2 Pterapogon kauderni 1 Ecsenius bicolor 1 Zebrasoma Veliferum 2 Chromis Vanderbilti 1 Valenciennae Strigata
Corals/Plants Kept:
Too much to write here ;-) Some acropora, seriatopora, pocillopora,montipora,briareum, favia, sabella spallanzanii, echinopora,etc etc
Advice:
Read, read and read! Patience and passion.
Description:
Salmacis Bicolor