2011 Top 10 Corals & Inverts
State: New York
Country: United States
Quote:
" I Love My Small Salt Water Paradise"
About Yourself:
I am a 45 year old man that operated a machine in a paper company for years. I became disable after having a horrific accident at work. After being without a job and staying at home lonely cause my wife went to work and my children went to school I had to keep my mind ocupied. A friend of mine took me to his house to show me his tank and it was so gorgeous that I became interested in this type of hobby. Besides having a truck that I take all over the state for carshows.
Fish Kept:
I have several kinds of fishes and invertebrates in my tank like ocellaris clown fishes, yellow tang, naso tang, blue damsel, firefish, clark clownfish pacific blue tang, stipped black and grey angel fish, chocolate chip sea star, snails, crab, blue small lobster and shrimps.
Corals/Plants Kept:
Some of the corals that I have are xenia, trachyphyllia, leather toadstool coral, blue yellow and candycane sponges, etc...
Advice:
My advice to somebody that is new to this hobby is to do some research first of all. Make sure that you know what you are doing because this is an expensive hobby and not only that it requires a lot of maintenance and time. I have really learned a lot by researching and because my brother is a marine biologist in Puerto Rico.
Description:
white leather coral
State: Colorado
Country: United States
Fish Kept:
Lionfish, Koran Angel, many inverts.
Corals/Plants Kept:
Live Rock
Advice:
Have fun and learn your own way. All tanks seem to be a little different.
Description:
Long Spine Urchin, Lionfish, Koran Angel.
State: Florida
Country: United States
Fish Kept:
I have 1 small blue legged hermit crab, 2 emerald crabs, a pretty decent sized albino hermit crab, a three striped damsel, a yellow-tail damsel, I had 2 Turbo snails but one of my sea urchins killed them both, had a scooter blenny but I think one of my emerald crabs killed it, a clownfish, a bunch of tiny snails, a peppermint shrimp, a scopas tang, a mandarin goby, a hawkfish, 3 Sea urchins (I got right out of the Gulf because I live near the beach, which is also where I got the albino hermit crab), a condy anemone, brittle sea star, serpent starfish,
Advice:
I don't know enough to give advice.
Description:
Peppermint Shrimp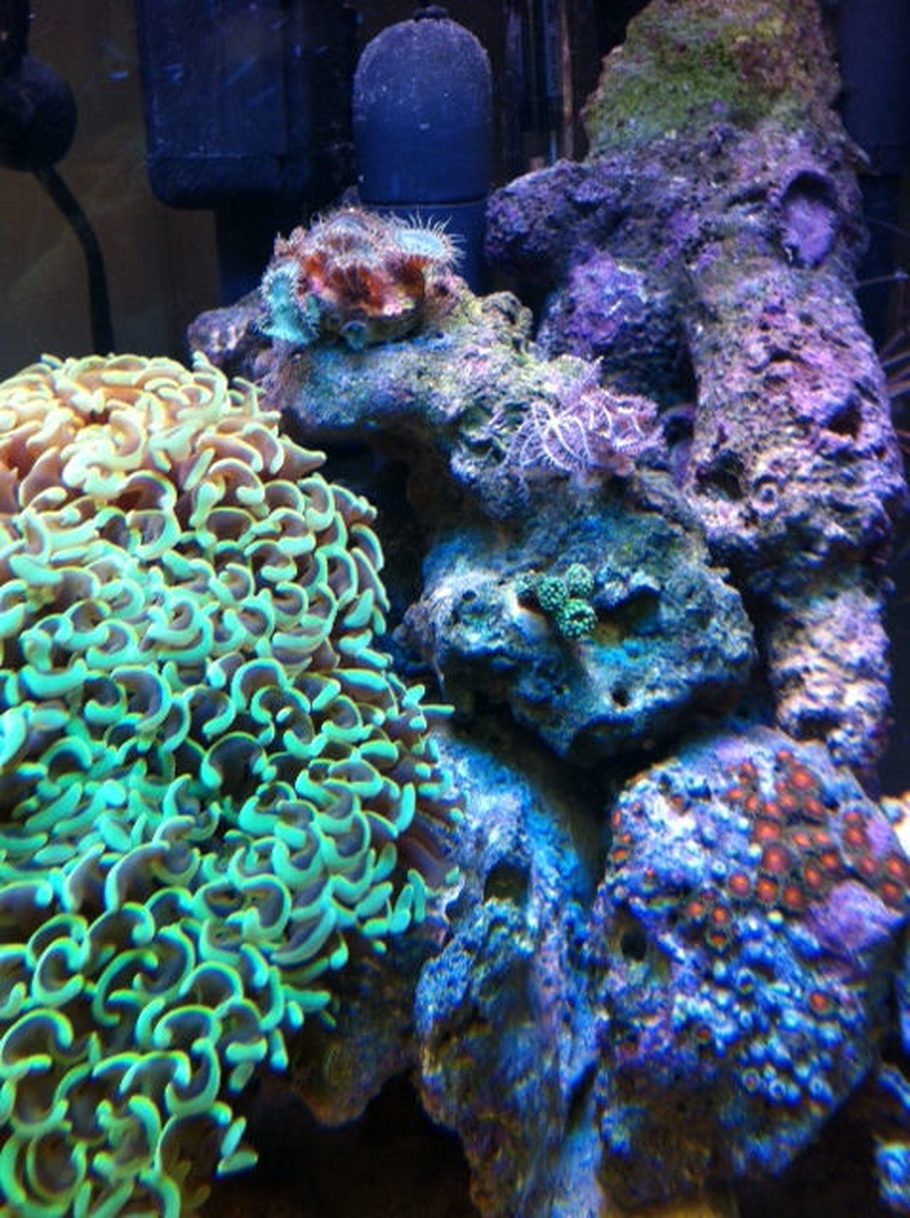 State: Georgia
Country: United States
Fish Kept:
Regal Tank; Blue Spot Jawfish; Arrow Crab; Camel and Fire Shrimps; Emerald Crabs; etc.
Corals/Plants Kept:
Hammer, Daisey, Toadstool, etc.
Advice:
Speak with local fish store proprietors that have expert knowledge.
State: Mississippi
Country: United States
About Yourself:
Reef tank owner 1 yr
Fish Kept:
1 Tomato Clown, 1 bicolor Pseudochromis, 1 rock blenny, 1 naso tang, 1 Red banded shrimp, 1 conk, snails, hermit crabs.
Corals/Plants Kept:
giant leather toadstool, green montipora, red Lobophyllia, frogspawn, orange sun coral, yellow sun coral, metallic green flowerpot, daisy star polyps, xenia coral, blue mushrooms, green hairy mushrooms, orange mushrooms, green zoanthids, orange zoanthids, green favites brain coral, plate shelf coral, yellow scroll coral, blue maxima clam.
State: None/Other
Country: Canada
Fish Kept:
2 True Percula Clownfish, Green Spotted Mandarin, 2 Clown Goby, Orange Marble Starfish, Electric Orange & Electric Blue Hermit Crabs, Porcelain Crab, 2 Cleaner Shimp, Banded Pipefish
Corals/Plants Kept:
3 SPS corals one has commensal crab-(Trapezia Digitalis), Porite Rock with Christmas Tree Worms.
Description:
electric orange hermit crab
State: New York
Country: United States
Quote:
Fear Leads to Anger, Anger leads to Hate, Hate Leads to Suffering
About Yourself:
Fish keeper 30 years. I've used all sorts of aquarium tools and nothing beats trial and error as well as a trip to the local Aquarium. They beat the heck out of the local pet store... http://www.brooklynaquariumsociety.com/
Fish Kept:
Yellow Tang, Sailfin, Neon Demsel, Pair of Clarkii Clowns, 4 Striped Demsels, Yellow Watchman Goby, Green Serpant Star, Various Mushrooms and Halimeda and Mangrove plants, Turbo Snails. Red legged hermits coming soon.
Corals/Plants Kept:
Reef - 1 Fox Coral umbrella mushrooms and one giant purple mushroom, elephant ear mushrooms and several feather dusters lots of striped mushrooms as well as hairy mushrooms, cabbage leather, Kenya Tree and riccordia.
Advice:
Watch your tank and learn to notice changes. Money does not buy happiness and Keep It Simple Stupid (KISS)
Description:
Waters surface is where most of your tanks chemical transfer takes place, The skimming of the waters surface is important to good water quality
State: None/Other
Country: Saudi Arabia
Quote:
A Reef Aquarium is a hole between sheets of glass, that the aquarist fills with money!!
About Yourself:
IT Professional working in a Hotel as IT Manager, reef addict!
Fish Kept:
I have kept many different species found in the coral reefs of the world!
Corals/Plants Kept:
SPS, LPS and Softies
Advice:
Only serious people who can dedicate themselves to a hobby should start a reef tank, otherwise dont kill corals please!
Description:
Bubble tip anemone
State: None/Other
Country: United States
Fish Kept:
Guppies, Lyretail Guppies, Mickey Mouse Platies, Silver Molly, Neon Tetras, Dwarf Gourami, Rosy Barb
Corals/Plants Kept:
Fake Plants
State: Iowa
Country: United States
Fish Kept:
Neon Tetras, Glolite Tetras, Black Tetras,2-Gouramis, 3-Different types of Cory Cats, Two Fiddler Crabs, an algae eater, Gold Mystery Snails, Some other snails that overpopulated after I got one on some plants I ordered.
Corals/Plants Kept:
Broadleaf Ludwigia, Java Fern, Dwarf Lily bulbs, Red Rubin.
Advice:
Do your homework.
Description:
Gold Mystery Snail