2007 Top 10 Freshwater Tanks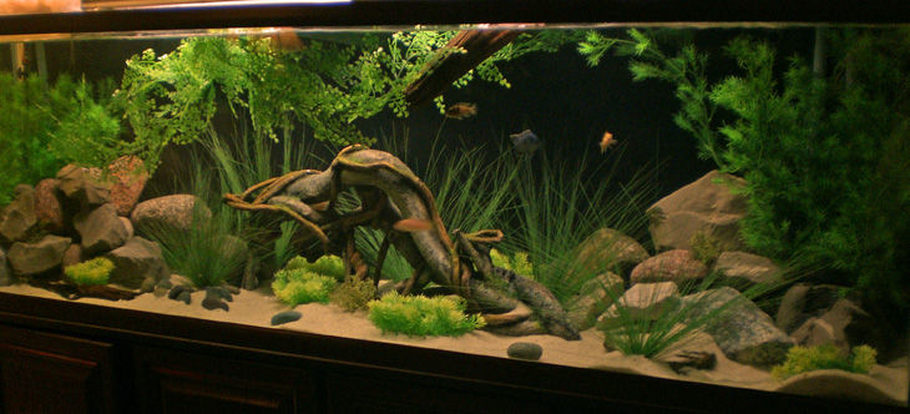 State: West Virginia
Country:
United States
Fish Kept:
1 peacock 1 M. Msobo changing male 1 Albino Auratus 2 Orange Zebra 1 Kenyi 1.OB more soon...
Advice:
Never quit,Don't put your hand in the water no more then once a week.
State: None/Other
Country:
Australia
Quote:
Clean tank is a healthy tank.
About Yourself:
Just love the tranquility and peace of an aquarium in the house.
Fish Kept:
cichlids clown loaches
Advice:
Be prepared to be committed.
Description:
Cichlids Cove
State: None/Other
Country:
Canada
Fish Kept:
1 Nimbochromis venustus 1 Sciaenochromis Fryeri "Electric Blue" 1 Red Empress 1 Aulonocara hansbaenschi, Red Shoulder 2 Aulonocara "Mamelela" 5 labidochromis caeruleus 5 Afra Cobue 8 Pseudotropheus Saulosi 1 Aulonocara koningsi "Mbenji Blue" 1 Placidochromis phenochilus "Tanzania" 1 Otopharynx lithobates "Aristochromis Red Top" 8 Pseudotropheus Socolofi 1 Placidochromis Electra 1 Copadichromis Borleyi (Kandango) 8 Afra Lumbila 1 Labeotropheus Fuelleborni 2 OB Peacock
Corals/Plants Kept:
plastic
Advice:
Avoid impulsively purchasing fish. Do your research prior to introducing a new fish. Quarantine first if possible. Choose less aggressive and more peaceful species.
Description:
135g African - Mostly Mbuna
State: None/Other
Country:
Canada
Quote:
It's not the destination it's the journey
About Yourself:
Started out with a 10 gallon tank and some cheap fish. As I wanted something in my office. After 4 months I graduated to the hexagon tank as it fits perfectly in the corner of my office. I love having the fish to keep me sane when everything is falling apart.
Fish Kept:
2 tetras I Sun catfish 1 Pleco Many different cichlids
Corals/Plants Kept:
some plasic and a few real plants
Advice:
Get a second job because is't adicting
Description:
I tried to keep the tank as natural looking as possible. It is really hard to take a good picture of a hexagon tank.
State: Missouri
Country:
United States
Quote:
"Deserve's got nothin' to do with it"
About Yourself:
HVAC tech by day, aquarist by night. I started a few years ago with a 10gal tank, and grew from there. I have many tanks ranging from 10gal-210g. All of my fish are Malawi cichlids. These fish are gorgeous. Colors of these fish are amazing. People think they are saltwater.
Fish Kept:
Fish: Almost all of my fish are at least F1 if not wild. Aulonocara jacobfreibergi "Domwe island" Aulonocara Jacobfreibergi "mamela" "lemon jake" Aulonocara Jacobfriebergi "Eureka Red" Aulonocara Jacobfriebergi "Eureka Albino" Aulonocara Jacobfriebergi "Hongi Island" Aulonocara maulana "Bi-Color 500" Aulonocara sp. "Swallowtail" Aulonocara stuartgranti "Ngara" Aulonocara stuartgranti "Cobue" Aulonocara stuartgranti "malerie island" Aulonocara stuartgranti "red shoulder" Aulonocara mylandi mylandi Aulonocara mylandi kandeensis Aulonocara Lwanda Protomales steveni "taiwan reef" Otopharynx Lithobates "Domwe" Copadichromis Mloto "Ivory Head" Copadichromis mloto
Corals/Plants Kept:
Lace Rock, Drifwood, Silk plants.
Advice:
Can be an expensive hobby, but doesnt have to be. Be creative, give your fish thier own little heaven, let them live in tranquility.
Description:
210g Oceanic
State: Louisiana
Country:
United States
About Yourself:
Fishing-fish-aquariums-darts
Fish Kept:
African cichlids
Corals/Plants Kept:
anubias,amazon swords
Advice:
Great hobby that becomes addicting.Do the research and don't rush.
Description:
background shot of my 225 gallon freshwater tank.
State: None/Other
Country:
Malta
Fish Kept:
Cynotilapia Axelrodi - Labidochromis Caeruleus - Petrotilapia "Golden Eastern" - Melanochromis Parallelus - Melanochromis Johannii - Melanochromis Elastodema - Melanochromis Auratus - Maylandia Lombardoi - Pseudotropheus Demasoni - Cyphotilapia Frontosa - Sciaenochromis Ahli - Aulonocara Nyassae.
Advice:
This is a great hobby !! try it out...
Description:
My tank is a 1000 ltr Tanks with a 200 Ltr sump. Everything is homemade except for the pumps. This tank includes a mixture of cichlids from Lake Malawi, Lake Tanganyika and Lake Victoria.
State: None/Other
Country:
Australia
About Yourself:
I like things n stuff!...
Fish Kept:
Assorted lake malawi and other species such as the electric blues and yellows, mainganos, mpanas, peacocks, lombadi, bumble bees, red zebras, red empress, black and albino sharks, bristlenose, convicts, texas, and a others.. Oh yeh and a big blue Yabbi called Clampy
Advice:
Do it right the FIRST time!!.. go all out cos there addictive!
Description:
Tank is 5"x2"x2" with an ocean sand substrate along with natural rocks and drift wood. It has a custom made latex rock background and is lit up using a large Halide light and an coral marine blue tube. Heating is supplies by the Jager heater and the water is kept crystal clear with the large Wet Dry filter.
State: Texas
Country:
United States
Quote:
"Buzzards gotta eat, same as worms."
Corals/Plants Kept:
All plastic
Advice:
Frequent water changes. Don't over feed.
Description:
100 Gallon custom tank.All plastic plants.
State: California
Country:
United States
Quote:
"Creativity Is Infinite"
About Yourself:
I started off with aquariums with my father when I was around 5 years old. Back then, I was more of the cleaner/maintenience boy then anything else. Now that I have my own place, I have 9 tanks, looking into getting a tenth soon (takeover my father's tank) I have been recently spending most of my time doing my Discus homework. I have a great set-up now with 11 Discus total, and I want to try and start breeding them. My main African tank is doing very well, I am carrying wellover a hundred different sorts of fry.. our last batch was 42 Electric Blues.. which I am really excited about. I'm having so much fun with this hobby, I can wait to pass it on someday.
Fish Kept:
1 Labeo Bicolor 2 Neolamprologus Brichardi 1 Pseudotropheus Socolofi Albino 1 Pseudotropheus Saulosi 1 Metriaclima Lombardoi 2 Metriaclima Barlowi 3 Metriaclima Greshakei 5 Labidochrommis Caeruleus 4 Neolamprologus Pulcher 1 Nimbochromis Livingstonii 1 Neolamprologus Tetracanthus 2 Neolamprologus Leleupi 1 Altolamprologus Calvus 1 Pleco 3 OB Peacock Hybrid 1 Aulonocara Stuartgranti German Red 2 Sciaenochromis Fryeri 1 Pseudotropheus Elongatus 1 Altolamprologus Calvus (Gold) 1 Dimidiochromis Compressiceps 1 Pseudotropheus Demasoni 4 Synodontis Multipunctatus 1 Copadichromis Borleyi 1 Neolamprologus Sexfasciatus (Gold) 1 Heros Efasciatus (Gold) 1 Cyphotilapia Frontosa 2 Lamprologus Brevis 2 Neolamprologus Buescheri 1 Synodontis Angelicus
Corals/Plants Kept:
Cambomba
Advice:
Patience... the most important thing is patience.. but it's also the hardest to do too. Do your research on all equipment and know what your buying and using. Money can be wasted from both equipment and your fish. Some stuff I lucked out on, many things I found that can be much easier in matenience/ and overall use. Then ther are things you just buy because of the price... I really wasted a bit of money on horrible heaters.. within a few months all they do is take up room in the trash can now. I now have learned my lesson and before buying anything I now do TONS of research online, and over the phone.. trying to get as many opinions and suggestions as possible.. Most of the time you will find a pattern in peoples opinions. Nothing is better than having a great, easy, healthy, and beautiful aquarium... the horrible thing is losing those gorgeous finds because you rushed into something your not certain of. Don't learn the hard way.. it's really not worth it, trust me!
Description:
More recent shot of my main African tank.