2009 Top 10 Reef Tanks
State: Florida
Country: United States
About Yourself:
Work a lot.
Fish Kept:
I have a serious opinion about the fish. Have a plan and wait till you are ready and put them in all at once. Hard to watch when a new one is added and the others kill it slowly day after day. My wife would go crazy asking me to get it out.......and you know how that goes, to much damage to what you have built to get one fish.
Corals/Plants Kept:
lps,sps,soft. 2017 update, are you all wondering about the rocks. The base rock are single pieces from the desert that used to be the ocean. Reef rock attached to the the large desert rocks. You want to know where to get them? Study the earth 10k years ago. The one in the center weighed like 60 lbs. Make your own secrets!!
Advice:
Water movement, and then more water movement. Lighting and finally watching and more watching. Your tank will tell you what it needs. You will know when whatever you stick in it just thrives. Also let the animals tell you the secret!!
State: Florida
Country: United States
Quote:
happiness is not created, but realized
Corals/Plants Kept:
Corals primarily include a bunch of SPS. Too many to list.....
Advice:
Read, read, read, read, read and read. Don't skimp on equipment. Take your time. ANGELS WILL EAT CORALS, so don't risk it.
Description:
1 1/2 year old reef tank.... Primarily SPS.....
State: None/Other
Country: United Kingdom
Fish Kept:
Sailfin Tang,two leopard wrasse,Marine Beta,three Cardinals...Marine
Corals/Plants Kept:
Various stonies,several morphs of star polyps
Advice:
Listen and learn,be patient
Description:
130 Gal Mixed Reef,close to 4 years old.
State: Oregon
Country: United States
Quote:
"I don't think the heavy stuff is gonna come down for quite a while"
Fish Kept:
Purple tang, 2 Bartletts anthias, 3 sunburst anthias, X-mas and leopard wrasses. Blue jaw trigger (male), flame angel, blonde naso tang.
Corals/Plants Kept:
3 year mixed reef with wide variety of zoos, softies, montis, acros, ricordia, and large polyps corals. Starting to collect blastomussas
Advice:
Be careful when starting this hobby. It could change your life....
Description:
right side of 180 pentagon
State: None/Other
Country: Spain
Quote:
I'm the lizard king, I can do anything.
Fish Kept:
Acanthurus Leuco, A. Sohal, A. Lineatus, A. Olivaceus, Hepatus, Flavescens, Chelmon, Naso Lituratus, Odonus Niger, Ostracion Cubicus, Sinchy. Splendidus, Sinchy. Ocellatus, Clarkii, Halichoeres Marginatus, H. Chrysus, Ambligobius Rainfordi, Gramma Loreto, Chromis viridis.....
Corals/Plants Kept:
Hystrix, Calendrum, milka, montipora digitata, montipora confusa, wellsophyllia, trachyphyllia, goniopora, favia, favites, euphyllia ancora, parancora, paradivisa, turbinaria, plerogyra sinuosa green, acan. lord purple & green, pump. xenia, zoos, e.quadricolor red, trinke. flabelliforme, caulastrea, acan. echinata, tridacna maxima, fungia....., 20-30 acroporas, (incl. loripes, hoeksemai, millepora, humilis, gomezi,.....)
Advice:
I only know that I don't know anything.
Description:
Main tank full shot Dec 2009.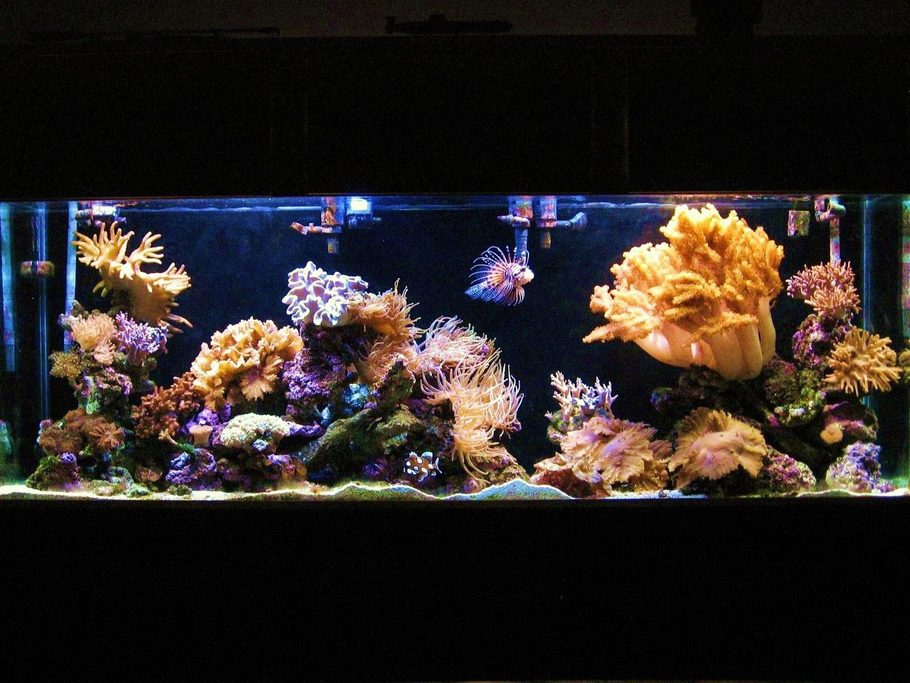 State: None/Other
Country: Canada
Quote:
remember the edmund fitzgerald
Fish Kept:
marron clown. two damsels. lobster.
Corals/Plants Kept:
all kinds.
Advice:
it tastes better with salt
Description:
my 150 gallon
State: Texas
Country: United States
Quote:
never interrupt your enemy when he is making a mistake
About Yourself:
I'm a surgical assistant. Married to a wonderful woman, have two beautiful girls. I 've been in the hobbie on or off for 15 years. Started freshwater tropical fish, moved to african cichlids, and much later came saltwater fish and reef tank. The demands of my job are stressfull, so i relax tinkering with my tank
Fish Kept:
Hippo tang, yellow tang, sailfing tang, tomato clown,watchman goby, mandarin, bicolor blennie,gumdrop goby, cleaner shrimp, 20 or so hermit, red tip crabs, turbo snails.
Corals/Plants Kept:
star polyps, yellow polyps, red ,orange, pink and green zooanthids, orange florida ricordia, montipora,brown, red , green mushrooms, toadstool leather, finger leather, frogspawns, pulsating xenias, candy cane, galaxia, brain corals, green/blue acropora.
Advice:
Very expensive hobby, buy as if you are setting up for your next bigger size tank, this will save you some money later. Start with soft hardy corals and work your way to the stony corals later.
Description:
My Reef Tank
State: New Jersey
Country: United States
About Yourself:
We started a 30 Gallon tank for our Grandson. He passed away the day after he turned 11 months. The tanks we have are in his memory. He always loved going with mom mom and pop pop to go see the fishes
Fish Kept:
Majestic angel 7" Vlamingi tang 10"+ 2 Hippo tangs 8" Sohal tang 8" doctorfish 9" yellow tang 6" Naso tang 8" a pair of maroon clowns a pair of oscellaris clowns a pair of anthias a pair of Domino damsels
Corals/Plants Kept:
12" squamosa clam, 5" crocea clam, RBTA, GBTA, Purple tube anemone rare anemone from Indonesia, extra large Bubble coral assorted leathers paly's mushrooms australian orange torch, neon green hammer
Advice:
Take your time. This is not hobby you can just rush into. Do your homerwork
Description:
210 Gallon reef aquarium
State: None/Other
Country: United Kingdom
Fish Kept:
1 x regal tang, 1 x yellow tang, 1 x fireball Dwarf angel, 5 x blue / green chromis, 1 x royal gramma, 2 x clowns, 1 x yellow tail damsel 1 x skunk cleaner, 1 x scarlet shrimp, mamy hermits, turbos and other snails
Corals/Plants Kept:
array of soft and LPS corals only.
Advice:
have a go and find what works for you. Be aware this becomes the most addictive hobby ever which can hit your wallet hard!
State: None/Other
Country: Puerto Rico
About Yourself:
I have 4 aquariums- 125 reef, 55 planted freshwater, 12 Aquapod in my office, 3 gallon cube reef. 20 years + in the hobbie.
Fish Kept:
Yellow tang Blue tang Tomato clown Six line wrasse Coral beauty angel Percula clowns-2 Pseudochromis Diadema
Corals/Plants Kept:
Frogspawn Hammer Colt Gorgonians Brains Leathers Zoanthids Clove Polyps Waving Xenia Green Star polyps Cabbage leather Kenya tree coral Blue mushrooms etc.
Advice:
Patience and perseverance are the must important keys to success.
Description:
125 gallon reef mixed corals soft and lps