Top Ten
>
Freshwater Tanks All Time
All Time Top 10 Freshwater Tanks
State: None/Other
Country: United States
Quote:
Don't crap where you eat!
Fish Kept:
African Cichlids
Corals/Plants Kept:
All artificial.
Advice:
Research and have fun! As long as the water is healthy make your tank appealing to your tastes and not others.
Description:
My colorful tank.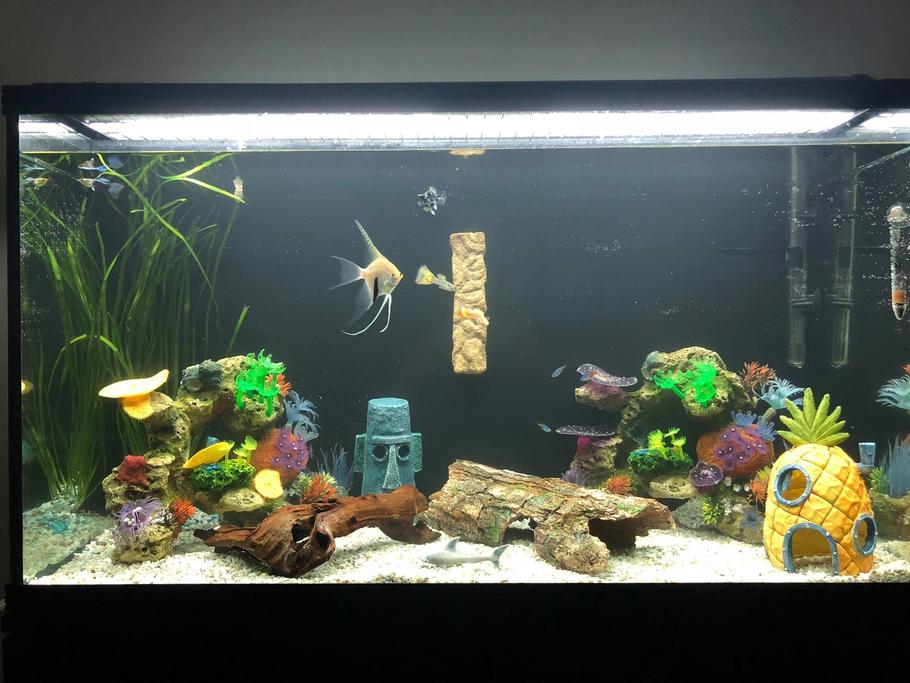 State: None/Other
Country: Australia
Quote:
"fish are friends not food"
About Yourself:
fish fish fish!
Corals/Plants Kept:
Green Plant
Advice:
Treat your fish with respect and loyalty and they'll give it back. I have a fish that comes to me by name and follows me like a dog
Description:
Our fish's first day in their new tank! No complaints yet!
State: South Carolina
Country: United States
About Yourself:
I will be brutally honest, I never wanted fish. I am a reptile man at heart. I would go into the pet store to get supplies and rodents and I would see how my kids were FASCINATED by the fish in the tanks. I would have never did a fish tank in my life if it wasnt for my 2 year old daughter looking into a fishtank and saying OOOOOOOOOO WWWWWWOW! I knew then that a fishtank might be very beneficial for my children and my stress relief
Fish Kept:
Platys, guppies, swordtails, corys, asst plecos, raphael cats, Del Rio's, neon tetras, siamese algae eaters and bloodfin teras
Corals/Plants Kept:
Anubias and amazon swords and java ferns
Advice:
Seek and ye shall find. Ebay can be your best friend and the pet shop your worst enemy. Buy smart, buy in bulk and read seller feedback.
Description:
I have gotten lost in this magical place MANY a night. On a side note, If you try to enlarge this picture or use the magnifier it gets very grainy. I have never had this problem before with any of my past entries. If someone knows how to fix this issue that would be fantastic.
State: Arkansas
Country: United States
About Yourself:
A photographer and graphic designer by trade, I've long enjoyed taking care of an aquarium, because it's a lot like working in a darkroom. There's chemistry and method and skill involved, but it's very relaxing, and when you see the results of your work, there's a sense of accomplishment, pride and even peace. I prefer a natural-looking environment in my aquarium, though I do also prefer artificial plants, because planted aquariums are a bit more work than I have time for (much like saltwater/reef aquariums). Video of my aquarium can be seen at: http://youtu.be/iVifqpdDWb0
Fish Kept:
Fire Red Dwarf Gourami, Gold Panda Lyretail Mollies, Red Tuxedo Guppiess, Zebra Danios, Neon Black Tetras, Rainbow Fish, Hillstream Loach, Platty, Bolivian Rams, Bloodfin Tetras, Black Angelfish, Gold Gourami
Corals/Plants Kept:
None (except artificial plants)
Advice:
Do your homework (read every aquarium site and forum you can find), get a good test kit (API master test kits are excellent), don't panic when your water clouds up when you first set up your tank, even when clarifiers won't get rid of it (this is just bacterial bloom, and it'll clear up on its own as the tank gets established), keep up on your water changes and gravel vacuuming, don't overstock, don't overfeed, don't over-treat with chemicals, and, most importantly, don't over-fuss. It's easy to take care of your tank and your fish as long as you approach it as being nothing more than a series of very simple steps that, if you follow them, will just work out. Video of my aquarium can be seen at: http://youtu.be/iVifqpdDWb0
Description:
After umpteen trips to various stores for lighting, plants, fish and such, plus equally umpteen deliveries from Amazon for hardware, test kits, etc., this is where I am right now with my new tank. I wanted to create a possible scene from a lake bed in which the fish will have plenty of hiding places and hopefully feel at ease, with their comfort being my first priority, but I tried to balance that with a sort of purposely unkempt/wild look to everything (without looking like no thought was given to it, which I found is harder to do than it sounds), even though I used all artificial plants (but everything else is real, including the driftwood, riverbed gravel and rocks). It's still cycling just a bit, so it's a little cloudy, but I figured it's clear enough to show enough detail to go ahead and grab a picture of it. Visible in this one are a flame dwarf gourami, some kind of yellow-and-black-and-orange platy that I think might be pregnant, another yellow-and-orange platy, two Bolivians rams, several zebra danios, neon black tetras, a baby rainbow fish, a couple of mollies and some guppies. I have no idea where the hillstream loach is, though, but he's still in there somewhere. :) Video of the aquarium can be seen at: http://youtu.be/iVifqpdDWb0
State: None/Other
Country: United Kingdom
Quote:
www.magic-aquarium.com
About Yourself:
I just start run hobby "business" with 3D background and modules for many aquarists enquiries. My occupation is mechanic music instruments.
Corals/Plants Kept:
Anubias barteri
Advice:
Dont mix fish from habitats with diferent water. Avoid overfeeding. Keep regularly water changing. .......
Description:
Malawi Cliff setup
State: Florida
Country: United States
Corals/Plants Kept:
Driftwood and sand
State: Pennsylvania
Country: United States
Corals/Plants Kept:
Artificial
Advice:
Patience is a virtue
Description:
36 gallon freshwater aquarium with rock driftwood and artificial plants
State: Illinois
Country: United States
Fish Kept:
Too many to list. Mixed African Cichlid tank
Advice:
Take your time and DONT USE CHARCOAL!!!!(please read ahead as to why!!) If you decide to not use charcoal (and save a lot of $$), you MUST do at least a 30% water change at least once every other week. My tank is a little overstocked (they are African Cichlids!) and I do a 30% water change every week. They are breeding like crazy and it's the easiest tank to take care of.
Description:
125 Gallon African Cichlid Tank
State: None/Other
Country: Finland
Fish Kept:
Geophagus sp. "Tapajos Red Head" Cichlasoma dimerus Yasuhikotakia sidthimunki - Dwarf Loach Ancistrus sp. L71/L181 Hemiancistrus subviridis L200 - Green Phantom Pleco Baryancistrus sp. L81 - Gold Nugget Pleco
Corals/Plants Kept:
Microsorum pteropus - java fern Microsorum pteropus "narrow" - narrow leaf java fern Staurogyne sp.
Advice:
Read, read and read... and then ask!
Description:
My South American cichlid tank.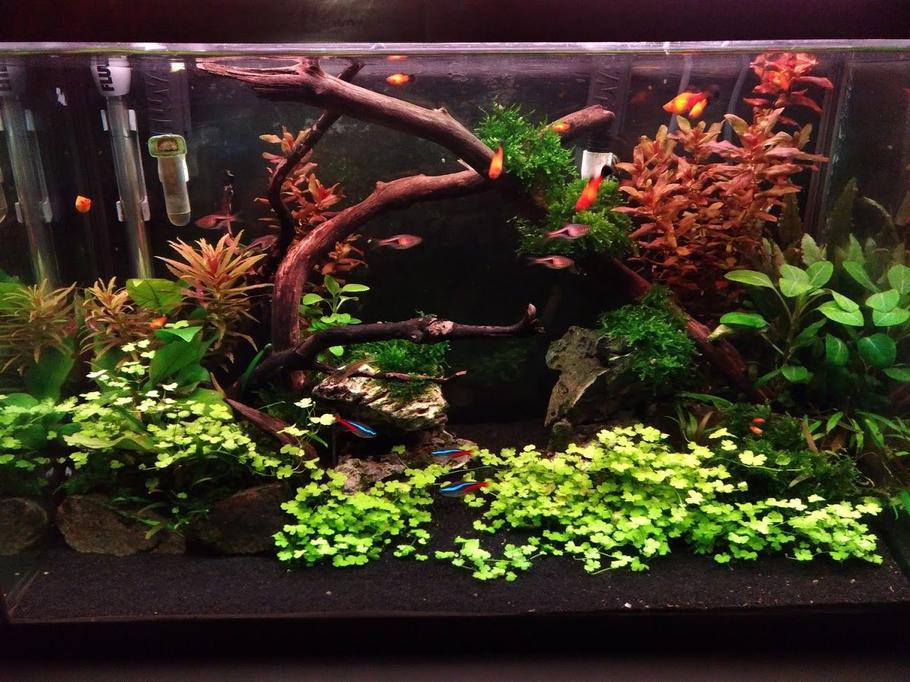 State: None/Other
Country: Canada
Corals/Plants Kept:
Rotallas, Anubias, Java Moss, Java Fern, Sword Fern and some unknowns
Advice:
Fishless cycle with bacteria supplement and ammonia
Description:
6 weeks into new built