2011 Top 10 Saltwater Fish
State: Connecticut
Country: United States
Quote:
go slow, let it grow
Fish Kept: Fish:
1 Banggai Cardinals
1 Harlequin Tusk (Aussie)
1 Ocellaris Clown
1 Coral Beauty Angel
1 Royal Gramma
1 Flame Hawk
1 Yellow Watchman Goby
1 Pearly Yellowhead Jawfish
1 Mandarin Dragonet
1 Green Clown Goby
Clams:
1 Maxima Clam

Inverts:
3 Rose Bubble-Tip Anemone
1 Cleaner Shrimp
40 Nassarius Snails
30 Blue-legged Hermits
20 Tropheus Snails
15 Astrea Snails

Equipment:
70g (30x30x18) cube w/ corner-flo
60lbs Fiji Live Rock
60lbs Aragonite sand
eShopps RS-100 sump
Mag 9.5 return pump
Reef Octopus NW-110 Skimmer
300w Fluval E Heater
Lumenmax 2 Pendant
Galaxy select-a-watt ballast 250w/400w
Radium 20K 250w bulb
Tunze 3155 ATO w/ 10g reservoir
Corals/Plants Kept: Corals
Torch Coral
Duncan Coral
Frogspawn Coral
Sinularia Leather Coral
Multii-colored Mushrooms
Hairy Mushrooms
Pom Pom Xenia Coral
Cabbage Leather Coral
Red Montipora
Green/Purple Star Polyps
Advice:
Research, Patience, & Responsibility
Description:
My Mandarin Dragonet
State: Iowa
Country: United States
Quote:
I have taken more out of alcohol than alcohol has taken out of me. -Winston Churchill
About Yourself:
By reefality.com
Fish Kept:
Fish: 2 tomato clowns, 1 niger trigger, 1 six line wrasse, 1 pink spot shrimp goby, 2 pajama cardinals, 3 green chromies. Inverts: 1 skunk cleaner shrimp, 1 coral banded shrimp, 50 hermit crabs (red &blue leg mix), 1 sand sifting starfish, 20 various snails
Corals/Plants Kept:
Coral: Blue mushrooms, green mushrooms, brown mushroom, 3 zoanthid mats, 1 fifty plus head duncan, 3 various leathers, 1 frogspawn frag Plants: None.
Advice:
Don't overcomplicate. Make sure to populate your tank with useful livestock (reef cleaners)!
Description:
Pink spot shrimp goby
State: None/Other
Country: France
Corals/Plants Kept:
Lps, sps
Description:
acanthurus Olivaceus
State: Kentucky
Country: United States
Fish Kept:
blue hippo tang, tomini tang, flame hawkfish, two lyretail anthias, yellow coris wrasse, melanurus wrasse, ocellaris clownfish, lawnmower blenny, pajama cardinalfish, royal gramma.
Description:
my flame hawkfish chillin'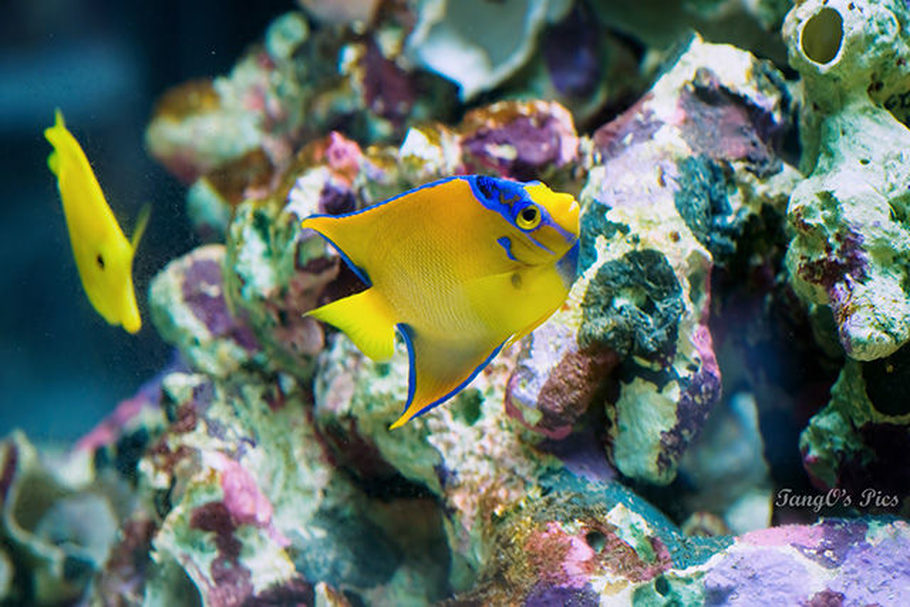 State: None/Other
Country: Malaysia
About Yourself:
always love fishes and have being keeping FW for ages,converted to marine 4 yrs ago.
Fish Kept:
PBT,YT,Regal,Tomini,Purple Tans,Orange Wrasse,Flame Angels and a pair of clownfish
Corals/Plants Kept:
mixed reef
Advice:
get the basics and initial set up right.
Description:
Queen Angel with YT
State: None/Other
Country: United Kingdom
About Yourself:
Machine operator in a factory. Had tropicals from early teens, took the plunge and moved to marine in Nov '09.
Fish Kept:
Indian Sailfin Tang; Emperor Angelfish; Blue Chromis; tank bred Percula Clown fish; Electric Blue-Legged Hermits; Red Hermit; Cleaner Shrimp.
Corals/Plants Kept:
Sarcophyton; Kenya Tree Coral; green Trumpets; green Euphyllia Frogspawn; a few Button Polyps that sprouted from the live rock.
Advice:
Take your time, its not a race. You will have days where you get fed up, everybody ive spoken to about the hobby has, dont be disheartened and put off by this!!! Always get equipment to suit a bigger tank than you have. Keep a log of what you did and when, very helpfull to keep a record of water parameters and amounts of additives used and also newly observed fish behaviour. Dont buy stuff on impulse, check prices on the net first. Dont take the advice of just one local shop owner as gospel, ask around and read forums, what works for one person might not work for another.
Description:
Best friends and posers: Nero, our Emperor Angel with Sylvia, an Indian Sailfin Tang.
State: None/Other
Country: United Kingdom
Fish Kept:
Dog Face Puffer Fu Manchu Lionfish Flame Angel Niger Trigger
Advice:
If you do a 50% water change your Nitrate reduce by 50%.
Description:
Fu Man-Chu Lionfish Lucy
State: Texas
Country: United States
Fish Kept:
Sail fin tang,2 clowns,1 fire tail,fox face,2 blue and yellow tail
State: Colorado
Country: United States
Fish Kept:
Lionfish, Koran Angel, many inverts.
Corals/Plants Kept:
Live Rock
Advice:
Have fun and learn your own way. All tanks seem to be a little different.
Description:
Lion Fish (Juvenile)
State: Florida
Country: United States
Fish Kept:
Only the pretty ones.
Corals/Plants Kept:
Tried most of them.
Advice:
I am still new at this, 3yrs, but you have to read. Understand your enviroment, not everything you see or want can thrive in your tank. Don't get discouraged. you will lose a fair amount but know why and learn from it.
Description:
Old man of the tank