2010 Top 10 Planted Tanks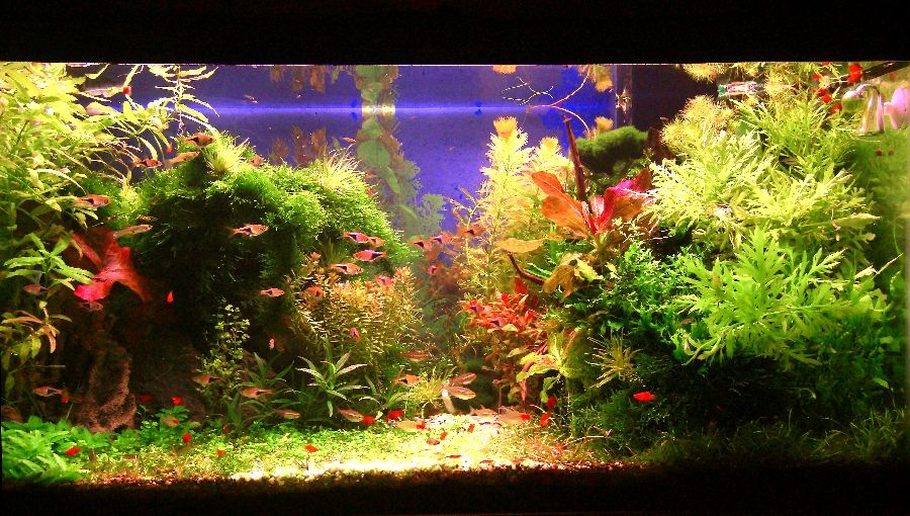 State: None/Other
Country: Singapore
Quote:
When Fish Die, Say a prayer & flush it it down the drain.
About Yourself:
Previous hobby: Gardening Previous hobby: Fish Keeping. Current hobby: Merging both together.
Fish Kept:
Dwaft Red Platty, Harlequin Rasbora, Endlers- Peacock, Snakeskin, Mixed Breed, RummyNose, Lamp-Eye Tetra, Sakura Nomal, Super-Red, Yamato Shrimp,
Corals/Plants Kept:
Blyxa japonica, Echinodorus ozelot, Echinodorus vesuvius, Glossostigma elatinoides, Hygrophyla difformis, Hygrophila polysperma 'Rosanervig', Rotala macrandra, Alternanthera ReineckiiI , Staurogyne sp.Tropica, Myriophyllum tuberculatum, Cardamine lyrata, Cladophora.Aegagropila (Moss Ball), Lace Microsorumpteropus ,(Windelov/Java.Fern), Myriophyllum tuberculatum, Nymphaea lotus Zenkeri (Tiger Lotus), Nymphaea lotus sp Green(Tiger Lotus), Vesicularia montagne (Christmass moss), Spiky Moss, Flame Moss, Others.
Advice:
Patient with common sense. Talk to your plant. They will tell you what they need.
Description:
Wet, Sweat and Blood
State: Virginia
Country: United States
Quote:
Manifest creation that cant be touched, Now everything that was created came from a dream, from the depths of the ocean, or a mountian stream......were all connected, just connect the dots...(KottenMouth Kings)
About Yourself:
I am a clerk at the ABC store (alcohol Beverage Control)
Fish Kept:
African leaf fish (leopard ctenopoma in a different tank), 10 harlequin rasbora, a Sparkling Gourami, and 3 misc. cory cat's,6 corydoras habrosus, 4 brilliant rasboras, a few otto's and unknown amount of pearl blue shrimp and a few red cherry shrimp.
Corals/Plants Kept:
i have are a Java Fern, flame moss,a few Bacopa Monnieri , Anacharis, Aglaonema simplex (Borneo Sword), Twisted Vallisneria , Red Temple, Ludwigia repens that i got from a pond down the street, Ludwigia repens x arcuata , Echinodorus parviflorus "Tropica", red tiger lotus, crypt. retospirals, and more now a days...
Advice: I'm not by any means an expert at this, but as far as I've learned the light spectrum makes a big difference...ie - how hot the bulb is burning (5000K, 6500K, 10000K [K stands for Kelvins]) as far as Fluorescents are concerned. or 1.5+ watt per gal is a good start but thats probably a bare min.
Description:
Update of my tank aprox. 7mo. old! grew up real quickly! Just added some pearl blue and red cherry shrimp in the tank to control algae. crypts are back and coming in nicely!
State: None/Other
Country: Netherlands
Quote:
more of my tank at http://www.nobobo.com
Fish Kept:
15 * Discus (green discus Tefe), 75* rumynoses, 50 * corydoras sterbai. Some cardinal tetra's, dwarf puffers (to keep the snails hidden) and about 40 ottocinclus Current pop. Central American Cichlids
Corals/Plants Kept:
various
Advice:
experiment, read and try
Description:
angelfish, discus, planted aquarium
State: Illinois
Country: United States
Corals/Plants Kept:
a mix of everything
Advice:
i just switched to a soil bed with a flourite top. this is a picture that is only 2 months old from switching from just flourite. its a bit more involved to set up but everything has been growing like crazy.
State: Florida
Country: United States
Fish Kept:
20 gal: Horseface Loach, 8 neon tetras, 8 Harlequin Rasboras, 8 orange, blackberry, and cherry shrimp, 3 amano shrimp, 5 white clouds, Assassin snails...
Corals/Plants Kept:
Ludwigia repens, java moss, java fern, anubias, dwarf hairgrass, Hygrophila corymbosa " stricta ", Cryptocoryne wendtii, Alternanthera reineckii, Nymphaea lotus,
State: None/Other
Country: Singapore
About Yourself:
I am a electrical engineer by trade, but i have been into freshwater tanks for 12 years now. i started out with just small fish tanks for cool fish i liked and then i got a 4ft tank with chiclids and parrotfish that really started me into the hobby.. not venturesd into marine tanks yet, but i guess i am not really a fan. always preferree freshwater. My current tank has been around for about 3 years now, and is mainly a planted tank where the emphasis is on creating a tropical pond enviroment with the types of plants and fishes that you find there.. i am still learning everyday but i have to say the satisfaction of seeing a tank that is doing well is very difficult to match.
Fish Kept:
Angelfish, golden otos, baby puffers, many types of tetras..
Corals/Plants Kept:
mainly hardy tropical ferns
Advice:
make sure you are systematic and do things at proper intervals, it is very tempting to dump everything into a new tank on the first day, i used to do that years ago and i lost many fish and many plants. make sure you properly mature the tank water and biological system of your tank over a minimum two week period before introducing your expensive fish and sensitive plants into the system.. and compatibility is very important.. not everything that looks good is actually going to survive in your tank. if you are using fish and plants from the tropics, do not add in a temperate species to look good.. they will not adapt well and whether fish or plant they will die quickly..
Description:
This is my current tank, It is a lower delta tropical pond setting and the plants are all matured for about 3 years now.
State: None/Other
Country: Puerto Rico
About Yourself:
Started in the hobbie with reef aquariums in 1990. Certified Public Accountant working for a group of radio stations in Puerto Rico as the VP of Finance.
Fish Kept:
Powder Blue Tang Pijama Cardinal Coral Beauty Angel Tomato Clown Red Stripe Squirrelfish
Corals/Plants Kept:
Frogspawn, Leather Toadstool, Bubble, Cabbage, Colt, Gorgonians, Favia, Hammerhead, Ricordeas, Yellow Polyps, Blue Mushrooms, Zoas, etc.
Advice:
Patience and perseverance are key to success
Description:
55 gallon planted aquarium with discus fish. Fluval 305, 4 - 40w T12 fluorescent tubes, 6,500K.
State: None/Other
Country: United Kingdom
About Yourself:
just ya lil old regular tropical fishkeeper, keep checking my pic's for updated tank shots
Advice:
read, read, read then read some more, you'll never stop learning. Patience, good things take time to develop.
Description:
Rio 180 planted tank
State: None/Other
Country: Puerto Rico
Quote:
I love fishes and plants.
About Yourself:
I bought my first tank when I was 7 years. My interest in plants began a few years ago just for curiosity. Same happened with my discus; I just got one to see what happened.
Fish Kept:
7 Hidden Discus Fish, 10 Harlequin Rasboras, 8 Rummy Nose Tetras, around 10 Guppys, 8 Bleeding Heart Tetras. 4 Serpae Tetras, 4 black Nenon Tetras, 1 big Clown Loach, 3 Siamese.
Corals/Plants Kept:
2 Alternanthera reineckii v. 'roseafolia', 1 Cryptocoyne Wenditii Tropica, 2 Micro Sword, Myriophyllum Tuberculatum 'Red', 2 Rotala Rotundifolia (Indicia), 1 Rotala Wallichii, 1 Nesaea pedicellata 'Golden', 1 Anubia Nana, 1 Anubia Barteri, Cryptocoryne Wendtii Red & Green, Saggitaria Dwarf, Hornwort, Melon Sword, Amazon Sword, Hygrophila difformis (Wisteria), Aponogeton crispus, Valisneria
Advice:
Patience is a must. You have to take things step by step. Also you have to be a very good observer. It takes a lot of work but you can succeed.
Description:
A full view of my 75 gal discus planted tank
State: None/Other
Country: Canada
Quote:
God created man because he was so disappointed with monkeys. Twain.
About Yourself:
Lots of kids, lots of pets, no money.
Fish Kept:
Angels, gold severum, neons, loaches, cory's etc.
Corals/Plants Kept:
Fully planted low light setup. Javas, moneywort, hornwort, wysteria, vallis, moss.
Advice:
Keep up those water changes
Description:
200 gal. community tank. Fully planted low light setup.