2014 Top 10 Saltwater Fish Tanks
State: New York
Country: United States
Fish Kept:
Black and White Ocellaris Clownfish, Purple Pseudochromis, Green Mandarin
Corals/Plants Kept:
bubble tip anneamie green star polyps pulsating z
Description:
my first saltwater tank
State: Texas
Country: United States
Quote:
Faith, Family, Fish! - (Also: "Every classroom has a classroom clown; sometimes it is the teacher!")
About Yourself:
I am a High School Mathematics Teacher who has always shared a love of the ocean and it's creature with my wife and family. What better way to enjoy God's creation and raise awareness of these amazing animals than in our own home!
Advice:
Be ready to Dubuffet a lot of myths or preconceived ideas and first READ UP & TALK TO VETERANS ON ALL SPECIES of fish, invertebrates, sponges, and corals BEFORE ever purchasing and introducing to your tank. Know what you are getting in to and with whom each species is or is not compatible.
Description:
225 gal saltwater fish tank one month 'old'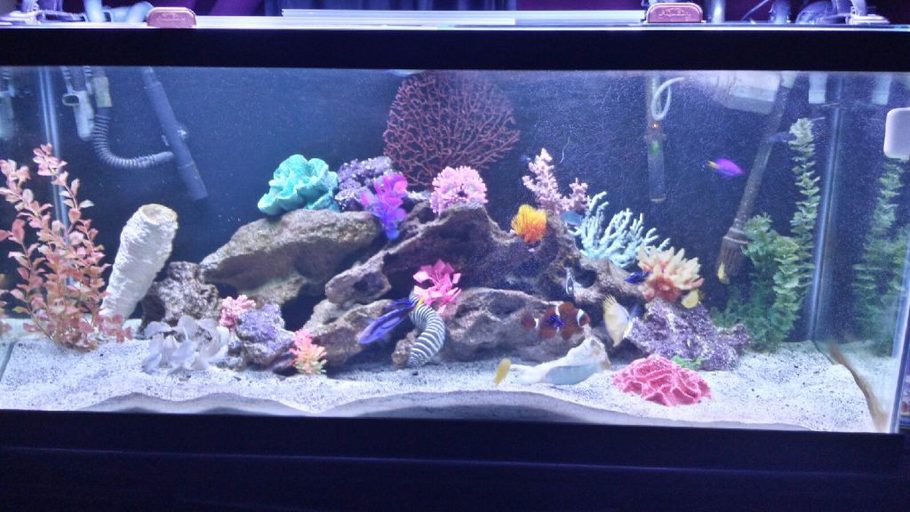 State: California
Country: United States
Description:
My 75 gallon fowler
State: New York
Country: United States
Description:
handmade Rock
State: Colorado
Country: United States
Corals/Plants Kept:
Candy cane Kenia tree Anemone Red mushroom Xenia
Advice:
There's not over filtration, patients do not go crazy
State: New Jersey
Country: United States
Fish Kept:
Percula Clownfish
Corals/Plants Kept:
Kenya trees forgspawn star polyp mushrooms zoanthids
Advice:
if you don't have someone that knows a lot about keeping a fish tank to help you set up and in case something goes wrong, start small, have a small 10 gallon tank for maybe a year so you know how to handle certain situations that may arise (leak, temperature changes, poor water quality, etc)
State: None/Other
Country: Phillippines
Quote:
A million mile begins with the first step. Buy that tank today.
Fish Kept:
Yellowstripe Maroon Clownfish, Blue Tang, Three Spot Domino Damselfish
Corals/Plants Kept:
My tank has live stone and live corals, anemone. I have clownfish, blue tang, crab. harlequin shimp, and anemone shrimp
Description:
My starter tank.