THE TOP CANISTER FILTERS FOR YOUR AQUARIUM
Canister filters are one of the most popular choices in aquarium filtration. In this article you will read about some of the most popular models on the market.
Aquarium filters come in all shapes and sizes so you can choose the one that is best for your particular aquarium. It is important to keep in mind that certain models are better for certain types of tanks. Sponge filters, for example, are only recommended for hospital tanks and fry tanks because they provide low-suction mechanical filtration that won't post a threat to sick, injured or young fish.
For larger, fully-stocked tanks, however, a more powerful filter is recommended. One of the most popular types of aquarium filter for traditional freshwater aquariums is the canister filter. Canister filters come in a wide range of sizes to accommodate the smallest to the largest of tanks. Below you will find some basic information about canister filters as well as recommendations for different models.
Benefits of Canister Filters

A canister filter is a self-contained, all-in-one device for aquarium filtration. These devices take the shape of a cylindrical plastic canister (hence the name) which houses one or more types of filter media. Depending on the size of the filter, it may contain multiple media baskets which can accommodate different types of mechanical, chemical and biological filter media. These baskets are layered on top of each other so the water that passes through the filter passes through all of the filter media as well. In comparison to other popular types of filters like power filters, canister filters are a little more work to setup and maintain. However, they are also considered to be more efficient and more powerful. Another benefit of this type of filter is that it can easily be concealed behind or below the aquarium, unlike power filters which typically hang off the back.
Top-Rated Canister Filters

When it comes to canister filters, there are many options to choose from. Below you will find a short review of some of the most popular models on the market.
Hydor Professional

They Hydor Professional line of canister filters is based on the Japanese style. These filters are rectangular in shape with tight-fitting baskets, superior soundproofing and added efficiency. These filters offer all three forms of filtration – chemical, biological and mechanical. Activated carbon eliminates odors and dissolved pollutants while a porous sponge captures large debris. Porous biological filter media provides ample space for beneficial bacteria to grow, helping to establish and maintain the nitrogen cycle in your tank. Perhaps the best part about these filters is the price – these filters start at only $90 and top out around $166.
Penn Plax Cascade 500 GPH

This canister filter from Penn-Plax comes highly rated by satisfied customers. Not only is this canister filter designed for external use, but it features large-capacity stackable media trays which allow for customizable multi-stage filtration. This Cascade canister filter comes in five different sizes to accommodate aquariums as small as 30 gallons and as large as 150 gallons. This canister filter features a push-button primer for quick and easy set-up, plus it comes with two independent 360-degree rotating taps. The Penn-Plax Cascade canister filter ranges in price from about $75 to $100 depending on the size and the GPH output.
Cobalt Aquatics EXT

The Cobal Aquatics EXT is an innovative device featuring an EXT inline water pump which can be placed directly inside the tank, separate from the canister's main body. Unlike older filters, this model doesn't have a pump that is built-in, requiring priming and disconnection before starting or servicing – it is incredibly easy to use. Because the inline water pump can be housed separately from the main device, you don't have to turn it off to clean or service it! All you have to do is twist a level to turn the pump into a closed loop which keeps water flowing while you work with the pump. Another thing that sets this model apart is the fact that the canister filter comes preloaded with four layers of filter media including a sponge filter, activated carbon, ceramic biorings and a filter finishing pad.
Sunsun 4-Stage External Canister Filter

The Sunsun 4-stage canister filter is a slightly more affordable option, ranging from about $50 to $70 in price. It can accommodate fish tanks up to 100 gallons in size and it can be used with a wide variety of filter media. What makes this filter truly unique, however, is the inclusion of a built-in UV sterilizer which can help to keep algae to a minimum in your aquarium. Many users also appreciate the powerful pump and the flexible media trays.
Hagen Fluval FX6

Hagen is a big name in the aquarium supply industry and the Fluval FX6 is an example of their finest work. This filter is designed for large and heavily stocked aquariums – aquariums that need high levels of excellent filtration. The Fluval FX6 includes built-in fittings for water changes as well as control dials that you can set to remind yourself when you last swapped out your filter media. This model may be a little on the expensive side, but it does come with a full complement of filter media.
Sicce Whale

Not only is the Sicce Whale one of the newest canister filter models to hit the market, it is also one of the most attractive. This canister filter comes in four different sizes, featuring a unique design that looks good and works well. Though intended for use in freshwater aquariums, the Sicce Whale does have features that lend themselves well to a saltwater tank system. One of the main benefits of this filter is that it is very easy to setup and use – it features quick disconnects and a self-priming pump. It is also equipped to handle a variety of filter media types – chemical, mechanical and biological. The smallest size retails for around $110 while the largest sells for about $200.
Fluval External Filter

The Fluval external filter comes in four different sizes – 106, 206, 306, and 406 – and it can be used in tanks ranging from 25 to 100 gallons. This canister filter offers multi-stage filtration as well as a sound-dampening design for the impeller to ensure quiet operation. The Fluval external filter is easy to customize because it comes with multiple filtration baskets that you can fill with your choice of filter media – it is also equipped with a clog-proof intake strainer as well as a dual layer foam screen. The price for this canister varies depending on size, but it generally ranges from around $100 to $200.
Now that you know a little more about canister filters in general, as well as specifics about the newest canister filter models, you should be well-equipped to make a decision. Remember, adequate filtration is the key to keeping your tank healthy and your tank inhabitants happy so don't skimp! Use the information in this article to make the right choice for your tank.
comments powered by

Disqus
MOST RECENT ARTICLES
The betta fish is an incredibly popular species that has a reputation for being aggressive.
Discover five common myths about the beautiful betta freshwater fish.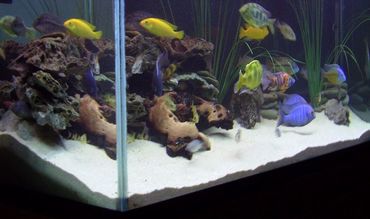 Learn about the causes of cichlid aggression and methods for reducing it.