LIGHTING SOLUTIONS FOR SMALL TANKS
The lighting you choose for your small tank will make a big difference.
When it comes to maintaining a home aquarium, lighting is a key consideration. Though your fish may not technically require lighting in a physiological way, they will look much more attractive if they are well lit. Aquarium plants, on the other hand, do require adequate lighting in order to thrive and grow. If you have a standard tank size between 10 and 30 gallons, you probably won't have any trouble finding a light fixture designed to fit your size tank. If you are keeping a smaller tank or even a nano tank, however, you might have some difficulty. Do not despair! There are plenty of options out there for you, many of which will be described below.
Recommended Lighting for Small Tanks
Coralife Mini Aqualight – This light fixture is specifically designed to work for small aquariums. It utilizes two 6-watt T5 lamps that put out 10,000K actinic blue light. Blue light has been shown to penetrate deeper into tank water than traditional white light, so your aquarium inhabitants will always be attractively illuminated. Not only does this system include the fixture itself and two bulbs to get you started, but it also comes with mounting brackets that can be adjusted for vertical installation over the tank.
Current USA Truelumen Pro Single LED Striplight Kit - The new star in aquarium lighting is the LED light. These lights are very small which means that they consume less energy than traditional lighting. Despite their small size, however, they put out light that is just as bright (or brighter) than traditional fluorescents. Truelumen Pro striplights are elegantly designed to hang over the top of the tank, creating a stunning shimmering effect on your tank water. Because it is LED, the fixture itself is small and unimposing – it won't detract from the appearance of your tank. This striplight kit includes 453nm blue as well as 12,000K white lights guaranteed to enhance the coloration of your fish and the appearance of your tank overall. As an added bonus, this kit also includes a dimmer control and adjustable mounting brackets.
Coralife Mini Compact Fluorescent Bulbs – These bulbs are just what you need to illuminate your small aquarium. Fit them into a small fluorescent light fixture to provide just as much light as your small aquarium needs without wasting any extra. These bulbs provide more light than standard incandescent bulbs while using much less wattage – they also produce less heat so the temperature of your aquarium is less likely to fluctuate. Each bulb is self-ballasted and rated for 6,000 hours of illumination. Coralife compact fluorescents come in two varieties – 50% 10,000K daylight/50% actinic blue and 6,700K full spectrum with color-enhancing phosphors.
Ecoxotic EcoPico LED Arm Fixture – This LED fixture is designed specifically with rimless aquariums in mind. If you prefer not to cover your tank and don't like the look of bulky canopy lighting, the EcoPico LED arm fixture may be the right choice for you. This fixture incorporates a 12K white/453nm blue LED light strip that can also hold up to two additional light strips if you need more lighting. The included screw adapter fits tanks up to 6mm in thickness so you can place it wherever you like.
Current USA Truelumen LED Padlite – Like the LED striplight kit, this fixture features bright LED lights that consume minimal electricity. The difference between this fixture and the striplight kit mentioned above is that this fixture is specifically designed for nano tanks. Simple use the included canopy mount system to hang the fixture above your tank and stand back to admire. The Truelumen Padlite utilizes 12,000K white light and each bulb is rated for up to 50,000 hours of illumination. If you are looking for a high quality and efficient lighting solution, consider the Current USA Truelumen LED Padlite.
When it comes down to it, it is your aquarium and therefor your choice how you would like to light it. For many people, price is a limiting factor so you may not want to go with an expensive custom-built system. Luckily, lighting for small aquariums (particularly LED lighting) is generally pretty affordable. If you want your aquarium to look and function at its best, do not skimp on lighting. For a nano tank, all it takes is a single strip of LED lights or one well-placed compact fluorescent bulb. Do yourself and your fish a favor and take the time to think and research your options before you buy. After all, you will be the one looking at your aquarium all day so don't you want it to look its best?
comments powered by

Disqus
MOST RECENT ARTICLES
The betta fish is an incredibly popular species that has a reputation for being aggressive.
Discover five common myths about the beautiful betta freshwater fish.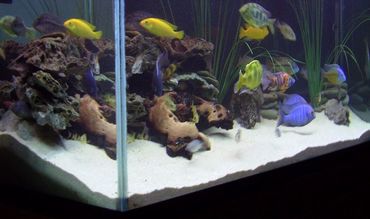 Learn about the causes of cichlid aggression and methods for reducing it.