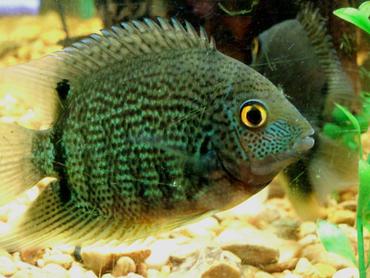 Updated June 12, 2015
Cichlids are not for everyone, however, and certain species can be quite challenging to keep. If you are a beginner, you might want to consider one of the top five species discussed below.
If you are looking for a unique group of fish to use in stocking your tank, you can't do better than cichlids. Cichlids are one of the most diverse and unique groups of fishes in the world and there are thousands of species to choose from. If you haven't kept cichlids before you should be careful about which species you choose because some are very territorial and difficult to keep in the home aquarium. If you have your heart set on cichlids, consider one of the top five species of South American cichlid recommended for beginners.
What are Cichlids?


The name cichlid refers to fish belonging to the family Cichlidae within the order Perciformes and it is one of the largest families of fishes in the world. It is estimated that there are between 2,000 and 3,000 different cichlid species in existence, though only about 1,650 have been scientifically described. Cichlids can be found all over the world, though the greatest diversity among this family of fishes can be found in South America and Africa. Though cichlids come in all shapes and colors, they all share a few key characteristics.
All cichlids exhibit fusion of the lower pharyngeal bones as well as a set of muscles that enables the fish to use the upper and lower bones as a second set of jaws. Most cichlids are very specialized feeders, having evolved to fill a specific niche and adapted to following a specific diet. Many cichlids are herbivores,...
read more
Updated June 12, 2015
An automatic fish feeder can be a great tool if you have to go out of town or want to regulate your feeding schedule for fish. In this article you will learn about popular automatic feeders and receive instructions for building your own.
When it comes to keeping your aquarium fish healthy and happy, offering them a high-quality diet is incredibly important. If you do not provide a healthy diet for your fish, they may suffer from malnutrition and they are more likely to become stressed. Fish that are stressed have a higher risk for developing diseases, so a high-quality diet is essential for your fish.

Most fish do not require a large amount of food – in fact, fish benefit from not being fed every day. If you go away on vacation, however, your fish might have to go several days without food and that might not be good for them. To ensure that your fish get the food they need when you aren't able to feed them, you might consider installing an automatic fish feeder. Automatic fish feeders can be expensive, depending which model you choose, so think about making your own DIY automatic feeder. You will find instructions for building an automatic feeder below.
Pros and Cons of Automatic Feeders


Automatic fish feeders can make the task of keeping a regular feeding schedule for your fish easy – it is also a great option if you have to go out of town for an extended period of time and you want to make sure your fish get fed. As is true for all aquarium equipment, however, automatic feeders have their pros and cons. You will find a list of pros and...
read more
Updated May 15, 2015
One of the most attractive ways you can decorate an aquarium involves a combination of driftwood and live plants.
For many aquarium hobbyists, the most enjoyable part of having a freshwater tank is being able to decorate it. There are many ways to go about decorating your freshwater tank so choose a style that appeals to you. Some aquarium hobbyists like using novelty décor items like treasure chests and sunken pirate ships while others prefer to go with a more natural aesthetic. One of the most attractive ways you can decorate an aquarium involves a combination of driftwood and live plants. To make your tank look its absolute best, think about anchoring your live plants to driftwood.
Driftwood in the Aquarium


If you are trying to cultivate a natural-looking aquarium, one of the best decorations you can use is driftwood. A small piece of driftwood hidden among a patch of live plants can give your fish a place to hide while also making your tank look great. Larger pieces of driftwood can be propped up with rocks to take up more vertical space in your tank. If you really want to get creative you can use multiple pieces of driftwood to create a maze of caves and holes for your fish to explore.
Before you use driftwood in your tank you need to know a few things about it. Most importantly, driftwood contains tannins. Tannins are a kind of natural compound found in tree bark and other plant tissues – they are the substances responsible for the brown color and bitter taste of these materials. If...
read more
General Aquarium Articles
Freshwater Aquarium Articles
Saltwater Aquarium Articles
Miscellaneous Aquarium Articles
Product Reviews (Freshwater)
Product Review (Saltwater)