Updated July 14, 2015
When purchasing saltwater aquarium fish, you need to think about whether the fish are tank-raised or captive-bred.
When it comes to choosing the fish for your saltwater tank, you have a nearly infinite number of options to choose from. Your local pet store might only carry a few varieties of saltwater fish but, if you look online, you will find a vast array of options. One thing you need to think about when purchasing saltwater fish is whether you want to go tank-raised or wild-caught. Both options have their pros and cons, which you will learn about in this article. You will also receive recommendations for some of the most popular tank-raised species of saltwater fish.
Benefits of Tank-Raised vs Wild-Caught


Most species of freshwater aquarium fish are captive-breed for the aquarium trade. When it comes to saltwater fish, however, there is a split between fish that are bred and raised in captivity and those that are caught from the wild. There are advantages and disadvantages for both options so, before you decide, think about both sides of the story. One of the greatest advantages of tank-raised fish is that they have not been taken from their natural environment which means that there is less risk placed on wild stock – this is especially important to consider for rare or vulnerable species. The process through which wild saltwater fish are caught can also be damaging to natural reefs.
In addition to the environmental impact that wild-caught saltwater fish have on the environment, it is also important to think about the practical aspects of tank-raised...
read more
Updated July 14, 2015
If you are looking for a peaceful community fish that gets along well with other docile species, look no further than the dwarf gourami. The dwarf gourami (Trichogaster lalius) is a very popular species, known for its brilliant blue coloration and for its calm demeanor. This species does very well in the community tank and it is generally not a difficult species to care for.
If you are thinking about keeping dwarf gouramis, take the time to learn everything about them in terms of their ideal tank parameters, diet preferences, and the diseases to which they are prone. You will find all of this information and more in this article.
About Dwarf Gouramis


The dwarf gourami is native to certain areas in Bangladesh, India and Pakistan, though almost all of the specimens you find available for sale are captive-bred. This species grows to a maximum length of 3 ½ inches (8.8 cm), though there are some reports of dwarf gouramis growing larger in the wild. In the home aquarium, male dwarf gouramis typically max out at 3 inches while females remain a little smaller, around 2.4 inches. Because these fish remain fairly small they do not require a very large tank, though a larger tank is never a bad idea, especially if you plan to keep this species in groups.

Dwarf gouramis are primarily named for their small size as compared to other gourami species. These fish exhibit a bright blue background coloration with brilliant red or dark...
read more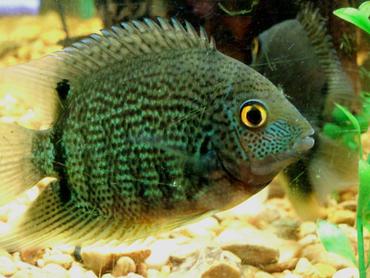 Updated June 12, 2015
Cichlids are not for everyone, however, and certain species can be quite challenging to keep. If you are a beginner, you might want to consider one of the top five species discussed below.
If you are looking for a unique group of fish to use in stocking your tank, you can't do better than cichlids. Cichlids are one of the most diverse and unique groups of fishes in the world and there are thousands of species to choose from. If you haven't kept cichlids before you should be careful about which species you choose because some are very territorial and difficult to keep in the home aquarium. If you have your heart set on cichlids, consider one of the top five species of South American cichlid recommended for beginners.
What are Cichlids?


The name cichlid refers to fish belonging to the family Cichlidae within the order Perciformes and it is one of the largest families of fishes in the world. It is estimated that there are between 2,000 and 3,000 different cichlid species in existence, though only about 1,650 have been scientifically described. Cichlids can be found all over the world, though the greatest diversity among this family of fishes can be found in South America and Africa. Though cichlids come in all shapes and colors, they all share a few key characteristics.
All cichlids exhibit fusion of the lower pharyngeal bones as well as a set of muscles that enables the fish to use the upper and lower bones as a second set of jaws. Most cichlids are very specialized feeders, having evolved to fill a specific niche and adapted to following a specific diet. Many cichlids are herbivores,...
read more
General Aquarium Articles
Freshwater Aquarium Articles
Saltwater Aquarium Articles
Miscellaneous Aquarium Articles
Product Reviews (Freshwater)
Product Review (Saltwater)