TYPES OF FRESHWATER AQUARIUM LIGHTING
Published November 04, 2012
It is incredibly important to select the right lighting system for your tank.
Choosing the right lighting system for your freshwater tank is a very important decision. If you make the wrong choice your tank may not look its best and your live plants may fail to thrive.
When it comes to setting up a freshwater aquarium it is incredibly important that you select the right lighting system. Not only will your aquarium lighting system serve to illuminate your tank but it will also provide photosynthetic organisms in your tank with the energy they need to function. Without adequate light, your live plants would not be able to process the carbon dioxide in your tank, turning it into valuable oxygen for use in cellular respiration. Choosing an aquarium lighting system is not a decision you should take lightly – to make sure you choose the system that is right for you and for your tank you should take the time to learn the basics about what is available.

Overview of Lighting Types
Incandescent = Incandescent bulbs are the kind you would find in a standard lamp fixture. These bulbs are not often used for aquariums but they are sometimes used in mini tanks as a combination light/heat source. Incandescent bulbs put off a soft, natural-looking light but because they also produce a significant amount of heat they are generally not recommended for aquarium use.
Standard Fluorescent = Standard fluorescent bulbs are one of the most common types of lighting used in freshwater aquariums. These bulbs are easy to find and they come in a variety of sizes to fit any aquarium hood or light fixture – they also come in a variety of colors to enhance the coloration of aquarium fish. Standard fluorescent bulbs are fairly inexpensive and some can be very energy efficient. The main problem with these bulbs is that they can be fairly large and, unless you have an aquarium hood, you may not be able to use them in a standard light fixture because they are often made with a two- or four-pin design. Because these bulbs do not put out high-intensity light, they are generally not recommended for planted tanks.
Compact Fluorescent = Compact fluorescent bulbs are a great energy-efficient alternative to standard fluorescents. These bulbs are much smaller than standard fluorescents but put out up to twice as much light. Additionally, compact fluorescents come in a variety of wattages and can be used in either fish only or planted tanks. The main thing to keep in mind about these bulbs is that they do produce some heat so you may need to use an auxiliary fan to keep your tank from overheating.
T-5 HO = T-5 HO bulbs are a type of fluorescent lighting that produces high-intensity light without producing great deal of heat. These bulbs are ideal for planted aquariums but they may not be strong enough to penetrate water more than 24 inches deep. T-5 HO bulbs come in a variety of spectrums and wattages so they can be used in virtually any freshwater tank.
VHO = VHO stands for Very High Output and these bulbs are known for producing high-intensity light and for lasting much longer than traditional fluorescents. These bulbs come in a variety of wattages and are recommended for both fish only and freshwater planted tanks. VHO bulbs to put out a great deal of heat so you may need to use an auxiliary fan or an aquarium chiller in conjunction with this type of lighting system.
Metal Halide = Metal halide lights are one of the most powerful types of aquarium lighting. These bulbs produce the highest intensity of light and thus require a fan or chiller to keep the tank from overheating. Because they are so powerful, metal halide bulbs have the ability to penetrate aquarium water that is more than 24 inches deep which makes it the ideal system for very large tanks.
LED/Lunar = LED, or light emiting diode, lighting is a fairly new development in aquarium lighting. These lights are very small and energy efficient, ideal for freshwater tanks. These lights can also be used to create a gentle nighttime glow ideal for nocturnal tank inhabitants.
Fish Only VS Planted Tanks
In addition to considering what type of lighting system you are going to use in your freshwater tank, you also need to consider the size or wattage. There is a significant difference in the lighting requirements for fish only tanks and for planted tanks and, if you are not aware of these differences, you could be making a big mistake. Aquarium fish do not have a biological need for light so the lighting requirements for a fish only tank are much lower than those for a
planted tank
. Planted freshwater tanks need at least 3 to 5 watts per gallon of tank volume in order to thrive. Wattage is not the only consideration you need to make, however. In addition to selecting the right wattage for your planted tank you also need to think about the size and depth of your tank to make sure that your lighting system is powerful enough to penetrate the water and reach your live plants. Some fluorescent lighting systems are not powerful enough to penetrate water deeper than 24 inches so if you have a very large planted tank you may want to consider a high-intensity lighting system like a metal halide system.
comments powered by

Disqus
Most Recent Forum Discussions
Recommend me some colorful fish! - By asher, 03/27/17 11:08:00 pm (1 replies)

Open to anything. Little partial to cichlids but I'm interested in any cool ideas!

Sandbed...detritus - By reefer171, 03/26/17 10:56:17 pm (0 replies)

So on top of algae issues with this tank I also have a dirty looking sandbed. The clean up crew just isn't making a dent ...

RO waste water - By reefer171, 03/26/17 10:52:48 pm (2 replies)

What do you do with your RO waste water?
MOST RECENT ARTICLES
Gobies are some of the smallest fish in the world and dwarfgobies are the smallest of those.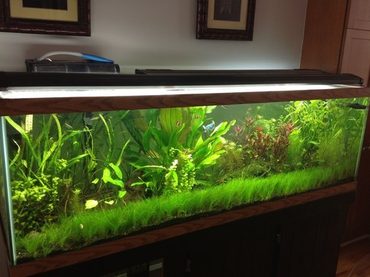 The art of decorating a home aquarium is called "aquascaping" and it is a trending topic in aquarium social media this month.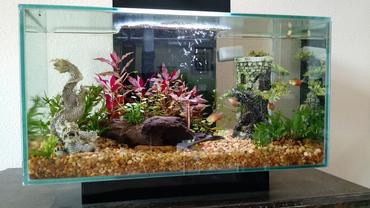 During the summer months, it may become more of a challenge to keep your aquarium temperature stable.