HOW TO CURE YOUR LIVE ROCK BEFORE PLACING IT IN YOUR AQUARIUM
Published October 31, 2008
Learn how to properly cure live rock before placing it in your tank.
When you place a piece of uncured or even cured (sometimes cured live rock is not all that well cured) live rock in your aquarium for the first time, there will inevitably be some die-off. This die-off will cause organic materials to build up in your tank and can lead to an ammonia spike. The best way to avoid having this ammonia spike impact your tank is to cure your live rock before putting it into your aquarium. This article will walk you through a step-by-step guide to curing your live rock outside of your aquarium.
Considerations
There are several things to consider before you begin the process:
Curing live rock is pretty smelly. Therefore, I would recommend doing it somewhere where this will not be a problem. The garage might be a good place as long as it is not too cold.
If you cannot cure your live rock outside of your aquarium then you can cure it in your aquarium before you start adding things. If you wait and let it cure and go through its ammonia spike before adding your cleaning crew, fish, or coral, your specimens have a much higher rate of survival.
There is no need to put lights over your live rock during the curing process. The light will do nothing, but promote algae blooms.
Directions
Fill a container big enough to hold your live rock with saltwater. For larger amounts of live rock, large plastic tubs work well. Be careful not to fill the container too full as the water level will rise when you add the live rock.
Add a heater to get the water to the appropriate temperature (78 – 80o F) and a powerhead to circulate and oxygenate the water.
Now you will need to pre-clean the rock. This will speed up the curing process. First get a spray bottle and fill it with saltwater. Then put some gloves on so you do not get hurt while handling the live rock (remember – you do not know what has hitchhiked on your rock). Setup a small bucket of saltwater near where you are going to work. Next place one piece of live rock on a piece of plastic or tarp. Now you are ready to pre-clean the rock. During the process of pre-cleaning the rock, use the spray bottle to keep the rock moist. First investigate each piece for any obvious organisms crawling around inside the pores. Remove anything you find that appears to be a pest (mantis shrimps, aiptasia anemones, bristle worms, crabs, etc.). Be careful when handling these pests as many of them can cause you harm. Once you find and remove the pests that are alive, it is time to remove everything that is dead from the rock. It should be fairly easy to spot dying organisms on the rock. Remove anything you find. Finally, dip the rock in your small bucket and swish it around to remove any final debris. Put the rock in the curing container and move on to your next piece.
Once all of the rocks have been pre-cleaned and placed in our curing container, leave them alone and let them cure. There is nothing really to do except removing debris or dying material from time to time (you can scrub the rock with a toothbrush every couple of days to dislodge any dying material) and doing regular large (60% - 80%) water changes every 3 - 4 days. If you skip these water changes, the ammonia spike can get so high that it will kill your live rock. There is really no set length of time for the rock to cure as it will depend on the quality of the rock among other things (time can be anywhere from a few days to a month). You can usually tell when the curing process is done because the smell will disappear. A more scientific approach is to monitor the ammonia and nitrite spike with test kits. Once both of these compounds are at zero, your rock is cured and ready to be placed in your aquarium.
Conclusion
You should never just add new live rock to your aquarium, especially in large amounts. There is sure to be some die-off and this can wreak havoc on your aquarium parameters. Curing your live rock outside of your aquarium mitigates this problem and ensures that your tank remains a healthy home for its inhabitants.
Further Reading
comments powered by

Disqus
Most Recent Forum Discussions
Techniques for algae removal - By reefer171, 03/13/17 02:36:04 am (1 replies)

Are there any tried and true ways to remove algae (specifically from rock) that you guys have done?

Plecos that eat algae - By reefer171, 03/13/17 02:33:57 am (4 replies)

I love plecos and hate algae so I thought hey why not get a pleco that will eat algae! I know some plecos, like the ...

My cleaners aren't working - By reefer171, 03/13/17 02:30:50 am (3 replies)

I've got a few each of hermit crabs, snails, and shrimp but they aren't cleaning the algae up very well. Is there any particular reason ...
MOST RECENT ARTICLES
Gobies are some of the smallest fish in the world and dwarfgobies are the smallest of those.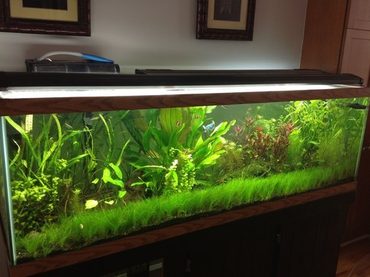 The art of decorating a home aquarium is called "aquascaping" and it is a trending topic in aquarium social media this month.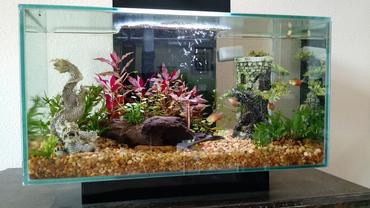 During the summer months, it may become more of a challenge to keep your aquarium temperature stable.