More Info
Description:
150 Gallon FOWLR -Reef Octopus Skimmer -Panoramic LED's -True Blue PC lighting
Advice:
It's your tank, do research and don't be afraid to make mistakes. Just learn from them
Fish Kept:
Niger Triggerfish, Blue Throat Triggerfish, Regal Angelfish, Yellow Tang - Hawaii, Blue Tang, Lawnmower Blenny, Kole Yellow Eye Tang, Foxface Lo, Maroon Clownfish, Porcupine Puffer, Snowflake Eel, Lyretail Wrasse
Corals/Plants:
Devil's Hand Leather
MOST RECENT ARTICLES
The saltwater aquarium hobby is ever-changing -- trends and even species come and go.
Canister filters are one of the most popular choices in aquarium filtration.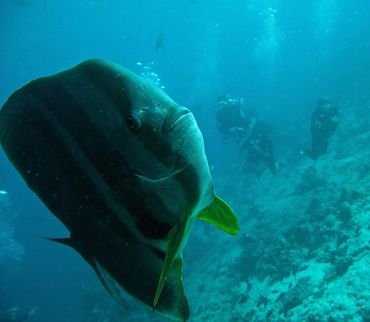 The Pinnatus Batfish is one of the most striking species of saltwater aquarium fish, but notoriously difficult to keep in the home aquarium.