corals inverts - hymenochirus boettgeri - african dwarf frog stocking in 125 gallons tank
State: Oklahoma
Country: United States
MORE INFO
Photo Caption:
African Dwarf Frog
Fish Kept:
Mollies,Platys, Corys, Golden alge eater, Rubber lip plecosumus, African black knife,Clown loach, tons of ghost shrimp, 4 snails, african dwarf frogs, 4 Angel fish, neon tetras, other tetras, rainbow fish....uh i think thats it. All together about 60 fish not including the 50 ghost shrimp.( they dont last long, my Angelfish eats them, its a great treat for them though)
Corals/Plants:
I have a wide variety of plants. from moss ball to java fern.
RATE FOR OTHER Tank Type
MOST POPULAR ARTICLES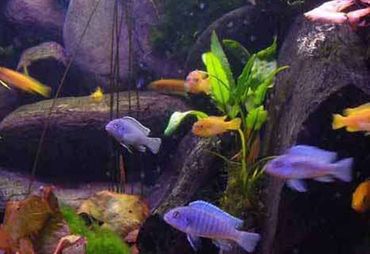 Breeding freshwater aquarium fish can be a rewarding but challenging experience.
Cultivating a thriving planted tank can be a challenge -- this article will help you diagnose the most common problems.
Oscars are a type of cichlid and they are a very amusing species of freshwater fish to keep in the home aquarium.