Photo Caption: High tech 29g running pressurized CO2. -Plants- Amazon Sword Ammania Gracilis Ludwigia repens Micro Sword Java Fern Cryptocorne parva -Lights- Finnex Planted+ -Ferts- Seachem Flourish Seachem Trace Osmocote+ Tabs
Username:
WhiskeyCoffee
Country:
United States
This tank looks better than 14.71% of tanks in this category
Ranked #2006 out of 2352 planted tanks worldwide
Rating: 3.61 Votes: 46
Photo Caption: New improved layout. Still a dreaded Biorb!
Username:
Jamesrytter
Country:
United Kingdom
This tank looks better than 32.36% of tanks in this category
Ranked #1591 out of 2352 planted tanks worldwide
Rating: 4.23 Votes: 44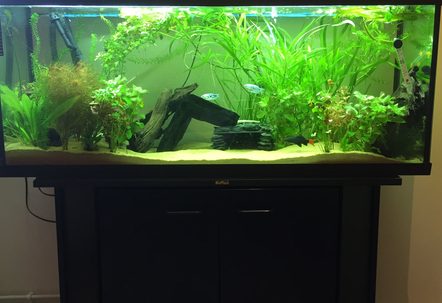 Photo Caption: Tropical fish tank
Username:
Hopkinson1
Country:
United Kingdom
This tank looks better than 46.6% of tanks in this category
Ranked #1256 out of 2352 planted tanks worldwide
Rating: 4.63 Votes: 80
Photo Caption: My tank pleas tell me what you think thank you
Username:
Spike4418
Country:
Great Britain
This tank looks better than 23.77% of tanks in this category
Ranked #1793 out of 2352 planted tanks worldwide
Rating: 3.94 Votes: 80
Photo Caption: Fluval Edge 12 galon. Prishtina- Kosovo
Username:
Blodin
Country:
UN
This tank looks better than 90.82% of tanks in this category
Ranked #216 out of 2352 planted tanks worldwide
Rating: 6.19 Votes: 79
Photo Caption: Planted with Iwagumi woodstone and DIY sand waterfall
Username:
jools253
Country:
United Kingdom
This tank looks better than 94.98% of tanks in this category
Ranked #118 out of 2352 planted tanks worldwide
Rating: 6.52 Votes: 79
Photo Caption: Community in the Edge
Username:
Franquixote
Country:
United States
This tank looks better than 46.34% of tanks in this category
Ranked #1262 out of 2352 planted tanks worldwide
Rating: 4.62 Votes: 79
Photo Caption: Randomly grabbing plants I think look awesome and trying to arrange this is not so easy
Username:
AquaAddict
Country:
United States
This tank looks better than 75.6% of tanks in this category
Ranked #574 out of 2352 planted tanks worldwide
Rating: 5.54 Votes: 83
Photo Caption: My Fishtank
Username:
Dimitru
Country:
Romania
This tank looks better than 19.73% of tanks in this category
Ranked #1888 out of 2352 planted tanks worldwide
Rating: 3.83 Votes: 80
Photo Caption: MY zen
Username:
FrostyHR
Country:
Croatia
This tank looks better than 90.05% of tanks in this category
Ranked #234 out of 2352 planted tanks worldwide
Rating: 6.15 Votes: 89