All Time Top 10 Freshwater Fish
Quote:
Anything is possible as long as you have passion in your life.
Fish Kept:
In this tank Arowana, Cichlids, Clownloach and pleco.
Corals/Plants Kept:
All artificial
Advice:
Dont trust anyone. Its a hobby.
Description:
GOODNIGHT KISS
Fish Kept:
discus + angel fish
Corals/Plants Kept:
silk & plastic plants
Description:
my blue cobalt discus
Fish Kept:
African cichlid's from lake lake Tanganyika and Malawi. 2Tropehis Moori, 2 Tropehis dubosi, 2 Tropheous kipili, 1 Electric yellow,1 malawi Eyebiter, 2 Demasoni, 1 Giraffe Hap, 3 Frontosa, 2 Auratus, 2 Kribenses, 8 Various Peacock.
Description: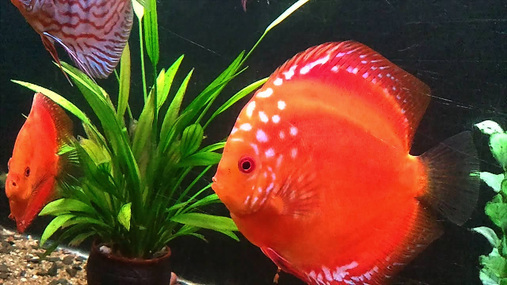 Corals/Plants Kept:
Amazon, Banana, Grass
Advice:
Have Patience, Never medicate unless absolutely necessary
Description:
See my red malboro Discus
Fish Kept:
1 Green Terror cichlid, 7 Bolivan Rams, 6 Silver Dollers, 1 Keyhole cichlid, 2 Flash Pleco
Corals/Plants Kept:
Slate rocks, driftwood, & artificial plants
Advice:
Don't get lazy. Keep to a maintanance plan. 20% weekly water change, that includes all that sh#* at the bottom. Stick to that one rule to keep you,and the fish happy
Description:
King of the Jungle 7"
Rated #6: nimo
Fish Kept:
Peruvian altum angels, german rams, cockatoo cichlid, panda corys, otos, rummynose tetras
Corals/Plants Kept:
Narrow-leaf java fern, windelov, blyxa japonica, various crypts.
Description:
Apistogramma Cacatuoides Double Red
About Yourself:
Started off with a 2ft tank and hear i am..
Fish Kept:
mostly cichlids
Corals/Plants Kept:
Cichlids end up destroying real plants,your best bet is artificial they still look as good.
Advice:
make sure you have good filteration
Description:
my frontosa and royal plec in background
Quote:
with no risks theres no rewards
About Yourself:
Troph Addict
Fish Kept:
A breeding colony of Red Rainbow Kasanga Tropheus
Advice:
take your time and research as much as possible. Enjoy
Quote:
Today I hope to be a good as my dog thinks I am
About Yourself:
I kept a community tank when I was a child. Now retired, I guess I am returning to childhood!
Fish Kept:
endler; sparkling gourami; platy;ghost shrimp;harlequin rasboras;scarlet badis. 2 crown-tail bettas; 1 elephamt ear - half moon betta
Corals/Plants Kept:
Rotala Indica; ludwigia repens; cabomba caroliniana;
Advice:
read read read and find a fish shop with local experts
Description:
crown tail black orchid betta
Quote:
I reject your reality, and substitute my own. Adam Savage.
About Yourself:
looking back now... my wife regrets giving me the green light. since that fateful day i have set up 5 tanks ( 1. 55gal 2. 72 bow 3. 30 long 4. 10gal micro reef. (now the 30 long) and 5. a 29gal neon set up for my son. she is a patient woman.
Fish Kept:
discus, cardinals, bamboo shrimp, neon tetras (blue black and orange) cory cats, loaches, damsels, crabs.. I almost forgot, snails up the wazoo, and bristle worms.
Corals/Plants Kept:
amazon swards, grass, and other misc
Description:
the king and queen of my tank. unfortunately, both have passed.
All Time Top Ten Tanks
2015 Top Ten Tanks
2014 Top Ten Tanks
2013 Top Ten Tanks
2012 Top Ten Tanks
2011 Top Ten Tanks
2010 Top Ten Tanks
2009 Top Ten Tanks
2008 Top Ten Tanks
2007 Top Ten Tanks
2006 Top Ten Tanks