General Aquarium Articles
Focuse on fish keeping for pleasure as opposed to keeping fish around as a food source.
Man has a long history of domesticating animals for their own use. This article focuses on fish keeping for pleasure as opposed to keeping fish around as a food source.
In the Beginning
Archeological evidence of fish-keeping dates back to the Sumerians (2500 BC) and the Babylonians (500 BC). Egyptians considered fish sacred, worshiping the Nile Perch among others. Romans also kept fish in tanks but perhaps not for as decorative purposes as the Chinese; keeping them fresh for the dinner table!
1
Ornamental Purposes Only
The Chinese kept carp and started breeding them selectively during the Sung Dynasty (960-1279). Records show these fish were kept for purely decorative purposes; people were forbidden to eat them.
Ornamental goldfish made them way into Europe by 1691.
2
According to Tullock, the 17
th
century diarist, Samuel Pepys, referred to seeing fish being kept in a bowl and referred to the set up as "exceedingly fine."
3
First Sustainable Fish Tanks
While excited about the prospects of keeping fish indoors, fish enthusiasts did not understand how the water needed to be "cycled" in order for fish to stay alive for long in doors. In 1805, Robert Warrington is credited with studying the tank's requirement to be cycled to keep fish alive for longer.
Victorian England
With the opening of the Public Aquaria at the London Zoological Gardens at Regents Park in 1853, fish keeping as a hobby reached a new level of interest. In 1856, German Emil Robmaber wrote an essay, Sea in a Glass," introducing fish keeping as a hobby...
The nitrogen cycle is essential for keeping your tank healthy but it can also be very stressful for your fish!
If you have ever heard of the term "cycling" or "new tank syndrome," you have heard of the nitrogen cycle. The nitrogen cycle is the cycle through which beneficial bacteria in the aquarium convert harmful substances and toxins like ammonia into less harmful substances so the tank is safe for your fish. The nitrogen cycle is a natural, biological process but it is incredibly important. Unfortunately, while your tank is cycling it can become a stressful environment. Read on to learn more about how to reduce the stress your fish experience while you cycle your tank.
Cycling a Tank for the First Time
When you first set up your home aquarium – it doesn't matter if it is a freshwater or a saltwater tank – it will go through the process of cycling. For a new aquarium, this process can take two weeks or longer to complete, depending what you do (if anything) to speed the process along. Ideally, you shouldn't put any fish in your tank until it has completely cycled because not only could it interrupt the cycling process, but it can also be dangerous for your fish. There are times, however, when a large-scale cleaning or some mistake on your part results in the tank re-cycling itself. In this case, you may not be able to let the tank cycle apart from your fish.
Tips for Reducing Stress
The reason fish become stressed during cycling is because the water quality and parameters in your tank are constantly changing. As your...
Benefits of Fish Keeping. What to consider when stocking your aquarium.
Have you considered getting fish as pets? Perhaps you've always been intrigued with the idea of having a fish tank in your home, of being a fish hobbyist?

Benefits of Fish Keeping

Keeping fish as pets can be a rewarding hobby. Designing and maintaining your aquariums is a wonderful creative outlet. Watching your fish swim around is both relaxing and fun. Fish make great pets because they require less hands-on care than other animals but they still need your care.

Freshwater Fish versus Saltwater Fish


What's the difference between Freshwater and Saltwater Fish? Well, pretty much, their names are self explanatory. Freshwater fish exist naturally in fresh water and saltwater fish exist naturally in the ocean. You can come across fish that naturally live in brackish waters. The Black Molly is an example of a "freshwater" fish that can get acclimated to saltwater tanks.
When considering whether to go with a freshwater or saltwater tank, for an absolute beginner, most people will advise you to go with a freshwater tank. The reason why? There are two reasons why people recommend freshwater tanks over saltwater tanks. Freshwater tanks are easier to maintain and freshwater fish are over-all cheaper to buy. That said, that doesn't mean that saltwater tanks are worth their effort!
Now we'll discuss the pros and cons between freshwater and saltwater fish specifically:
Looks. Saltwater Reef Fish win heads down. There are many beautiful freshwater tropical fish out there, however!
Behavior. Because you'll find it much easier to breed freshwater fish over saltwater fish, you'll find...
MOST RECENT ARTICLES
The plecostomus is one of the most popular species of algae eater for the freshwater tank.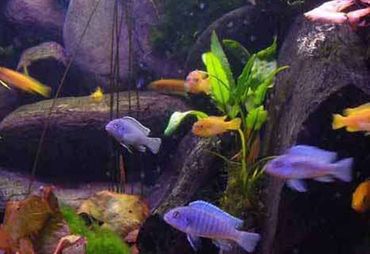 Nothing makes an aquarium stand out like a large shoal of colorful fish.
Also known as the mystery snail, apple snails are a popular addition to the freshwater tank.