General Aquarium Articles
Not all aquarium fish food is created equal. Take the time to learn about the quality of the product you are feeding your fish to see whether it might be time to make a change.
When you go grocery shopping, you probably take the time to choose the items you intend to purchase. Perhaps you have a favorite brand, or maybe you check the label before you make your decision. As an aquarium hobbyist, do you put the same degree of effort into shopping for fish food? The chances are that you simply pick something off the shelf based on what's on sale or what looks good – you probably don't take the time to read the labels and, even if you did, you might not understand how to use that information.
Feeding your aquarium fish a high-quality diet is the key to keeping them healthy. A healthy diet gives your fish the energy their bodies need to maintain essential processes and it also helps to keep them looking their best. Unfortunately, not all fish foods are created equal and it isn't always easy to pick out the good from the bad. Keep reading to learn how to read a fish food label, what ingredients to look for, and how to pick a high-quality product.
How to Read a Fish Food Label
The pet food industry as a whole is less regulated than the food industry for humans. This can sometimes make it a challenge to interpret the information on a pet food label – it also makes it more important for you to take the time to evaluate the quality of a product before you buy. There are two parts of the label that are the...
Starting a new tank can be time-consuming, especially if you have to choose all of your own equipment. To make the process easier, consider an all-in-one aquarium.
If you're thinking about starting a new tank, you have a lot of decisions to make. What size tank are you going to choose and what kind of equipment? Do you want to purchase a separate lighting system or go with natural lighting? And what about heating – how are you going to keep the tank warm? Coming up with answers to all of these questions can be difficult, especially for a beginner. If you find yourself in this boat, you might want to think about an all-in-one aquarium. Keep reading to learn more about what an all-in-one tank is and whether it might be the right option for you.
What is an All-in-One Aquarium?
An all-in-one aquarium is pretty much what the name suggests – an aquarium that comes with just about everything you need to get started. Simply put, it is a ready-made kit that comes with the aquarium itself as well as essential equipment such as filtration, lighting, and heating. Some kits also include decorations, but the more you include in the kit the higher the price. Many all-in-one tanks are also nano tanks, tanks under 30 gallons in size. The top all-in-one tanks on the market have equipment that is specially designed to complement the tank's design and to support the tank's needs according to its size. You still have to choose and purchase the fish and you will also need to know the basics about setting up and maintaining an aquarium, though some instructions for use...
There is nothing more beautiful than a thriving saltwater tank, but these tanks can be expensive to set up and maintain. Keep reading to learn how to save money on a saltwater aquarium setup.
Saltwater aquariums are beautiful, there is no denying it. There is just something magical about an aquatic environment where fish, invertebrates, and corals live in harmony. But cultivating and maintaining a thriving saltwater tank can quickly get expensive if you don't do some careful planning beforehand. Here are some simple tips for building a saltwater tank without breaking the bank.
What Factors Influence Price?
Before you can learn the basics about saving money on a saltwater tank, you need to understand what factors influence price. Here are the top factors that can determine how much it costs to set up and to maintain your saltwater tank:

- Size of the tank
- Fish and invertebrates
- Coral and live rock
- Equipment
As you can probably imagine, the larger your tank, the more expensive it is going to be. Not only does this apply to the tank itself, but also to the equipment you need to run it and the livestock and decorations you use to fill it. The type of fish and invertebrates you choose will also influence the price – the rarer the livestock, the more expensive they will be. And it will significantly impact your cost if you choose to decorate your tank with live rock versus live coral. Not only is live coral more expensive to purchase, but it is also costlier to maintain because you'll need a special lighting system and you'll have to feed the coral to keep it alive.
You can't have a thriving saltwater...
MOST RECENT ARTICLES
The plecostomus is one of the most popular species of algae eater for the freshwater tank.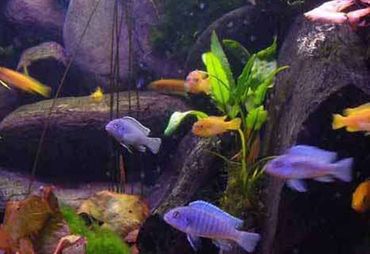 Nothing makes an aquarium stand out like a large shoal of colorful fish.
Also known as the mystery snail, apple snails are a popular addition to the freshwater tank.